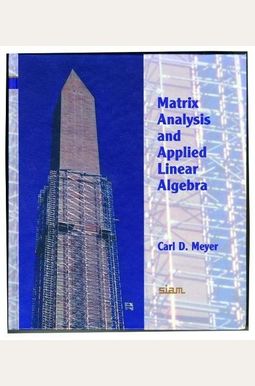 
 
Matrix Analysis And Applied Linear Algebra Book And Solutions Manual [With Cdrom]
Book Overview
This book avoids the traditional definition-theorem-proof format; instead a fresh approach introduces a variety of problems and examples all in a clear and informal style. The in-depth focus on applications separates this book from others, and helps students to see how linear algebra can be applied to real-life situations. Some of the more contemporary topics of applied linear algebra are included here which are not normally found in undergraduate textbooks. Theoretical developments are always accompanied with detailed examples, and each section ends with a number of exercises from which students can gain further insight. Moreover, the inclusion of historical information provides personal insights into the mathematicians who developed this subject. The textbook contains numerous examples and exercises, historical notes, and comments on numerical performance and the possible pitfalls of algorithms. Solutions to all of the exercises are provided, as well as a CD-ROM containing a searchable copy of the textbook.
Frequently Asked Questions About Matrix Analysis And Applied Linear Algebra Book And Solutions Manual [With Cdrom]
Books like Matrix Analysis And Applied Linear Algebra Book And Solutions Manual [With Cdrom]
Book Reviews
(7)
Did you read Matrix Analysis And Applied Linear Algebra Book And Solutions Manual [With Cdrom]? Please provide your feedback and rating to help other readers.
The reason that I gave it 4 stars is because I feel like it sometimes to fails to live up to the ...

Derived From Web

, Feb 10, 2022

A solid matrix theory book is for engineers or scientists. I gave it 4 stars because I feel like it sometimes fails to live up to the claim of being casual. The idea of a projector matrix onto a subspace of an operator is abstract, but not backed up with the examples I would like to see. Sometimes the book is too abstract without an explanation. Overall, this is a very good text that will take you far in the application of linear algebra in a wide variety of problems.
A Model of Authorship

Derived From Web

, Feb 10, 2022

There is a comprehensive treatment in this book on matrix analysis. The concepts have been introduced and developed. It's easy to follow the detailed proof. Results are marked for reference and summarized. I found this book useful in explaining mathematical concepts without the need for a classroom instructor. It's useful to port this book as a reference because it comes with a CD that has a PDF version. It has problem sets that add insight. There is a solutions manual with it. I think this book is very good. It deserves to be a model for authorship in the digital age.
nice book

Derived From Web

, Dec 16, 2021

I enjoy the book. I like the book. It's easy to read. The author has a writing style that I like. There are solutions in the book. The will- conditioned book is a used book. The printing quality is very good.
SOLUTIONS MANUAL. Not the book I ordered as advertised.

Derived From Web

, Aug 19, 2021

I received the manual but not the text book. I don't need this, it's not helpful, and it's not the purpose it was intended for. The book I ordered is not the correct book.
A good textbook to study Linear Algebra for both undergraduates and graduates

Derived From Web

, Apr 18, 2021

After reading this book, I think it is one of the best textbooks of linear algebra, covering from the basics to the advanced one. The book was in excellent condition when it was shipped.
Great Textbook To Learn Proofs

Derived From Web

, Jan 25, 2020

This is a textbook that takes a proof based approach to linear algebra. In a graduate level linear algebra course, we went through 23 rd's of the book. It is difficult to get through some of the material, but it does a good job of presenting it in an understandable way.
IMO, one of the best books in linear algebra

Derived From Web

, Mar 6, 2019

The motivation of the exercises and examples is very interesting with various motives from applied scenarios. The author of the book frequently updates the site of the book with free supplements and a list of errata.