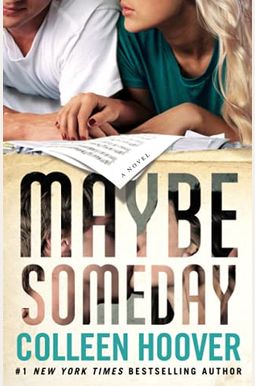 
 
Book Overview
From #1 New York Times bestselling author Colleen Hoover, a passionate tale of friendship, betrayal, and romance.
At twenty-two years old, Sydney is enjoying a great life: She's in college, working a steady job, in love with her wonderful boyfriend, Hunter, and rooming with her best friend, Tori. But everything changes when she discovers that Hunter is cheating on her--and she's forced to decide what her next move should be. Soon, Sydney finds herself captivated by her mysterious and attractive neighbor, Ridge. She can't take her eyes off him or stop listening to the passionate way he plays his guitar every evening out on his balcony. And there's something about Sydney that Ridge can't ignore, either. They soon find themselves needing each other in more ways than one.
Frequently Asked Questions About Maybe Someday: Volume 1

Book Reviews
(6)
Did you read Maybe Someday: Volume 1? Please provide your feedback and rating to help other readers.
Could not put it down.

Derived From Web

, Oct 30, 2019

Oh. It was my. God. This book. I had to stay up until dawn to finish it. I had to know what was going to happen next. I haven't fallen in love with a fictional character in a while but I did fall in love with Ridge. I have only known the type of guy that Hunter represented. Ridge wasn't perfect, but he fought the attraction so hard that he would be called a hero. It was a good way to talk about a slow burn. Colleen Hoover's writing is great. She kept me guessing until the end of the book. I didn't think there could be a happy ending, but then again, there is a very happy ending.
Ridge and Sydney

Derived From Web

, Jul 1, 2019

It took me a while to read this book. I only gave it 2 stars. I liked Ridge's story differently than I liked Sydney's story. You were moving in with a stranger because your boyfriend was banging on your friend. I mean gtfo. You should move in with complete strangers except for the one who plays his guitar on his balcony. Sure! Move in with that guy! He plays a guitar. It has to be trustworthy. I liked the story if you removed the weird opening. I liked Ridge. I think they need to learn more about each other and Ridge needs to learn more about his relationship with both of them. The book is ok. I don't think I would recommend it.
BITTER...SWEET

Derived From Web

, May 29, 2019

I could not put the book down. The author wanted the readers to know that there will always be flaws in a relationship. It was difficult to see Ridge having a similar relationship with Sydney as he did with Maggie. It was pretty honest from the start and I am okay with that. It is a good thing to see what works for each other. What is the best way to live for you? I think the story is sad, but I think my heart tugs at the way it is. I didn't know who he should be with. I think both of them have a good point. Ridge made the right decision. Don't forget Warren andBridget. I liked them. They were not horrible characters for me. I wanted to know their story. When I read the book, it was about them. I want to read about them. ) 5 stars for me!
Dive in, must read book!

Derived From Web

, Mar 26, 2019

I loved this book as much as I did the first time I read it, and I wanted to revisit the first book that started my love of Colleen Hoover. Colleen is able to write about a situation that you feel so deeply. This book was so bad that I didn't want to let it go. You cannot help but fall in love with Ridge. He has a big heart. He cares so much. When it came to Ridge, I was melting. She can't catch a break. She handled her situations the best she knew how. The book was twists and turns. I thought that the entire story was an amazing love story. Colleen writing draws you in.
Excellent author

Derived From Web

, Dec 29, 2018

I like Colleen Hoover. Too Late and Verity were the first two books that I read. I read that the books were different from what she usually writes. This is the first book I have read that is all romance. What no weird stuff? No truly evil people? I liked the book because it wasn't like a romance novel. I prefer historical romance, mystery romance, thriller romance, or anything but romance because they tend to have unrealistic endings and codependency of characters. I was pleasantly surprised with the strong and emotionally healthy characters and the lack of black and white judgments in this book. I will enjoy being entertained by the author's work until I can. I'm going to read the sequel to this book.
I was so disappointed

Derived From Web

, Dec 25, 2018

After reading this book, I was really bothered by the emotional and actual cheating after all the build up and high horsiness stated they wouldn't do that. It is ok to mess up, but not if there is no owner. I tried another book by this author and I hated it, so I think these are not the books for me. I really wanted to find another author that I like. I wish I'd tried the full samples before buying her stuff.