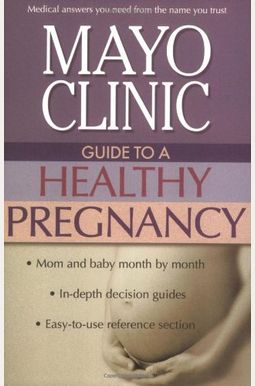 
 
Mayo Clinic Guide to a Healthy Pregnancy
Book Overview
This Description may be from another edition of this product.
An essential pregnancy resource for all parents-to-be.
Mayo Clinic Guide to a Healthy Pregnancy, second edition
is an authoritative, yet practical reference manual from the pregnancy experts at the #1 ranked hospital in America. The newly updated book includes information on everything from healthy lifestyle habits to the latest technologies in prenatal care and childbirth. Features include week-by-week updates on baby's growth, as well as month-by-month changes that mom can expect. In addition, you'll find a 40-week pregnancy calendar, an overview of common pregnancy symptoms, information on safe medicine use, tools to help parents with important pregnancy decisions, and general caregiving advice -- information moms and dads can trust to help give their little ones a healthy start.
Mayo Clinic Guide to a Healthy Pregnancy, second edition
is the collective effort of a team of health care experts who find nothing in medicine more exciting and satisfying than the birth of a healthy child by a healthy mother. Any parent-to-be looking for accurate and authoritative information from a reliable source will surely appreciate this illustrated, easy-to-understand book.
Frequently bought together
Frequently Asked Questions About Mayo Clinic Guide to a Healthy Pregnancy
Books like Mayo Clinic Guide to a Healthy Pregnancy
What should you read after Mayo Clinic Guide to a Healthy Pregnancy Book? Here is a list of books to read if you read and loved Mayo Clinic Guide to a Healthy Pregnancy
Book Reviews
(15)
Did you read Mayo Clinic Guide to a Healthy Pregnancy? Please provide your feedback and rating to help other readers.
This book has been a great help throughout my pregnancy so far

Derived From Web

, Apr 20, 2022

The book has been helpful during my pregnancies so far. It's a great reference for both options, because I began reading each week and now use it as a general reference. The appendix is a great resource for finding specific info, and I like that I can flip forward to certain weeks. I was not a fan of her book, which seemed rather scary. I liked this approach more because it seems more matter of fact and less to ruin your child. It's '.
Good information

Derived From Web

, Apr 20, 2022

The other pregnancy books I have read have not offered as much information as this one has. The book explains why certain symptoms happen. It's the only book I've read that talks about a metallic taste in my mouth as a symptom. Pictures of your baby at each week are included. It has a long list of common concerns that can be categorized into call immediately, call tomorrow, or wait until the next visit. This section was really appreciated by me as a first time mom.
Love this book!

Derived From Web

, Apr 20, 2022

I love this book. It's a great guide for first time parents and pregnant women. Our baby is making progress each week, and my husband and I read about it. You can get a lot of helpful advice and input based on the month and trimester you're in. This is not a book you will read in one sitting, rather it is a great reference guide throughout your pregnancies. It is very similar to What to expect, but this book has more helpful and relevant information in each section.
Buy this book!

Derived From Web

, Apr 20, 2022

This book is very useful. It explains what is happening to you week by week, as well as baby development, potential risks of any procedures that is done. It was well done and put together nicely. I will give away this book as a baby gift. I found it helpful through my pregnancies.
A good basic guide to pregnancy

Derived From Web

, Apr 20, 2022

A good guide to pregnant women is well organized and has a symptom list. I prefer it to other popular books such as What to Expect, but not a bad idea to supplement info as some of it seems outdated, at least in terms of standard practices in my area, which is probably more progressive than some.
Very Helpful Information Presented in a Way I Liked

Derived From Web

, Apr 20, 2022

The book has been helpful during my pregnancies. A lot of good information is presented in an easy to read way. They talked about things without trying to scare you or convince you of a certain option. They let you make your own decision after they presented the pros and cons. There is a lot of good information about caring for yourself after the baby is born, as well as helpful information about baby care. It is recommended for women who are trying to get pregnant.
Excellent resource

Derived From Web

, Apr 20, 2022

This book is great. It is easy to reference and organized. It's well written and has a professional tone that doesn't stray from alarmist or condescending. The book tells you what is normal and what is not, and it has charts to help you read them. I found the book to be fairly unbiased and normal for a pregnant woman, as well as explained in full. I would like to see more of an emphasis on natural childbirth, rather than seeing it be presented as comparable to interventionist procedures. It's an excellent book and I'm excited to use it to guide me through my first pregnancy.
By far the best pregnancy book

Derived From Web

, Apr 20, 2022

After losing the first copy, I went through 2 more copies. I bought it as soon as I found out I was pregnant. It was important to me with the amount of information it contained. I would recommend this to my mom or dad. My husband and I both read it. I liked that it wouldn't turn him off from knowing what was happening. It has weekly updates on what is happening with your baby as well as your baby. Guidelines on the amount of weight you should gain each week are given. There is a section that gives information about possible problems. The pictures show the size of the baby and the appoximate weight. Gave birthing options. To ask your doctor questions. There were no cons
GREAT Reference

Derived From Web

, Aug 13, 2018

I looked for a lot of information in other baby books, but found them all generic. Nothing was getting into the weeds of what you need to know. This book has all of it. I think it's a great idea for the expectant parent who wants to be prepared for everything.
If you read one pregnancy book, choose this

Derived From Web

, May 5, 2018

There is a very helpful source of truth in a world of doctors. During my pregnancies, I always refer back to it. Everything is balanced because no hippe or conservative biases are present.