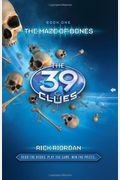 
 
The Maze of Bones (the 39 Clues, Book 1), 1 [With 6 Game Cards]
Book Overview
This Description may be from another edition of this product.
Amy and Dan Cahill know their family is big, but they dont realize how big until their Aunt Graces funeral. Relatives arrive from all over the world by special invitation. In Graces last will and testament, she issues this challenge: For your inheritance, you may have the first of thirty-nine clues. The first team to successfully put together the clues, which are scattered across the world, will discover the secret of Cahill power and become the richest, most important people in history.Or you may take one million dollars in cash right now and walk away.Amy and Dan take the challenge Soon, they are catapulted into a dangerous round-the-world race for the thirty-nine clues. They will explore every continent, and delve into the strangest, darkest chapters of world history to find the secret origins of their family. Other teams will try to eliminate them by any means necessary, because in this treasure hunt only one team can win, and there are no rules.The 39 Clues will feature ten action-packed books. The first, The Maze of Bones, is written by Rick Riordan, who also designed the story arc for the entire series. The 39 Clues experience also includes trading cards and a huge on-line game which will allow you to become a member of the Cahill family and compete for amazing prizes
Frequently bought together
Frequently Asked Questions About The Maze of Bones (the 39 Clues, Book 1), 1 [With 6 Game Cards]
#1

#2

#3

#4

#6

#7

#9

#11

#1-10
#1

#2

#7

#3

#1-5
Book Reviews
(17)
Did you read The Maze of Bones (the 39 Clues, Book 1), 1 [With 6 Game Cards]? Please provide your feedback and rating to help other readers.
Can't wait to read the next one

Derived From Web

, May 13, 2022

The Cahill family is divided into four main lines, with descendants from the four children dating back hundreds of years ago. These four species of the family tree do not get along with each other. Following the death of the Cahill Matriarch, Especially now. At the reading of the will, 44 relatives were each given the choice of spending one million dollars or of the ability to find 39 clues that would lead one of them to the family secret and unimaginable power. It is also a high stakes race to find and decipher the clues with lots of backstabbing, sabotaging and dirty tricks. The good guys are very friendly and the puzzles and clues to fun are good. I read that there are ten books in total. But by the end of this book, they are on their way to finding only the second clue. At this rate, I don 't see how they will get all 39 in only 10 books. I hope that the books will not feel rushed later.
The 9 year old loves to read and truly enjoyed this book and plans on reading the rest of ...

Derived From Web

, May 13, 2022

The 9 year old loves to read and enjoyed reading this book and plans on reading the rest of the series. It was fun to watch him predict the outcome! One of my older sons has an eye disease, so that reading is not fun. We allow him to read a bit and also to listen, so that the eye doesn 't bother him too much. Though this series is below his level of reading, he loves it and has read 3 so far. Generally speaking, I read what my kids are reading... so I can say that I recommend this series!
Grandparent approval

Derived From Web

, May 13, 2022

I loved the Harry Potter series and this reminds me in a new way of it. Could not put this first book down and read the rest before he gets it on Christmas Day. Now you can book 2!!
OK, but little progress in this book

Derived From Web

, May 13, 2022

Interesting concept - lots of books that take the reader all over the world in a sort of geographic exploration. But the first book is different than others in the series, but doesn 't come close to a resolution, so I can 't really recommend it. It sets you up to spend a bloody fortune if you buy all these books to try and finish the mystery.
Marketing ploy or not, well worth the money

Derived From Web

, May 13, 2022

My daughter is 8 and a good reader, though often she is prone to lay one book and pick up another, not to mention the dreaded DS. Since she started this book yesterday, it hasn t left her side at the dentist in the car, not even wanting to go out with her sisters today so that she could keep reading it. Part of what keeps her attention is the story as well as her determination to solve the mystery. How many of us haven't seen Where is Matt Lauer? '' as adults. How about a guess? Or if we had an adult version of this series with prizes, we would not be tempted to try... All in all, this is fiction, it is getting kids to read, which is our primary goal at their age. If it doesn't seem like work, they'll enjoy reading it more the more they enjoy it, the more they read.
Fun Transmedia Series

Derived From Web

, May 13, 2022

The 39 clues The Maze of Bones by Rick Riordan is the first in a new transmedia series that connects books, clues and website experiences together. Amy and Dan Cahill are at the center of a mystery adventure reminiscent of the book DaVinci Code and the National Treasure movies. The two children are competing with powerful and influential family members to find clues leading to what has been described as the greatest treasure of all time. Woven through the books are historical references, mathematical problems and intriguing puzzles that eventually lead to a solution. The quirky characters and quick pace make this book a quick, interesting read. The accompanying website is an element certain to draw in reluctant readers. The focus on history and puzzles reminds me of the books by Blue Balliett. One book down, just thirty-eight to go.
I'm happy.

Derived From Web

, May 13, 2022

I am so happy to read my new book, thank you Amazon.p.s. Sometimes I am late in the payment, but I get paid on the 3rd every Mounth.'s can catch my ballance. Merci beaucoup for collaborating with me.
Bosss

Derived From Web

, May 13, 2022

It was totally awesome defiantly the best possible book in the history of mankind, designed for the rise of the boss and a few other good times that the book is a good book.
The 39 Clues is quite an exciting, action packed ...

Derived From Web

, May 13, 2022

To me it is somewhat similar to the Hunger Games by Suzanne Collins and the Alex Rider series by Anthony Horowitz. A part of the first 39 Clues books, which took part in the Franklin Institute in Philadelphia.
Kid at Heart

Derived From Web

, May 13, 2022

I am not a teen ager, but I love Rick Riordan. Hooked on Harry Potter and then Percy Jackson, I wanted to try this series of books that sounded fun and far fetched. I have it, I think. I'm off to see what I can do to win the next two and go from there. Very exciting! I wish at my age 13 I had things like this. I '' might have become an avid reader sooner.