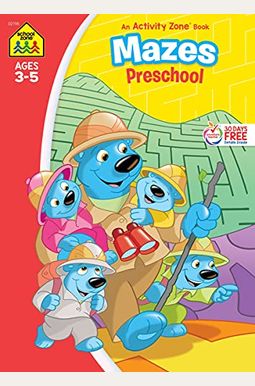 
 
Mazes Preschool Activity Zone
Frequently Asked Questions About Mazes Preschool Activity Zone
Book Reviews
(13)
Did you read Mazes Preschool Activity Zone? Please provide your feedback and rating to help other readers.
3.5 yr old LOVES it

Derived From Web

, Apr 27, 2022

My 3 year old LOVES this book. I was worried when we started our 2 week RV trip and she did 90% of the book in 30 minutes, but she kept asking for the book later that day and sometimes with different colored crayons. The first few are really just for motor skills. follow a path, then there were some simple mazes with maybe two or three dead ends that she was able to back herself out of, then there are a few pages of other types of maze-like line activities. I'd give it 5 starts, but I can't imagine an average 5-6 year old with this kind of equipment.
Too easy for a 3 year old

Derived From Web

, Apr 27, 2022

It was a bit of a bummer for us, Mr. Dhaliwal said. We have the preschool-learning book from this company, and my 3 year old LOVES it. Indeed, he's a huge fan of the Mazes, the story of a young boy who falls in love with a princess. I was going on a plane trip and I figured this would be a great activity for him, too. However, all of these mazes are identical to the ones in the workbook we own, and most of them are incredibly simple. In 5 minutes, he finished the book.
Too easy.

Derived From Web

, Apr 27, 2022

My son is 5 and these are just too easy. The second half of the book is a collection of stories by different authors. The second half offers two dead ends. It's just that your child has to be able to read the ending to the story. I'm partial to other books in this collection.
Should have read the reviews first

Derived From Web

, Apr 27, 2022

She wanted a maze book for her four-year-old nephew at his wedding. It's not until the end of the book that there are even more than one path.
Who doesn't enjoy mazes?

Derived From Web

, Apr 27, 2022

My son loved it, Rosalyn said. It has a great variety of mazes, and is very colorful, too. The DVD will only be good for 25 minutes of entertainment.
Too easy

Derived From Web

, Apr 27, 2022

Many reviewers have said that this book is really easy to read. The average age of the triplets is about 3 years old. My 5 year old finished in less than 10 minutes, he said.
Not for 4-6 yo!!!

Derived From Web

, Apr 27, 2022

This book is too easy for 4-6yo! The first half of the book is not even made of mazes, but rather, simple paths to follow.
Great buy.

Derived From Web

, Jun 13, 2021

I really like this one. It has varying difficulties for the mazes and pictures to make them more interesting.
Way too easy

Derived From Web

, Feb 22, 2021

These are absurdly easy, even for a seasoned programmer. In just 10 minutes, my 4 year old completed the entire workbook. Maybe okay for a child learning to understand the concept of mazes, but definitely too easy for 4-5 year olds.
Pretty easy

Derived From Web

, Oct 16, 2020

Even with all the problems with the book, I found it very easy to read. Only in mazes do you have one path. It's great for practicing fine motor skills, but probably not for a three year old.