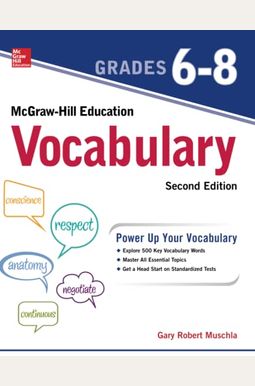 
 
Mcgraw-Hill Education Vocabulary Grades 6-8, Second Edition
Book Overview
Vocabulary skills come easy when practice is fun
If you are looking for extra vocabulary help for your middle school student, you will find this book an invaluable resource. Featuring hundreds of essential vocabulary words, this book offers extensive opportunities for students to learn the vocabulary found in sixth, seventh, and eighth grade curriculums.
Each of the book's dozens of lessons focuses on a group of words that will strengthen your student's vocabulary. After the introduction of new vocabulary, each lesson includes three worksheets designed to make learning new words easy and fun. Vocabulary Grades 6-8 features:
-More than 500 words appropriate for students in grades 6 through 8-45 engaging lessons that will help your student learn both meaning and usage-Vocabulary related to math, social studies, science, health, and time-A puzzle format that makes practicing vocabulary fun -The tools to master synonyms, antonyms, homophones, and easily confused words-Guidance on learning prefixes, suffixes, and compound words-An alphabetical word list at the end of the book that makes looking up vocabulary easy
After completing this workbook, your middle school student's new word skills will help your child to excel in both the classroom and on standardized tests.

Frequently Asked Questions About Mcgraw-Hill Education Vocabulary Grades 6-8, Second Edition
Book Reviews
(11)
Did you read Mcgraw-Hill Education Vocabulary Grades 6-8, Second Edition? Please provide your feedback and rating to help other readers.
Fun book

Derived From Web

, Jun 25, 2021

My daughter enjoys working on this book because she likes to solve the puzzles at the end of each page. To get the code to solve the puzzle, you need to complete the vocabulary questions. I wish they had more practice for each set of words in order to help the child learn better meanings. This is a good book and some of the definitions are too complex.
Good practice book

Derived From Web

, Dec 1, 2020

This book is good for my 7th graders to improve his language skills. He gets to practice after each set.
Missing Pages!!

Derived From Web

, Nov 15, 2020

The book would have been perfect except for the missing pages. It looked new, without writing, but as you went through it, whole sections or half lessons were removed.
Daughter Enjoyed It

Derived From Web

, Sep 4, 2020

I admit that I just check the answer key to make sure my daughter answers correctly, so I can't really give an opinion on the material. My daughter is entering 6th grade in the fall and she enjoyed completing this workbook throughout the summer. We used to keep her brain active over the summer, and it was her favorite.
Helpful content, great price.

Derived From Web

, Jun 29, 2020

My son is going to be in 7th grade. I bought this for him to work on. It is important that he does not fall behind with the school closings. I was glad I found something to help him during his break. There is an answer key. There are pics of chapter content. Many activities will keep him busy. Kids won't get burned out quickly because activities aren't long.
Excellent Content

Derived From Web

, Feb 5, 2020

The English and Language Arts curriculum is being taught by us using this workbook. The paper is low-quality but the content is excellent.
Great words, quick lessons, enjoyable for students

Derived From Web

, Dec 21, 2019

We need a way to introduce some new words quickly. This is good for that. Review word types such as antonyms and heteronyms, learn the words, do a few puzzles, and so on. A quick and easy way to build a more robust vocabulary. My son uses the words in his writing assignments and I make our own.
Great book with excellent word lists

Derived From Web

, Oct 14, 2019

This book is great for a child or student who needs to build vocabulary. It includes Latin and Greek words. Each vocab list has 3 different exercises. Students can learn the words quickly and easily with the help of the quizlet. I use this with my 5th-7th grade students all the time as a private English tutor. The book doesn't get harder as you work your way through it, that's my only complaint. It would be great if it started out easy and then slowly progressed to harder words in order to challenge the students. It is a wonderful book, and I recommend it.
Shipped quickly, all as advertised.

Derived From Web

, Sep 19, 2019

It was bought for a 13 year old. The setup gives 10 definitions on the first page of each lesson, followed by 3 quick pages of reinforcement, quick answer, multiple choice or fill-in-the-blank questions. Antonyms, Synonyms, Greek Roots, Latin Roots, Easily Misspelled, Science terms are some of the topics covered in each 4 page lesson. The words are advanced, but not impossible. Each lesson gives a quick overview of different Language Arts skills, and relates vocabulary words to a theme. My daughter has a hard time with books that require a lot of writing.
Most relevant

Derived From Web

, Sep 3, 2019

This is the most relevant vocabulary for middle school students. It is not easy, but it helps kids retain their attention.