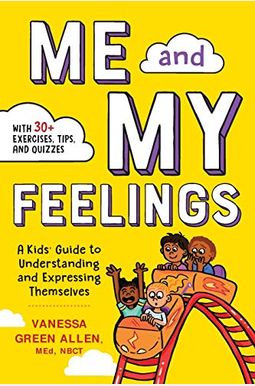 
 
Me and My Feelings: A Kids' Guide to Understanding and Expressing Themselves
Book Overview
When a big feeling comes along.you can handle it Managing feelings for kids ages 7 to 10
Sometimes, emotions like anger or jealousy or excitement can seem too big to keep inside. Me and My Feelings is here to tell you: It's okay to have big feelings. And the good news is, you can calm down those strong emotions―so you won't feel like you're going to explode
This book shows you how to stay in control―by breathing deeply, saying positive things to yourself, talking about your feelings, and more. You'll learn to deal with all kind of feelings, including the hard ones like sadness, anxiety, or even fear.
Inside Me and My Feelings, you'll find:
Everyone has emotions―When you understand your own emotions and feelings, you can also be understanding of other people's―like your family and friends.
Ideas that help―This book is packed with ways to help you handle your feelings. Try out the exercises to see which tips and tricks work best for you
Quizzes and activities―Get to know yourself with quizzes like Do My Emotions Rule Me?, along with other fun exercises and activities especially for kids ages 7-10.
With Me and My Feelings, the next time your big feelings get too big―you'll know just what to do
Frequently Asked Questions About Me and My Feelings: A Kids' Guide to Understanding and Expressing Themselves
Book Reviews
(12)
Did you read Me and My Feelings: A Kids' Guide to Understanding and Expressing Themselves? Please provide your feedback and rating to help other readers.
Perfect mental health book for elementary age children!

Derived From Web

, Jul 2, 2020

Our seven year old daughter will love this book. She used some of the techniques in the book to help her feel better when she was sad, after we got the book. I like the idea of having short sections with activities, tips and quizzes. This book can be used by both parents and children to discuss different emotions and actions, but it can also be used as a stand alone book for children to understand their own feelings. This book will definitely be recommended to other parents. The book is a great introduction to mental health for young children.
Great book to help with feelings and emotions

Derived From Web

, May 5, 2020

I can't tell you how much we enjoyed this book. It was helpful on many levels. The author is a professional school counselor with many years in the North Carolina school system. My daughter and I read it together. I didn't want my child to be overwhelmed with too much information about feelings and emotions. The author was reading the book to us. She tells you that it's normal to have different emotions and feelings. She gives many ways to help you identify what you are feeling and how to calm your mind. She talks about what might cause a certain behavior and how important it is to not think about it. A few days after reading the book, my daughter realized she had turned something negative into something positive. This is a book I would recommend.
Super helpful book!

Derived From Web

, Feb 22, 2020

I bought this book for my daughter, who doesn't like to talk about her feelings, and it has changed her life! I have bought her other resources but this interactive book has helped her open up. She talks to me about how she is feeling after taking the quizzes. The author did a great job with this resource for kids.
Helpful book for tweens

Derived From Web

, Feb 17, 2020

I use this book with my students to teach social emotional lessons. It is very useful. The activities are easy to do, and the lessons are short. It requires little prep for kids to learn.
Would Highly Recommend!

Derived From Web

, Feb 15, 2020

I bought a bunch of books for my 5 grandchildren and I love them. They are well illustrated and written. They are also helpful. Would recommend.
EXCELLENT BOOK FOR PARENTS AND COUNSELORS

Derived From Web

, Jan 4, 2020

I enjoy books written by people who work with children. You can use this book to help children regulate their emotions. Thank you,Vanessa Green Allen, for sharing your knowledge. It's!
My son shows no emotions but....😊

Derived From Web

, Jan 1, 2020

My 10 year old didn't throw this book in a corner or complain about the book. The book brought us closer. He wrote things that made me cringe. This book has helped my son understand what he is feeling because he does not show emotions. Must purchase. It is!
Wonderful

Derived From Web

, Dec 20, 2019

My 8 year old daughter is having a hard time managing her emotions. This book is very good. She feels better about herself because she's learned new techniques.
Raising a Man

Derived From Web

, Dec 17, 2019

I promised myself that I wouldn't raise an emotionally closed off male that couldn't express himself to the world when I was pregnant with my son. Contrary to popular belief, males are more sensitive than females and I needed to help him harness those emotions in a way that did not include video games and sports. This is a book that he can take to school and has many tools for him to use when I can't be there to help him. Excellent guide for kids. It's highly recommended.
Helping My Son Manage His Feelings...

Derived From Web

, Oct 21, 2019

I used the book to help my son manage his feelings. The book has helped him figure out how to manage his feelings and stay calm. I remind him of some of the things he did in the book, even though it's a work in progress. I'm going to have to buy another copy for the student that I bought this book for.