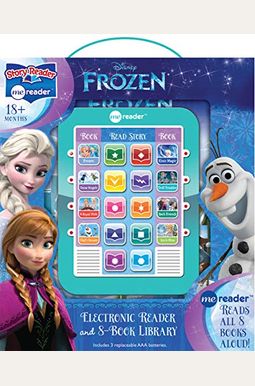 
 
Me Reader 3in 8bk Disney Frozen Recover: Me Reader: Electronic Reader And 8-Book Library [With Audio Player]
Frequently Asked Questions About Me Reader 3in 8bk Disney Frozen Recover: Me Reader: Electronic Reader And 8-Book Library [With Audio Player]
Book Reviews
(13)
Did you read Me Reader 3in 8bk Disney Frozen Recover: Me Reader: Electronic Reader And 8-Book Library [With Audio Player]? Please provide your feedback and rating to help other readers.
Great sound and pictures

Derived From Web

, Apr 20, 2022

It was a perfect present for a 4 year old who has everything frozen. Even with all of the other toys she had to choose from, she chose to play with these first. She did not get the concept of turning the pages with the story but, considering the pictures, she did enjoy looking at the story. Sturdy and vibrant, the books are well-suited for reading with pictures. And her older sister, whom she didn't identify, sat and enjoyed them all. It's just that moms only request that they could have head phones as they like to take it in the car.
My Grandaughter loved it as a gift and got it in March

Derived From Web

, Apr 20, 2022

It was a present my Grandaughter loved and got it in March. She has absolutely fallen in love with the books and has the stories read to her by a grown-up.
Read aloud controller glitch

Derived From Web

, Aug 9, 2021

We really liked this product for the first couple of months, Mr. Cowger said. After 4 months, the e-reader started glitching and will not work again. Before we change the batteries, we want to make sure that wasn't the problem. Wish this product had been built to last.
Love it!

Derived From Web

, Aug 24, 2020

It was a great deal, but I got this product while it was discounted for my 7th birthday. Broomhead lets you pick any page you want to read and comes with eight books. I haven't let her personally try it yet, since we just got it, but I like it and if she enjoys it I will definitely buy other books! I have a 4 year old and I think this would be great exercise in keeping him occupied. It's great to see that there are some kids that can press the coresponding shapes, Libbey said. Service was excellent, said Dr. John Dhaliwal of the University of Maryland.
Great Reader!

Derived From Web

, Feb 18, 2020

This for my 2 year old purchased this. She loves reading the stories independently. She also loves reading the stories independently. The only drawback is that the Frozen book is the same from another reader that we purchased. The unique books are all other.
An enjoyable way for a child to learn to read on their own! Great stories

Derived From Web

, Jan 6, 2020

It was for one of my grand children. It was the moment my grand daughter opened this present that she loved it. In the picture books, I showed her the button to go with what picture from the icon on top of the page. She sat in the same place and actually went through five of the eight books. It was so excited that it would read the books to her, Mr. Gest said. Made her feel like a big girl and she was so proud of herself to be able to listen and follow along as the book went through, she said. Best Christmas present I could give to my grand children, Mrs. O'Neill said. Will be buying many more so she can read by herself. It's the best present ever.
The narrative is easy to understand and perfect for the child to follow along

Derived From Web

, Jan 4, 2020

She was 5 when we gave her the present. We read the first book together and she helped us find the symbols from the book to the sound speaker. She loved it so much she was reading the next three books on her own! It's great to be back home, said Blair.
Great for Little Ones to Read by Themselves!

Derived From Web

, Oct 20, 2019

A great present for your little one. My daughter received a set of these Minnie Mouse me-reader books for her 2nd birthday but is just now understanding how they work. She's a huge Frozen fan, so I got her another set of books. She also tells us she loves that she can match the shapes in the book and on the reader to read the book by herself. She frequently falls asleep with the book in her hand, sometimes even while reading. The product is great, said Brian L. Quinn, director of customer service at AOL Europe. It's great to have such a product reviewed by so many people.
these are great

Derived From Web

, Aug 20, 2019

My daughter absolutely loves these books and always asks for more. The pages are well done and the reading is moderate, Mr. Cowger said. It works perfectly, she said, even though she dropped it a few times.
Reader never worked, just search for books & save $$

Derived From Web

, Apr 21, 2019

My 5 year old daughter absolutely loves Frozen and the entire Spider-Man series. The electronic reader does not work. The items were delivered to my house on April 20. She has just opened the item, but I have missed the return window. Do not overpay for books you can't afford.