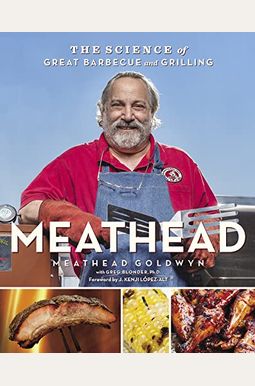 
 
Meathead: The Science of Great Barbecue and Grilling
Frequently bought together
Frequently Asked Questions About Meathead: The Science of Great Barbecue and Grilling
Books like Meathead: The Science of Great Barbecue and Grilling
What should you read after Meathead: The Science of Great Barbecue and Grilling Book? Here is a list of books to read if you read and loved Meathead: The Science of Great Barbecue and Grilling
Book Reviews
(16)
Did you read Meathead: The Science of Great Barbecue and Grilling? Please provide your feedback and rating to help other readers.
The Meathead Bible---Bingo!

Derived From Web

, Apr 20, 2022

I am a certified BBQ cook, a old barbecue judge and a reader of Meathead's columns. He is the expert in ALL the many types of barbecue that exist and he reports not about the emotion or the promotion of a cooker, but rather from a technical basis and you really do learn wonderful ways to barbecue. Over my 30 years of BBQ cooking, I have changed the types and styles of cookers from fancy pellet rigs to plain and now back to the fantastic pit barrel cooker using just old fashioned charcoal. There are very few cookers that can cook the quality and quantity of meat that a pit barrel can taste and turn so spectacularly good. I have over 130 BBQ cook books and this is the Bible and the ideas, suggestions and recipes are always dead on. Meathead cooked them up with Meathead. This book will make you enjoy and it will make a new gift to a grand BBQ fan. Barbecue is America's gift to culinary world.
Get this book, get better at grilling and smoking and cooking.

Derived From Web

, Apr 20, 2022

This, and Franklin's book will always have a place on my shelf. I own 3 smokers. Woodcharcoal barrels, an upright woodcharcoal and an electric. Where Meathead changed how I make Brisket, Franklin changed how I do many other things. Every year I find a new thing to grillsmoke and perfect. This year I ate burgers. I've already made some darn good burgers this year, following his advice and methods. I am still working on getting everything just right. But there is so much more in this book, so many concepts, descriptions, and I particularly like how he plays mythbuster on so many things. Get this, and get better at what you cook, whatever it is.
The finest book ever on outdoor cooking.

Derived From Web

, Apr 20, 2022

For years, I have bought book after book to learn every secret I can about barbecue. Of all the books I have bought, this one is by far the most leaps and bounds ahead of the rest. Honestly, you will find every trick you will find in the rest of the righetti here in a book. The sauces, rubs, techniques and even methods that are not commonly considered the norm, but are far better than what is commonly used. This book will take your professional skills right into the BBQ level. If you buy only one BBQ book in your life, this is the hands down. I personally have over 12 a dozen different smokers and grills that I cook indoors more than outdoors, so I trust when I say this is the best publication on the barbecue of all time.
A worthwhile purchase for both novice and "seasoned" bbgers- highly recommended.

Derived From Web

, Apr 20, 2022

I have been an avid grillersmoker for many years and I have read many, many books and blogs on the subject. The book by Meathead is a great compilation of science - based knowledge of a bbg guru. Since I discovered Amazing Ribs. com many years ago, I have been a Meathead fan since I first discovered Amazing Ribs. com. If you are a newbie to bbg, you must buy this book. You will save its cover price many times over not ruining your food on the grillsmoker. Even seasoned veterans, you are bound to find enough gems and interesting reading to justify the purchase. I think of it as a bbqer's joy of cooking! I think of it as a bbqer's joy of cooking! '' It is well worth the purchase price to have both a good read and a valuable reference. I recommend it highly ''.
Great for techies

Derived From Web

, Nov 27, 2020

As a newbie to pellet grills, it helps to know the guidance, but it is great to know why. He explains things down to thermal gradients. My engineer - Soul is pleased. And it does a lot of myth busting. This book contains great meat this book + pellet grill + wireless multi-probe thermometer + multi-probe - wireless thermometer.
Just Buy It

Derived From Web

, Nov 7, 2020

If you ever wanted to learn more about BBQing, this is the book for you. It explains science, how to use it and most importantly, how to make a better barbecue. Definitely worth the money and then some.
Great Book

Derived From Web

, Aug 16, 2020

Bought it for a friend who is a very serious barbecue and grill man. He expressed to me that the book is a wealth of information, easy to read and will become his go-to book for barbecuing.
The best crapper reading material apparently

Derived From Web

, Feb 5, 2020

I got this book for Christmas from my father, and he is seriously obsessed with it. He reads it while he's on the garbage can and said he has learned so many amazing things about bbq and cooking in general! I can 't wait to sanitize it next... after I read it with some sanitizer.
No index cook book

Derived From Web

, Sep 6, 2019

This is a great book on BBQing - possibly the best. I bought a physical copy when it came out first and thoroughly enjoyed and thoroughly stained it. I bought the Kindle version for when I travel. Although the physical book has both a table of contents and an index, the Kindle version has neither, making it a giant pain to use. This major oversight will hopefully be addressed soon.
Read the reviews

Derived From Web

, Feb 1, 2019

The science of BBQ is the key. This book debunks centuries of French and Italian tried and true methods. Meathead says by his own admission that he prefers thick bark and or consistently covered seared meat. Not in my house, not in my house. Secondly, after explaining the professional barbecue cook at the competitions, I doubt that I'll ever go to one, because it is not realistic for the everyday cook. Like everything else, it is apparently sponsored and geared for only the people in the BBQ circuit. The only thing good about the book is the explanation of the different hardware needed, but for good recipes, go somewhere else... especially if you like grill marks and not thick bark.