Cyber Week Deals
Cyber Monday Deals are Here! Save 20% on All Books Under $10 - Code CYBERBOOK Learn more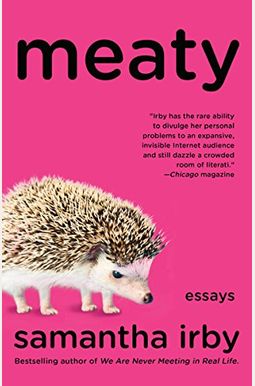  
Book Overview
Smart, edgy, hilarious, and unabashedly raunchy New York Times bestselling author Samantha Irby explodes onto the printed page in her uproarious first collection of essays.
Irby laughs her way through tragicomic mishaps, neuroses, and taboos as she struggles through adulthood: chin hairs, depression, bad sex, failed relationships, masturbation, taco feasts, inflammatory bowel disease and more. Updated with her favorite Instagramable, couch-friendly recipes, this much-beloved romp is treat for anyone in dire need of Irby's infamous, scathing wit and poignant candor.
Frequently Asked Questions About Meaty: Essays
Book Reviews
(11)
Did you read Meaty: Essays? Please provide your feedback and rating to help other readers.
Funny, real, and heavy

Irby's writing is just plain good - it's casual and illustrative and to-the-point, but it maintains a simultaneously dramatic and down-to-earth quality that feels like meeting up with a close friend for drinks and letting her rant about her life, but in a way that doesn't feel self-absorbed (she gives us lots of recipes and advice!). I'm not sure where one reviewer got 'narcissistic' from (it's a book of personal essays, so...) - Irby is perfectly aware of her shortcomings or potentially negative traits, as well the part she plays in her relationship woes, but like many single, adult women, has accepted that she's at a point in her life where she simply is who she is and she's not going to change that much. She swears a lot and is very frank and open about her chronic illness (lots of poop talk), but she reveals just enough about her childhood (which was incredibly harrowing at times) that she successfully presents a well-rounded view of herself as a person.
Incredibly personal, like the friend you never knew you had.

Derived From Web

, Feb 11, 2022

Irby is an amazing person for sharing her life. The intimate details of her bouts with family, love life, health issues, social life, and always bounces back with laughter. We all had hard times, but are too embarrassed to talk about them. She wants to expose herself to the world so that she can say it's true. Sometimes you can see your own life situations reflected in this book, which makes it hard not to fall in love with her. I recommend this to anyone who was once a teenager full of angst or an adult who felt like the world needs to be shaken upside down. I just adore Sam.
Buy it now, damn it, now.

Derived From Web

, Feb 11, 2022

This book has a 13 year old girl in it. I adore it. The essays have a dark type of voice. Think of Frank McCourt if he were a young black man and had a female partner. Relationships, upbringing, emotions, sex, norms, health, bodily functions, dating, and the stupidity of all our youths are not off the table. There are some sad chapters on her parents. I cringed while reading. Liberal amounts of profanity, references to your mom, dad, and boyfriend make for a very interesting conversation. I laughed, giggled, chortled, snickered, and kee kee'd while reading this book. She finds things that are mundanely embarrassing in my life hilarious. Very entertaining. It is worth it to buy.
Author is hilarious!

Derived From Web

, Jan 15, 2022

I like to read funny books and this did not disappoint. The author talks about her health issues, and her problems with dating. This memoir will make you laugh if you don't mind reading a lot of s**t.
Amazing. Raw and Crazy Funny

Derived From Web

, Feb 27, 2021

Irby is a great writer. Her stories of a young woman trying to take care of her sick mom, deal with her scary dad, date, hold down a job, and still try to have fun rang true. She powered through her sad and brutal childhood. This book is a testament to the power of putting one foot in front of the other. Every single day. It is a day. Most people don't give themselves enough credit for it. Irby is our patron saint.
So sad I'm finished-immediately buying more SI.

Derived From Web

, Jul 4, 2020

I laughed so many times. It was very loud. I talked about the book while I was on the phone. My sister is forced to download a app so she can read the book. I am typing this review so I can log into Amazon. com and buy more SI books, because I have been thinking about this for a long time. It's wonderful. Highly recommended.
Raunchy narcissistic rant

Derived From Web

, Apr 5, 2020

I bought this based on the reviews to read with my adult family members to lighten the mood and bring some much needed laughter as we continue ourQuarantine. The rant was filled with obscenity and narcissism. I'm not a pig is the opening note of the ' vintage' edition. I didn't just slap an adorable new cover of the same piece of garbage you bought a few years ago to trick you out of your couch- cushion money you could otherwise be spending on beer. From there it only gets worse. There is a world of difference in the modern interpretation of wit and candor. I didn't find this writing uproarious.
enjoy her writing despite the vulgarity

Derived From Web

, Nov 20, 2018

Irby is very candid about everything. She's too self- deprecating and negative a lot of the time. Her writing is great. It's easy to read, but still makes me think. Four stars for that accomplishment.
Best essays on diarrhea ever

Derived From Web

, Jun 29, 2018

Sam Irby is my favorite person to pretend is. Her writing is warm, funny, and shows a deep insight into the human condition. I like every essay in this book and she does a great job. She could have her book tourOutsource her tour so book #3 could get into the world faster
A-Freakin-Mazing!!!

Derived From Web

, Aug 25, 2017

The five stars are hands down. We are Never Meeting in Real Life is the only memoir that I have ever related to as much as this one. I understand a lot of what Ms. Irby has been through, after reading both of these. She is open, honest, and funny when she describes the most painful experiences she has had. I would like to one day be able to write as well as she does, and I wish she was my friend in real life.