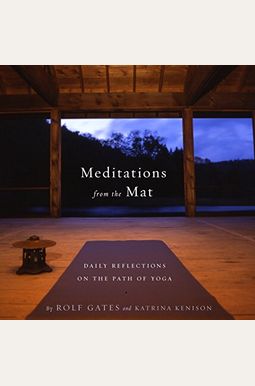  
Meditations From The Mat: Daily Reflections On The Path Of Yoga
Book Overview
365 daily reflections offering a way to integrate the mindfulness that yoga teaches into everyday life, from the acclaimed yoga teacher, Rolf Gates.
As more and more people in the West pursue yoga in its various forms, whether at traditional centers, in the high-powered atmosphere of sports clubs, or on their own, they begin to realize that far from being just another exercise routine, yoga is a discipline of the body
and
the mind. Whether used in the morning to set the tone for the day, during yoga exercise itself, or at the end of the day, during evening reflection, the daily reflections in
Meditations from the Mat
will support and enhance anyone's yoga journey.
Frequently bought together
Frequently Asked Questions About Meditations From The Mat: Daily Reflections On The Path Of Yoga
Books like Meditations From The Mat: Daily Reflections On The Path Of Yoga
Book Reviews
(16)
Did you read Meditations From The Mat: Daily Reflections On The Path Of Yoga? Please provide your feedback and rating to help other readers.
Works great for me.

Derived From Web

, May 24, 2022

Yes, sometimes it leans on religious philosophy and sometimes on a 12-step bent. But Patanjali and I am still trying to translate the god language into my own secular language. And the 12-step phrases come straight out of the same bowl that we are dipping in yoga, practicing these principles in all our affairs or focusing on principles over personality. I will not read to them an entire long thing, I will. It fits in with the Sutra we are reading that week, or it fits in with a theme or one does not have to read from the exact same day. This book appropriately quotes many people, a wide variety. And I also get the sense that the author walks the talk. Sayin just ''.
Great Daily Tool

Derived From Web

, May 24, 2022

Sure, some might say that this book can be a bit cheesy or a weird read, but it is amazing for what it is. I pick the book up every morning and read a book, whatever it is for that day. It provides me with a starting point for my day, helps me think, opens my mind, inspires me, but more importantly, allows me to be simply for a minute or two. It is like being on my mat in that this is my space and time where I get to think about how my practice extends from my mat into my life. It has been a great help to me and my wife. I don 't think that this book is limited to students of yoga, but it is an extremely useful tool for them. It is great to have this everyday, and especially for those days when I don 't get on my mat.
Daily Inspiration and Reflection

Derived From Web

, May 24, 2022

This book goes next to my chair in the living room, and I pick it up daily for contemplation and inspiration. I've generally read more than one entry at a time, but I know that I read it again and again. Rolf has done a great job combining the ancient teachings of yoga with the inspiration of spiritual leaders of all faiths and everyday people as well. It is apparent that he shares the path and he walks with us his struggles and his insights. Though he is a more experienced yoga student and a more learned yoga scholar than I am, I also feel as though we share a bond of longing and discovery. I highly recommend '' this book.
Beautiful!

Derived From Web

, May 24, 2022

I read this book every morning before I start my meditation and yoga routine. Quotes and insights are provoking and beautiful. At the same time, it allows you to further your knowledge about the structure of living a life of yoga.
Our first Yoga/Medication DVD

Derived From Web

, May 24, 2022

At the moment, I'm laid from foot reconstruction, and there are enough yoga moves that I can do from a chair. I bought this DVD for my son in hopes of persuading him to do it too. He has not joined yet, but is hoping he will.
I'm treating it like a journal

Derived From Web

, May 24, 2022

Daily - thoughts and meditations. I treat it like a journal, writing feelings and thoughts as I go. Has put life into perspective.
What beautiful messages this book holds

Derived From Web

, May 24, 2022

I love to take a hike and read passages from this book, and sit and read passages. It is very thought provoking!
Wonderful Read! :)

Derived From Web

, May 24, 2022

I have just started reading this book and absolutely love it! Every day I read a daily devotional and it gives me something to mediate on all day long. It is a beautiful easy to read '' book!
I have given this book as a gift and highly recommend it, especially to those who are new to ...

Derived From Web

, May 24, 2022

I read a selection or two each morning and am currently going through books for the second time. The essays are short, pithy, and insightful. The writing of Gates is accessible and user friendly.
Pick this book up when you feel overwhelmed!

Derived From Web

, Dec 2, 2021

I will never write reviews, but I will write one for this book. Every time I pick this book up, I feel at peace, and overwhelmingly validated in my feelings. For those who fight mentally or genuinely anyone, this book is it! It is an enjoyable read, but more so a book that never fails to reassure me. Life is messy and this book reminds us that it is okay to be a mess, everyone is! I can only recommend this book enough! I am also 23 years old and I am fascinated by it! Please buy this book, it is for your own good.