Buy 3 Get 1 Free
Our Best Sale Yet! Add 4 Books Priced Under $5 To Your Cart     Learn more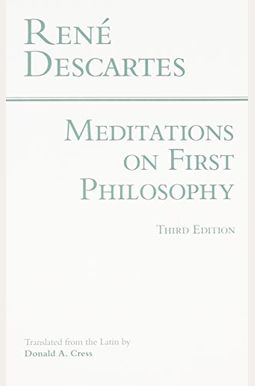 
 
Meditations On First Philosophy
Book Overview
This Description may be from another edition of this product.
I will now close my eyes, I will stop my ears, I will turn away my senses from their objects, I will even efface from my consciousness all the images of corporeal things; or at least, because this can hardly be accomplished, I will consider them as empty and false; and thus, holding converse only with myself, and closely examining my nature, I will endeavor to obtain by degrees a more intimate and familiar knowledge of myself. I am a thinking (conscious) thing. although the things which I perceive or imagine are perhaps nothing at all apart from me, I am nevertheless assured that those modes of consciousness which I call perceptions and imaginations, in as far only as they are modes of consciousness, exist in me. -from Meditation I: Of God: That He Exists Sometimes called the father of modern philosophy, French mathematician, scientist, and writer RENE DESCARTES (1596-1650) continues to have a deeply profound impact on our modern world. His thinking on how the mind works and what is it capable of has profoundly impacted our understanding of ourselves-he summed up his philosophy with the phrase I think, therefore I am, which still thrills us-and his influence extends to our own experiments with modern computing and artificial intelligence. This concise discourse on doubt and the nature of truth was Read More chevron_right
Frequently bought together
Frequently Asked Questions About Meditations On First Philosophy
Books like Meditations On First Philosophy
Book Reviews
(8)
Did you read Meditations On First Philosophy? Please provide your feedback and rating to help other readers.
so I would say this is a great book. Or is it

Derived From Web

, May 24, 2022

After reading this book, I question the reality, the sensations and even my own existence. I am now trapped in the vortex of time all by myself for about 1000 years, so I would say that this is a great book. Why am I a major philosophy? What am I going to do now with my life? Why am I writing a funny review on Amazon instead of studying for my finals so that I can stop disappointing my parents?
The "thinking thing" meditating on god, soul and body

Derived From Web

, May 24, 2022

We are 1641, Descartes or the thinking thing as he calls himself meditating about the existence of a god + telling apart soul and body. Here are the ingenious follies apart, the fun comes from his medieval methodology of building the argument. First, he admits to being aware of his ignorance and is therefore susceptible to errors. He claims second to be able to free his mind from the senses and prejudices. Also prepared to demolish his own opinions with new evidence. Then he goes about defining what information his senses provide to conclude that the idea of god is still with him in a senseless mindset. I write this in 2016, because we know that humans can not reach such a senseless state, but Descartes is still very entertaining.
Give it a chance

Derived From Web

, May 24, 2022

If you are looking for the philosophy book where you can prove that you are because you think that this is what you are looking for. Although he does go on to establish more than that later on. It was a very interesting read on introspective philosophy, definitely worth the time, plus it isn 't long in length either.
Interesting to read, but kind of falls apart at the end.

Derived From Web

, May 24, 2022

As an atheist, I found reading Meditations '' a fairly interesting read. It starts as a great logical argument where nothing exists at first, and then slowly builds to prove his existence and identity by trying to prove God's existence. I love logic and debate, so that this was a thrill. However, I can 't really forgive the fact that the book seems to abandon the classic logical logic of the previous chapters and uses a cold logical fallacy. The idea of the unmoved mover '' is a pretty weak argument when you understand physics and this bad conclusion brings the book down. I rounded this one up to 4 stars.
A classic - but still important

Derived From Web

, Jun 26, 2020

I purchased this book because I wanted to evaluate my suppositions on the philosophy of the mind and test their validity, as Descartes did his faith in all things. I was sincerely impressed by Descartes's reasoning and his method has left a great impression on my own thinking. His argument for dualism has been adapted by modern philosophers, such as Nagel, Kripke, and Chalmers. And as such, it is an argument that deserves to be studied and appreciated. It is also one that awakened me from my dramatic slumber with regards to physicalism, if I may be so dogmatic. I recommend it highly '' to everyone.
College book

Derived From Web

, Jan 14, 2020

This is exactly what students need in college for their philosophy class. It is by far the best transition to make and Hackett does a great job with the publication of the book.
I Think, Therefore, I Bought This.

Derived From Web

, Jun 27, 2018

I am therefore a thinker.
Dualism

Derived From Web

, May 27, 2018

One of the fathers of dualism or the belief that the body and soul are two different entities.