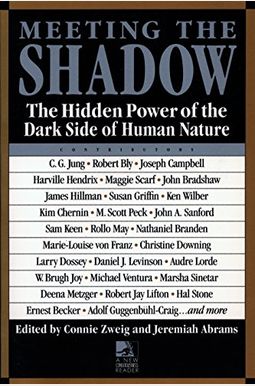  
Meeting The Shadow: The Hidden Power Of The Dark Side Of Human Nature
Frequently Asked Questions About Meeting The Shadow: The Hidden Power Of The Dark Side Of Human Nature
Book Reviews
(10)
Did you read Meeting The Shadow: The Hidden Power Of The Dark Side Of Human Nature? Please provide your feedback and rating to help other readers.
Can't put it down!

Derived From Web

, May 9, 2022

I am almost finished with this book ''. I have not been able to put it down, which is rare for me! Not only do I find the subject matter of Jung's theory of The Shadow '' captivating, illuminating, and inspiring, but I must give huge credit, especially to the authors for delivering it in a way that makes it understandable. This book is written very well. Easy to understand, plainly articulated and well formatted into sections that make it easy to shift from topic to topic without being lost. The subject could easily be simplified and comprehendable, but the authors have written this in a way that makes this somewhat complicated subject very convoluted and complicated. As a person who has had to have a lot of occupational therapy for serious reading issues, I appreciate the authors'sharp writing ability!!! Subject matter is superior and writing makes this book a FIVE STARS in my world, and that is VERY rare from me!
Classic book on a very important (Jungian) psychological principle that plays a very strong role in human relations

Derived From Web

, May 9, 2022

This is a classic book on a very important psychological principle that plays a very strong role in human relations, both in how it comes to be and how we perceive others and are perceived by them, as well as in how we interact. It explains a lot REALLY.
Five stars in our reading group

Derived From Web

, Aug 14, 2021

It was well received and git strong interest from other groups because many members wanted to know how to integrate the shadow in detail. This was nicely covered. The different themes and perspectives were very insightful.
Good book for working on yourself

Derived From Web

, Mar 18, 2021

That is what life is about right? Growing up and becoming a better person is what everyone should be doing... It would definitely make the world a better place.
Psychoanalytical crap

Derived From Web

, Feb 10, 2021

Literally, this book made me want to punch myself in the face. It is a set of psychoanalytical theories using repetitive words. If you are heavily into psychology and are a fan or jig work, then this book might be of interest, but if you are someone who wants to learn more about spiritual aspects behind shadow work, you will disseminate this book.
Great book of shadow!

Derived From Web

, Dec 11, 2020

So glad I got this book, unlike many other books on the same subject, which go around and around in a very intricate web to tell you something you probably already knew in the first place. Some authors are very good with words and can take you a thousand times around the same concept without ever getting to the point and perhaps if you buy their next book, they will eventually bring it to a conclusion... or maybe not... though this book seems to deliver.
You can't our run your own shadow

Derived From Web

, Aug 30, 2020

Be yet and face your own dark side, let there be awareness, acceptance and compassion. So much of what we project outside are the own parts of self that needed attention and love. A great gift for your own middle age, a necessary journey of healing splits and owning the unpleasantness. Love yourself so that you don 't surrender power to the wrong people.
Recommended Reading

Derived From Web

, Oct 6, 2019

This is an excellent book for anyone looking to connect with their inner dark side in a way that will enrich their life further.
An absolute gem

Derived From Web

, Oct 18, 2018

I read most of Jung's work ok the Shadow and it is fantastic, but like all of Jung's work it is not the easiest to comprehend. The chapters by Miller, Jung, Bly, May and Becker are my favorite if you're curious to know more about your darker side. How to know it, understand it and integrate it, this book is the best you will find.
... Books & Discs description of the book condition felt like they actually looked at it & described *that* book

Derived From Web

, Sep 28, 2017

Store Benefit Books'Discs description of the book condition felt like they actually looked at it'; described *that* book, not just a general classification of the condition. Price and shipped out time were a great-super-cool seller. Connie Zwieg has compiled a lot of good insight from many sources in this and presents it to make it actionable. I haven t finished it, but I'm eagerly grateful for her work.