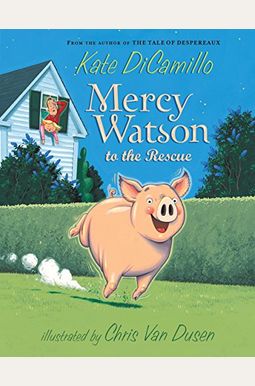  
Mercy Watson to the Rescue
Book Overview
This Description may be from another edition of this product.
From the one and only Kate DiCamillo comes an irresistible new hero for early chapter book readers, brightly captured with comic nostalgic flair by Chris Van Dusen.
To Mr. and Mrs. Watson, Mercy is not just a pig - she's a porcine wonder. And to the portly and good-natured Mercy, the Watsons are an excellent source of buttered toast, not to mention that buttery-toasty feeling she gets when she snuggles into bed with them. This is not, however, so good for the Watsons' bed. BOM CRACK As the bed and its occupants slowly sink through the floor, Mercy escapes in a flash - to alert the fire department, her owners assure themselves. But could Mercy possibly have another emergency in mind - like a sudden craving for their neighbors' sugar cookies? Welcome to the wry and endearing world of Mercy Watson - an ebullient new character for early chapter-book readers in a series that's destined to be a classic.
Frequently bought together
Frequently Asked Questions About Mercy Watson to the Rescue
Books like Mercy Watson to the Rescue
What should you read after Mercy Watson to the Rescue Book? Here is a list of books to read if you read and loved Mercy Watson to the Rescue
#1

#1

#1

#1

#3

#1

#4

#1

#5

#2

#3

#2
Book Reviews
(14)
Did you read Mercy Watson to the Rescue? Please provide your feedback and rating to help other readers.
A great option for the reluctant readers out there!

Derived From Web

, Apr 20, 2022

My 6 year old is a very reluctant reader. This has thrown me for a loop because I have always been an avid reader and made the mistake of assuming that all my children would be alike. I have been looking for a book that could spark a love of reading in her. I don 't want to get ahead of myself, but she was hooked after looking through the pictures and quickly picked up the book and started reading to me out loud. We're both thrilled about it. Mercy Watson loves the illustrations and the fun and silly Mercy Watson.
Quirky and funny

Derived From Web

, Apr 20, 2022

For those who just got into chapter books, perfect! Engaging and fun makes you want to keep reading! A real winner and excited that there are more books in the series to read.
Easy read

Derived From Web

, Apr 20, 2022

Kids enjoyed reading it, read it, not kidding, why require so many words to rate a book? ! !
Love!

Derived From Web

, Apr 20, 2022

I got this for my daughter when she was just beginning to read chapter books on her own and she loved it. My husband recently read it to our three years old over the course of a few nights and he loved it too!
excellent quality

Derived From Web

, Jun 29, 2021

I ordered the paper back format and wasn 't expecting the better grade format. It was more like a library format, but even better. The words are bold and clear. The illustrations were also very good, and the illustrations were very good as well. I could not believe that I paid only the price of a paperback. My son has eye sight problems, but he was able to enjoy reading without having to deal with small dull print that you find in some paperbacks - chapter books. The story is humorous with a little mystery. My son was laughing out loud and asking for the next book in the series.
Teaches kids to be scared of the dark and climb into their parents' bed.

Derived From Web

, Jan 9, 2021

My child enjoys this book, but we have not enjoyed the lessons that it imparts. Be afraid of the dark. Leave your bed and it's ok to sneak out and climb in your parents'bed. That a woman's role is to cook and that old women are bossy or weak. would not recommend.
What's not to love?

Derived From Web

, Dec 12, 2020

Mercy the Pig is afraid to sleep in her own room in her own bed, OK. Mercy, the pig is afraid to sleep in her own bed. Guess that no one ever told her that she SHOULD be sleeping alone outside. I, however, think that she might have preferred this unless there was no moon. Mercy was not afraid of being alone, as you see. She was afraid of the dark. Her momma and Poppa should have bought a nightlife and avoided what happened in the middle of the night. You 'll have to read the story to discover why the Fire Department was called and what they did to actually be of help. Of course, theY weren 't the ones who were deemed heroes. That would have been Mercy, and was the reason there was trouble in the neighborhood. Cute story. Cute story. Cute pig. Nutty couple. Nutty couple. Wild Chaser : Wild Chaser. Great illustrations. I 'd say that children will love it! Yep, I'd say that kids will love it!
Buy this book!

Derived From Web

, Sep 10, 2020

The book is excellent! My child had been reading beginner chapter books and I needed some content. I chose this because the story was set apart from a princess, unicorn, butterfly world that she is used to. This is now her favorite series and she asked me for all of them. Mercy is an absolute laugh and I can not recommend this book enough.
Great chapter book for reluctant readers

Derived From Web

, Jul 27, 2020

I'm not exactly sure what it is about the story... but I have found that Mercy Watson has been a great book that entices reluctant readers. It is a beginning chapter book, so a good match for kids who are reading the end of the 2nd grade reading beginning with 1st grade reading levels. I teach the 1st grade and have read the book with some of my students. One reluctant reader I just read it with, and didn 't want to stop reading.
Great book for our young kids!

Derived From Web

, Jul 1, 2020

We've had this book for 3 days and have read it too many times to count! My 5, 4, and 2 year old love it and even our 9 month old can enjoy the pictures, so it is a definite winner to entertain a wide age range! My 4 year old cracks at the humor in it and my 5 year old has expanded his vocabulary a bit and the 2 year old loves hearing the different accents I give characters. We'll probably invest at some point in the rest of the series, but we 'll enjoy this one first for awhile. Personally, I think an 8 year old would be a little bored with it, but maybe it's because we do a lot of reading, so that our children will outgrow this at a younger age, but time will tell.