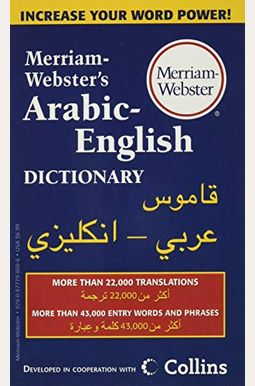 
 
Merriam-Webster's Arabic-English Dictionary
Frequently Asked Questions About Merriam-Webster's Arabic-English Dictionary
Book Reviews
(12)
Did you read Merriam-Webster's Arabic-English Dictionary? Please provide your feedback and rating to help other readers.
Great!

Derived From Web

, May 28, 2022

I know that a lot of people like the Arabic dictionary of Hans Weir, but this is so much simpler. It has Arabic words first and then English.
... classroom collection for the benefit of my ESL students--it's great, and

Derived From Web

, May 28, 2022

Got this to add to my classroom collection for the benefit of my ESL students - it's great and I appreciate that it doesn 't make too much of a dent in my family's budget!
Arabic text incorrectly transliterated Ya is not pronounced as J.

Derived From Web

, Jul 11, 2021

The Arabic used for existence in this book is incorrectly spelled as Jujadu. The Arabic text has these Hurufs from the right hand to left Yaw jim dal. In ya there is no sound and J. The word should therefore be transliterated as Yujadu. In my recollection, this J to replace Ya is an attempt to Europeanize the history of Isa Ibnu Maryam '', so called Jesus'; Son of Mary. There is no J Isa ''. His name is not pronounced Jesus'; his name is not.
Intended for native Arabic speakers

Derived From Web

, Oct 16, 2020

I appreciate that the alphabet and pronunciation are included in the beginning, along with the numbers. It would have been nice if the numbers included pronunciation also, but they don 't. This seems to be intended for Arabic speakers learning English, rather than for English speakers learning Arabic.
Poor print quality, not user-friendly to beginners

Derived From Web

, Aug 29, 2020

In general, blurry and tiny scripts are hard to decipher. Pages stuck together... Pronunciation of Arabic words is not provided in a consistent format, sometimes using IPA, sometimes using English equivalents. For sure, return!
No vowel indicators and no gender of words!

Derived From Web

, Aug 22, 2020

For what it is, you may get very cheap if it is right now. But you get what you pay... There are no Arabic indicators so that you have to rely on the IPA that they provide, so that they at least have this, but if you can read the vowel script, this is a little disappointing. There is also no indication of the gender of nouns, which is a large part of the language in Arabic. Plurals are also not included for most part. There are some sentences throughout and some phrases which are good, but this dictionary is not the best without the above aspects. Still on the lookout for a good online or print dictionary that has all the features that a learner would need to learn well.
Please replace order

Derived From Web

, Jul 11, 2020

I purchased a new dictionary and used it, and some pages don 't say the full word, as it looks like ink is missing on the pages.
A good buy

Derived From Web

, May 15, 2020

The book came with a little spine damage... no big deal. I do not agree with comments that the text is too small. It is readable, but in my opinion very small. Book by many words in great style.
Up to date!

Derived From Web

, Apr 26, 2020

My students from Yemen said, this is very accurate. The other Arabic dictionary that the school had was old in time. I am happy that they are more comfortable.
Add a magnifying glass to your purchase.

Derived From Web

, Jul 16, 2018

I can 't speak for the translation of the word, since I speak Arabic fluently. I, however, wish that I would have bought a magnifying glass with this purchase. The Arabic is written so small that I have a normal time seeing the print. If you have vision problems, you should definitely consider buying the regular edition.