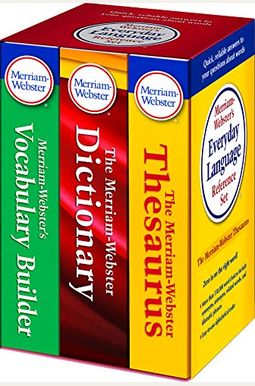 
 
Merriam-Webster's Everyday Language Reference Set
Frequently Asked Questions About Merriam-Webster's Everyday Language Reference Set
Book Reviews
(10)
Did you read Merriam-Webster's Everyday Language Reference Set? Please provide your feedback and rating to help other readers.
Can never go wrong with a dictonary

Derived From Web

, Oct 13, 2021

I was interested in learning a new word every couple of days. The books were great for that, but I was disappointed with the fine print of the dictionary, so I will order one with bigger print next time. Life is great for giving second chances for education since I didn't want to go to school.
Good to have for school

Derived From Web

, Aug 3, 2020

I need it for school because it arrived damaged. It would be nice if the packaging arrived well packed. It's good to have these books. Fast shipping. Thank you!
Defective Dictionary

Derived From Web

, Apr 4, 2020

The numbered pages of the Dictionary jumped from 398 to 559 in a bad way. Next page 362. I will not send this back to you. Send me a good dictionary. Thank you!
Great Collection! 🌟

Derived From Web

, Mar 24, 2020

The book set is really nice. I bought this for my 14 year old daughter who likes to write poetry and wanted hard copies in case she doesn't have access to the internet. I like how they are put in a nice box to display and store in. I think these are a must have for any library collection. Fast shipping, a great product. If you found my review helpful, I would appreciate you clicking yes. It's!
Dictionary is good, thesaurus is lacking

Derived From Web

, Mar 17, 2020

The thesaurus is lacking, but the dictionary is good. It makes sense since the dictionary's function is to provide the exact definition of each word, whereas an effective thesaurus should provide an abundance of word options, which physically requires a lot more space. The small size of the book makes it difficult to find alternate words in the final chapter. I don't want to buy a large thesaurus and a small dictionary together.
Excellent books but minor quirk

Derived From Web

, Feb 17, 2020

Books are excellent and other reviews have already covered this. The books were wrapped in a plastic wrap and packed in a box. The books have a musty smell. If the mold smell doesn't decrease, I will have no other choice but to return them or request a replacement from Amazon. If there is a chance of mold growth in the books, I recommend the seller use Silica Gel packets to absorb any odor in the packaging. The books have been printed in the USA.
Dissatisfied.

Derived From Web

, Jan 10, 2020

I didn't like the Thesaurus. It looks like a dictionary. There are many words missing from the dictionary and one book has a book binding that is faulty and the pages are cut funny. Disappointed.
Not useful for daughters' middle school vocabulary homework

Derived From Web

, Aug 12, 2018

My husband wanted to know if we didn't have a real dictionary after my daughters tried to use this for their homework. Many of their words are not in the dictionary. I thought they were looking wrong, but they were correct. Sometimes the words were in the thesaurus, but not in the dictionary. It was very frustrating.
architect of the best known thesaurus in the English language

Derived From Web

, Jun 4, 2018

A thesaurus is a book of words and their meanings according to the dictionary in the box set. The Thesaurus reads as a dictionary and lists related words in a poor way. The thesaurus is from 2005. What a point of view. A thesaurus is a reference work that lists words grouped together according to similarity of meaning, in contrast to a dictionary, which provides definitions for words and generally lists them in order alphabetical. Peter Mark Roget, architect of the best known thesaurus in the English language, said that the main purpose of such reference works for users to find the word, or words, by which an idea may be most fitly and aptly expressed.
Look it up!

Derived From Web

, Jul 11, 2017

I bought these for my daughter. She asked me a question. She looked confused when I said to look it up. I went to the computer to place the order. I am happy that I was able to find all three references. She knows where to go when I say look it up.