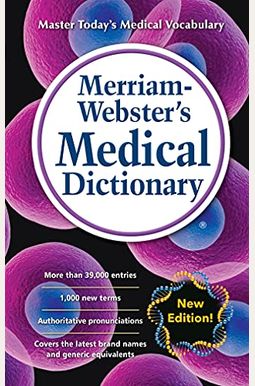 
 
Merriam-Webster's Medical Dictionary
Frequently Asked Questions About Merriam-Webster's Medical Dictionary
Book Reviews
(11)
Did you read Merriam-Webster's Medical Dictionary? Please provide your feedback and rating to help other readers.
Handy

Derived From Web

, Sep 22, 2021

I'm at the nursing school and having this is just handy. When the Internet goes or you stick to textbooks, this has been extremely helpful in medical vocabulary when I need it. I bought it used and it was totally fine. Worth it.
Has name brand meds and generics included which is great

Derived From Web

, Mar 20, 2021

For the price, you can t beat it. Definitely not a pocket size though. It is big enough for me, but if you carry it everywhere, it may be too small. Also has the medication for name brand and generics also has the medications for name brand and generics.
Too small for desk/home use; I did not check on book dimensions before ordering.

Derived From Web

, Mar 14, 2021

This dictionary is fine as far as content, I just did not check the book dimensions before ordering and so is somewhat difficult to read because the print is very small. It serves the purpose otherwise.
pointless

Derived From Web

, Nov 13, 2020

If you have Google, this book is pointless lol. My nursing school recommended that we buy it and I haven t used it once. If you prefer a hard copy dictionary, you might get it, though, because it is cheap.
Nursing Students!

Derived From Web

, Jul 20, 2019

I will say that this dictionary is a great help with prerequisites to help you in the long run. I have used it in almost all my general education courses, such as Anatomy and Physiology, Psychology and others. I HIGHLY SUGGEST this to all forms of medical study, including nursing. Hopefully Merriam-Webster comes out with a dictionary of pharmacology!
Use as a study/reference guide

Derived From Web

, Jul 15, 2019

I use this dictionary as a study guide and reference for medical coding. MW owned previous editions of this dictionary, so it was a no-brainer to return to MW. Thank you for such a useful item.
Nicer Reference Book

Derived From Web

, Jun 6, 2019

I am a new field in medical research and needed a medical dictionary. My old was well worn. I ordered this as a lightning replacement and it worked great. Then I would have liked it even more if it had tabs, but it gets the job done.
Good book but tiny print

Derived From Web

, Oct 25, 2018

This book is light and is easy to carry in a backpack, laptop bag etc. Within this paperback copy there are thousands of medical definitions. The only con of this book is the size of the print. It is much smaller than I expected. This book has been quite helpful with my medical office courses. The product arrived quickly and in excellent shape.
Useful medical terminology dictionary for anyone with a compatible Kindle product

Derived From Web

, Jun 27, 2018

What I love most about this medical dictionary is that I can carry it on my Kindle Fire instead of a 992-page book. I also found that if I reduced the text-to-speech to less than 1X, I could understand the pronunciation of most words on the page. The downside is that text-to-speech is not always useful for words broken into syllables. I think anyone who has a need for a medical dictionary and has access to a compatible Kindle product will find the dictionary useful.
Love love love

Derived From Web

, Mar 21, 2018

Love the love. This helps me in both my medical assisting degree program and my medical billing and coding certificate program. I just want a new 2018 copy to come out soon.