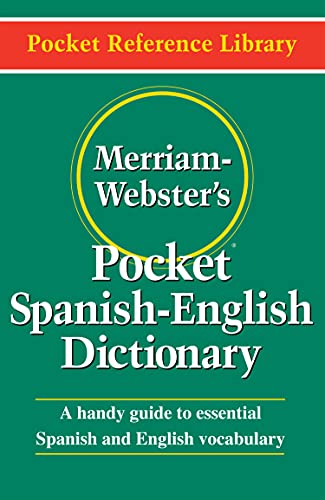 
 
Merriam-Webster's Pocket Spanish-English Dictionary
Frequently bought together
Frequently Asked Questions About Merriam-Webster's Pocket Spanish-English Dictionary
Books like Merriam-Webster's Pocket Spanish-English Dictionary
What should you read after Merriam-Webster's Pocket Spanish-English Dictionary Book? Here is a list of books to read if you read and loved Merriam-Webster's Pocket Spanish-English Dictionary
Book Reviews
(14)
Did you read Merriam-Webster's Pocket Spanish-English Dictionary? Please provide your feedback and rating to help other readers.
Great size for putting in your pocket

Derived From Web

, Apr 25, 2022

Like so many others, I chose it because it seemed to be the best compromise between portability and content. It balances the two nicely with a good amount of words, but not so bulky you can't take it with you, Mr. Stackhouse said. The book is small, but that's to be expected when the book is this big. However, I did run into situations where the word I was looking for was not in there, so it was still adequate for general use. I studied Spanish for three years and have traveled to many Spanish speaking countries on four occasions. Don't expect this book to make you fluent, but it's great for when you are in the middle of a conversation and can't remember a word or two.
Great pocket reference for intermediate to advanced speakers

Derived From Web

, Apr 25, 2022

I am a medical student and this dictionary was my first piece of clothing. I spoke Spanish fluently in college, but now I'm not as fluid. I need the dictionary from time to time when I forget single words, and I don't always have time to go to the clinic to get it. About the size of a card index, but a little wider. Pages are thin and of bible-like quality as others have mentioned, so it might not be the best product for your wild backpacking adventures or something if similar.
Excellent Spanish-English Dictionary

Derived From Web

, Apr 25, 2022

I highly recommend this product to anyone who has ever purchased a book. Just about everything you need for ordinary discourse and reading is in this pocket-sized dictionary. Easy to handle, it's great to be back home. Before I could say anything, a friend of mine in Mérida, Yucatn, México, recommended the Merriam-Webster's Pocket Spanish-English Dictionary to me. He had used it extensively for several years to get what he needed in Mérida. Mr. Kennedy said he bought the plane on a trip to Belize. He thought that this dictionary would be so useful to me, and he was right. It works well with my reading of Spanish-language novels. It's great to be back reading again and again. The Merriam-Webster's Pocket Spanish-English Dictonary is highly recommended.
Compact and Sturdy Spanish-English Dictionary

Derived From Web

, Apr 25, 2022

This dictionary is just over the size of a 3 x 5 card making it small enough to fit in many pockets or easily into a purse. Even with magnification, the writing is small, but since I need reading glasses anyway, I can see it without difficulty. The cover is a heavy paper with what appears to be some kind of plastic or lamination, which gives it some strength. The whole book is not stiff, but rather flexible enough to give and take with the movement in your pocket without discomfort. Note that this is a word-to-word translation, rather than a phrasebook.
Very good for my purposes

Derived From Web

, Apr 25, 2022

I am astounded at the review that was listed below me. What a waste of time, Mr. Rule told us. Only this dictionary can carry around in your pocket without falling apart in days. The Oxford dictionary is held together with cheap glue by two students using tweezers and a hammer. This is just fine with me for purposes of product development, he said. If I need to look up an obscure word I just wait until I get home, he said.
Spanish-English Dictionary

Derived From Web

, Apr 25, 2022

The Oxford English Dictionary was promised by publisher Pearson. The book is very thin, at just 13 1/2 inches by 18 1/2 inches, and contains no footnotes.
Type to tiny to be useful

Derived From Web

, Apr 25, 2022

The type is extremely small, making it an effort in frustration to use. I would have been happier to receive a thicker book with more readable type.
You'll need a magnifying glass

Derived From Web

, Feb 4, 2022

While the overall size would make this travel-sized, the type is so small that I had to put on readers in a light, sitting still, in order to read. It might work for some, but I'm not sure it will work as a reference for my Spanish lessons. I ordered a paperback version of the Unabridged Spanish dictionary from Amazon. com.
The print was way too small to read.

Derived From Web

, Jan 29, 2022

The print was too small, even for a T-shirt. Yes, I needed a magnifying glass and did use it to look through the city hall windows. I didn't find it so I'm not so inclusive either. I was very happy with the return process, Mr. Dhaliwal said.
Not what I expected at all

Derived From Web

, Aug 6, 2021

This pocket book size is not pocket sized and the printing is so small you almost need a magnifying glass to read it. It would be great to have it back, Mr. Dhaliwal said.