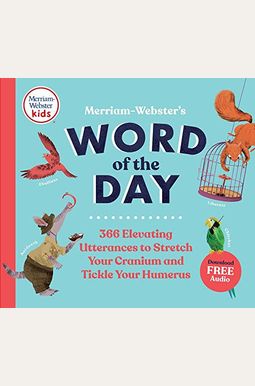 
 
Merriam-Webster's Word of the Day: 366 Elevating Utterances to Stretch Your Cranium and Tickle Your Humerus
Frequently Asked Questions About Merriam-Webster's Word of the Day: 366 Elevating Utterances to Stretch Your Cranium and Tickle Your Humerus
Book Reviews
(9)
Did you read Merriam-Webster's Word of the Day: 366 Elevating Utterances to Stretch Your Cranium and Tickle Your Humerus? Please provide your feedback and rating to help other readers.
Fun Resource

Derived From Web

, Feb 21, 2022

Our six year old loves to read a new word every day and discuss it. It has been a daily addition to our fun routine. At the end of the month there is a QR code to scan and listen to a little story read aloud with the words of that month.
Fun and educational for all

Derived From Web

, Feb 11, 2022

We both enjoy looking at the word of the day. There are even some of these old grandmas that don 't know... imagine that! The only wish is that it wasn 't calendar-numbered. But that would not bother most.
Great teaching tool and fun!

Derived From Web

, Feb 6, 2022

This is a great book for enlarging your children and vocabulary! It is colorful and fun. It is working!
Perfect for Teachers!

Derived From Web

, Jan 31, 2022

In my classroom, I use a Bark of the Week '', a word that lets my students know when it is okay to move back once I get their attention. I try to use a Tier 2 or a Tier 3 vocabulary word to expand their vocabulary. This book made it just easier to pick 10x interesting words that even match up to 12th seasons...
Granddaughter

Derived From Web

, Jan 21, 2022

I know that all the grandmas say it, but my little one is very bright. And the first thing to notice about someone is their appearance, next is their vocabulary.
Fancy words + fun facts, too!

Derived From Web

, Jan 16, 2022

My son already has a pretty big vocabulary for someone his age, so that the normal dictionary did not interest him much, and when I gave him a normal dictionary, he went straight for the naughty words. Illusion fails epically. But this word of the day is excellent! Not only does it have words he has never seen before, but it also has examples of how to use the words in a sentence as well as tidbits of factualhistorical information. Totally an unexpected bonus, because he is also into history books. He took it to bed with him and read with him for a while instead of going to sleep big hit! ''
Building vocabulary

Derived From Web

, Jan 10, 2022

He shares the new word each day and is very excited for the end of the month when we will be treated to a story using all the words we learned.
can use this for family trivia games

Derived From Web

, Dec 22, 2021

Very attractive illustrations, which appeal to children. A lot of these words will be new or difficult for younger children, but we find that it still makes a great trivia game for children to play with adults. Kids can find a word to ask the adults in turn, first to answer gets a point, etc. Or if the adult does not know, the kid gets a point.
A treasure for families and teachers

Derived From Web

, Nov 30, 2021

This book is as much fun for children with a word to learn for every day of the year as it is for grownups! The words are fun to learn and the illustrations are charming. We loved reading the story out loud at the end of each month and then listened to the entertaining recording together. This book should be placed on every familly's table and on every teacher's desk. It is also a great gift.