Buy 3 Get 1 Free
Ends Soon! Buy 3 Books Under $5, Get a 4th one Free.      Learn more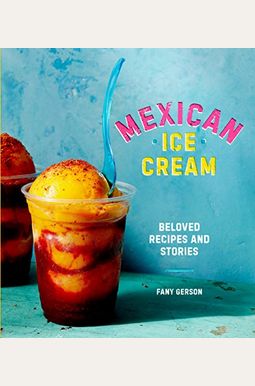  
Mexican Ice Cream: Beloved Recipes And Stories [A Cookbook]
Book Overview
A collection of 60+ flavor-packed recipes for ice creams and frozen treats rooted in Mexico's rich and revered ice cream traditions.
This new offering from the incredibly popular baker and sweets maker Fany Gerson, the powerhouse behind Brooklyn's La Newyorkina and Dough, showcases the incredibly diverse flavors of Mexican ice cream while exploring the cultural aspects of preparing and consuming ice cream in Mexico. Gerson uses unique ingredients to create exciting and fresh flavors like Red Prickly Pear Ice Cream,
Oaxacan-style Lime Sorbet, Avocado-Chocolate Ice Cream, and Rice-Almond Ice Cream with Cinnamon. All recipes are created with the home cook in mind, and written in Fany's knowledgeable but accessible voice.
Mexican Ice Cream
features vibrant location photography and captures the authentic Mexican heladerias that Gerson has been visiting for decades. For anyone looking to up their summer ice cream game, this is the book.
Frequently Asked Questions About Mexican Ice Cream: Beloved Recipes And Stories [A Cookbook]
Books like Mexican Ice Cream: Beloved Recipes And Stories [A Cookbook]
Book Reviews
(10)
Did you read Mexican Ice Cream: Beloved Recipes And Stories [A Cookbook]? Please provide your feedback and rating to help other readers.
Cool recipes

Derived From Web

, Mar 7, 2022

Amazing recipes that offer new tastes to those used to European flavors. There is a review that rated this book very poorly because some recipes have corn syrup in them. This reviewer seems not to know the difference between corn syrup, which is glucose, and high fructose corn syrup HFCS, which is chemically modified corn syrup and most often fructose. Ignore this review.
Arrived promptly and in excellent condition

Derived From Web

, Aug 24, 2021

As promised, this book contains a variety of recipes for Mexican ice cream and other frozen sweets. I have not had time to read the whole book, but I look forward to trying the recipes.
Worth the Effort

Derived From Web

, Aug 5, 2021

The recipes in this book are by no means meant for those who are not willing to put a bit of work for an amazing result.
Who doesn't like ice cream

Derived From Web

, Jun 20, 2019

My wife is from Mexico, and when I bought this book she was so excited because she enjoyed ice cream from her home town, but she never learned how to make it until now.
Not enough stars for this book!

Derived From Web

, Sep 27, 2017

I think this is by far the best ice cream recipe book I have ever read. I '' plan on making each. The only character is single. For those who complain that the recipes are too esoteric, I wonder if they have never heard of a palate cleanser or a chilled summer soup. These don 't have to be served as desserts-recipes are so versatile that they can be used for so many things! The book sets your creative culinary mind sputtering!
Very cool (haha), and different selection of recipes!!

Derived From Web

, Sep 3, 2017

With so many people not now drinking a day...a bottle of wine is out as a gift to yourself. When I am invited to dinner, I whip up a batch of ice cream. This way they have a treat later. I pack it in the Tovolo - glide a scoop, easy peasy! The black walnut is my fav so far. I first soak the nuts, not toast, as they say in the book.
I just love the flavor combos and at times using the recipes ...

Derived From Web

, Jul 15, 2017

It is nuts that this book doesn't have more rave reviews. Quite frankly, while leaving it is some form of realizable pornography. These could take a step or two to create, but ice cream, generally speaking, is not rocket science. I love the flavor combos and sometimes use the recipes as a jumping off point for some improvisation to please our tastes. We have done the Horchata Ice Cream and the Lime Pie Ice Cream so far. Both were just amazing . Can 't wait to try more. Merci beaucoup for opening my mind with this!
Mexico in da house!

Derived From Web

, Jul 12, 2017

I had been waiting for a while on this book and was worried that I had uplifted it in my head. It was exactly what I wanted and so much more. Though I am not in this fantastic flavor pallettes are 100% down my alley - the cricket one was a little out of my realm of experience, but almost all recipes are Mexican. The book is still so excited about it!
Packed full of deliciousness!

Derived From Web

, Jun 21, 2017

Beautiful stories of Mexico, regional favorites, great photos and OH! The recipes are delicious! Now I can make Mole Icecream with my leftover mole or there is a great recipe for making your own mole. Plus so many interesting flavors and all toppings, even a recipe for cajeta, famous Mexican goat milk caramel, instructions on how to make your own sugar cones, even vanilla and tequila whipped cream. I spent the best $12 I've ever spent in a long time!!! Great summer gift too!
Great Mexican ice cream cookbook, and cute stories behind it

Derived From Web

, Jun 17, 2017

This is the 2nd book I bought from Fany Gerson, a pastry chef who loves ice cream, especially her childhood favorites, and made other adapted recipes that show all the flavors popular in Mexico. This is another Mexican cookbook that features different recipes for making awesome ice cream. I also expected to find sorbets, popular Mexican toppings, and other frozen treats never expected. One of the great cookbooks that feature stories from popular and famous regional frozen treats, flavors unique to a few regions of Mexico and the process of making these wonderful treats. I really liked her writing because it is so fun to read an introduction of each unique flavor of popular Mexican ice cream.