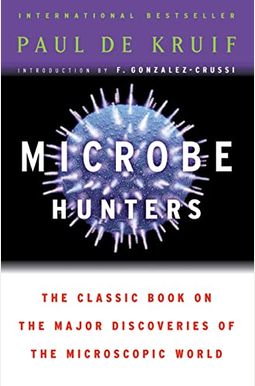 
 
Frequently Asked Questions About Microbe Hunters
Book Reviews
(7)
Did you read Microbe Hunters? Please provide your feedback and rating to help other readers.
Connectivity of Science and Literature

Derived From Web

, Feb 8, 2022

I started my career in Science after reading this book. I was about to start high school. I was curious about the problems in the biological and physical sciences from the book. It didn't seem to be racist at that time. The science of discovery was the main focus. The racism of the times was discussed. We should throw out Mark Twain because of Tom Sawyer. I'm pretty sure that some of the reviewers don't know that De Kruif was at Rockefeller University and that he spoke with Sinclair Lewis about the latest explorations in science. Lewis wrote a book about a doctor. This book is not racist. As a social scientist. Racist behavior should not be condoned. We can change our thinking, but we cannot change the past. This book is great for teaching basic scientific principles.
Enthusiastic

Derived From Web

, Jan 1, 2022

The book tells of a time when most Americans have forgotten, especially cogent in the times of Covid-19. I can't give it 5 stars because of the racist and sexist comments and the inventive dialog that the author creates to try and get inside the heads of the earliest discoverers of microbial disease. He was a man of his time, but his enthusiasm for the subject is real. I think that if everyone read this book, they would appreciate what medical science has done for humanity.
Good book about scientists who look for infectious disease but its nearly 100 years old

Derived From Web

, Aug 7, 2020

Sinclair Lewis worked with this author to create the life- changing book Arrowsmith. Paul De Kruif received a percentage of his profits from the sale of this book. The man describes scientists. I liked his coverage of Leeuwenhoek, Pasteur, Koch, Walter Reed, and Paul Ehrlich.
Unique writing style and you see why this is still in print after so many years!

Derived From Web

, Aug 3, 2020

Some scientists that you know and others that you have probably never heard of are the focus of the book. The author's style with which he writes makes it sound as if he is so happy to be able to describe the thoughts, experiments and experiences of each of these scientists, that it makes it sound as if he is so excited. Pasteur is responsible for a lot of things, but I didn't know about his personality compared to Koch. I didn't know that there was a desire to discover things for your country to brag about. It was a great read. This was published almost 100 years ago and there are some areas where the author refers to other people in an egregious way. The book's content is enjoyable and gives you a new appreciation for current scientific ethics.
True Heroes

Derived From Web

, Dec 28, 2019

The fascinating stories of the men who discovered the causes of diseases that killed millions are told in Microbe Hunters. These scientists risked their lives in pursuit of the truth. This focus and dedication is admirable. Pasteur discovered the idea of vaccination. The manner in which Paul De Kruif writes allows the reader to feel like he is present as these men make their discoveries. They are highlighted for their brilliance, as well as their common characteristics that remind us they are human. The value of the book brought to humankind is incalculable. The power of science is shown in this book and how it is responsible for the flourishing of human life.
Facinating....but not quite what I remembered.

Derived From Web

, Apr 18, 2019

I realized that I must have read the sanitized version of a book when I was a kid. The original was written in the 1920s and is still a great inspiring story. The RD version took out a racist comment, skipped the detailed description of the animals Koch used, and took out some of the romanticized asides. It is still a great read. It brings something new to the lab book procedure when you know about the struggle and people behind it.
Great science writing and an inspiring biography of multiple scientists

Derived From Web

, Nov 16, 2018

In the hands of a writer like Paul de Kruif, the development of microbiology as a new science is fascinating and not very exciting for a book. It reads like a novel with a complex, edge- of- your- seat, life- or- death plot. The scientists described are memorable to me now. de Kruif helped me understand what methods and attitudes are most productive of good science by showing many examples of how great leaps are made in man's conceptual knowledge. I read Arrowsmith after reading this book. The spirit of Arrowsmith and his own heroes was similar to the spirit of de Kruif in his writing.