Buy 3 Get 1 Free
Our Best Sale Yet! Add 4 Books Priced Under $5 To Your Cart     Learn more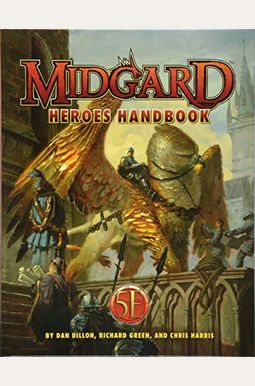 
 
Midgard Heroes Handbook For 5th Edition
Book Overview
Get Ready for Adventure in Midgard
Welcome to a world of dark roads and deep magic, where you can match wits with Baba Yaga, set sail for uncharted islands with minotaur corsairs, and face the fury of the giants in the icy north The Midgard Heroes Handbook for 5th Edition has everything you need to create a character for a 5th edition Midgard campaign, including full details on 11 new races and 4 variants on standard races. Roll up a trollkin barbarian, a ravenfolk fighter, a kobold rogue, and more. You'll also get more than four dozen new class options, including bard colleges and paladin oaths; martial, ranger, and rogue archetypes; cleric domains and a druid circle; sorcerous bloodlines, warlock pacts, and arcane traditions. There are also feats for new types of magic, 20 backgrounds, and nearly 300 new spells The shadow roads are open, and the World Serpent stirs in its sleep. Adventure awaits the bold
Frequently Asked Questions About Midgard Heroes Handbook For 5th Edition
Books like Midgard Heroes Handbook For 5th Edition
Book Reviews
(9)
Did you read Midgard Heroes Handbook For 5th Edition? Please provide your feedback and rating to help other readers.
This is a good buy.

Derived From Web

, Oct 5, 2021

This book is good if you want to have more choices for your D and D game, more spells, sub-classes, sub-races, races etc. You can not get a better deal.
Great for ideas but not entirely balanced.

Derived From Web

, Dec 26, 2020

There are a lot of great features, spells and objects in this book. I would be cautious in implementing these ideas into my homebrew campaign.
A great supplement for groups who want to tinker with the game

Derived From Web

, Jun 29, 2020

The Midgard Heroes Handbook is a great supplement that encapsulates Kobold Press's ethos fully. There are races and sub-races. Archetypes of the subclass are known. Many, many new spells are included. A few monster stat blocks : And a few other magical items. Each of these is modular, so that DMs can choose and import which rules the level of complexity they want to add to their table. Here the game balance usually comes second to the flavor but on the whole, I found the additions to be well balanced against core options. Even the things I chose not to hand over to my players provided good food for thought that often showed up in other ways. I highly recommend this book for DMs who enjoy digging into mechanics and have a clear vision of how they want to play their games, e.g. power users. If you are new to 5e, this will be a thought-provoking read, but I encourage you to learn how the engine works before you add a turbocharger.
Great book, essential for a Midgard campaign.

Derived From Web

, Oct 7, 2019

Great book for the Midgard Campaign Setting, I really have three small quirky things to say about it. I wish there was an index ''. There is a table of contents, but a search index would be really helpful. ( ) : There is no map of the world! I mean, I guess you want to buy the Midgard Worldbook, but I would still like to have at least one world map for a general idea of where everything is in relation to everywhere else. 3 ( ed ) This one is really nitpicky, but the page numbering is really light and a small font, especially when compared to the other Midgard resource books. When I have to see the page numbers squint, they're too small!
Great addition to our collection

Derived From Web

, Sep 26, 2019

Our Friday DM is going to take us to Midgard in our next campaign, so we're really excited about it. It is filled with great photos and descriptors. It is super interesting and if you're into DnD, this is a good one to dive into.
Get the hardcover!!!

Derived From Web

, Sep 17, 2019

See the reviews and you 'll notice that every hardcover review LOVES this product rightfully so!!! This book is awesome! I recommend it sooo much and the world book and tome of the beasts. You won 't be disappointed!
Fantastic

Derived From Web

, Aug 6, 2019

Even if I am not going to use a particular book, I enjoy reading through them. This book is used. It is beautiful, well made and filled with information. That is, the person who packed this for shipping should be reprimanded at the very least. I ordered two large rulebooks, both in a box that was too large and also contained no packing material. The books were free to flop and possibly damaged.
I really love the Kobold line!

Derived From Web

, Jul 18, 2019

I love the Kobold line really! I am in the process of creating my own darker world and it has not only saved me a lot of time and effort, but has also been very inspiring.
Get the hardcover format for the 5e book

Derived From Web

, Jul 4, 2019

Make sure that you get the hardcover format for the 5e version. It is a 211-page hardcover version that fits the description above. New magic spells, subclasses, backgrounds and achievements. There are also new weapons and interestingly things you can do with guns. The book is very good. There is also a version of Pathfinder 1.