Buy 3 Get 1 Free
Our Best Sale Yet! Add 4 Books Priced Under $5 To Your Cart Learn more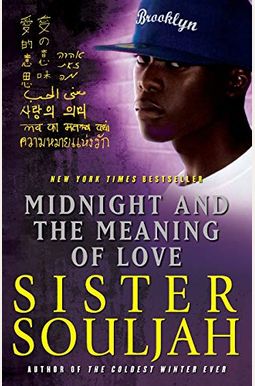 
 
Midnight And The Meaning Of Love
Book Overview
Sister Souljah, the New York Times bestselling author of The Coldest Winter Ever and Midnight, delivers her most compelling and enlightening story yet. With Midnight and The Meaning of Love, Souljah brings to her millions of fans an adventure about young, deep love, the ways in which people across the world express their love, and the lengths that they will go to have it.
Powerful and sensual, Midnight is an intelligent, fierce fighter and Ninjutsu-trained ninja warrior. He attracts attention wherever he goes but remains unmoved by it and focuses on protecting his mother and sister and regaining his family's fortunes. When Midnight, a devout Muslim, takes sixteen-year-old Akemi from Japan as his wife, they look forward to building a life together, but their tumultuous teenage marriage is interrupted when Akemi is kidnapped and taken back to Japan by her own father, even though the marriage was consummated and well underway. There's not one drop of inferiority in my blood, Midnight says as he first secures his mother, Umma, and sister, Naja, before setting off on a global journey to reclaim his wife. Midnight must travel across three countries and numerous cultures in his attempt to defeat his opponent. Along this magnificent journey he meets people who change him forever, even as he changes them. He encounters temptations he never would have imagined and takes risks that many a lesser man would say no to, all for the women he loves and is sworn to protect.
Frequently bought together
Frequently Asked Questions About Midnight And The Meaning Of Love

Books like Midnight And The Meaning Of Love
Book Reviews
(12)
Did you read Midnight And The Meaning Of Love? Please provide your feedback and rating to help other readers.
I absolutely love this book

Derived From Web

, May 13, 2022

I love this book absolutely! I love this author, a great reader definitely!
Fantastic!

Derived From Web

, May 13, 2022

Midnight ordered the meaning of love, and the book was delivered earlier than expected! It is in a perfect condition and I am completely satisfied. I 'll order more books in the future and I highly recommend others to trust that their purchase will be delivered in excellent quality and super fast delivery. I still prefer a good digital book over the new ones available. I am an old school teacher and my library is still growing. The fine options are new digital ; this is simply my personal preference. Danke! for everything!
Great Read!

Derived From Web

, May 13, 2022

This book has absolutely loved! Out of this three-part series, I must say that this was my favorite! I will definitely read it again! Don 't want to enter it and ruin it for anyone, but at such a young age, you have to grow up rather quickly! I read a review that frowned at how Midnight was to all the women who came into his life, but I personally did not see anything wrong in it! He knew exactly what he wanted and had women who agreed to his terms! It happens every day! I would not believe, but if you are happy with someone and you believe in what you believe. Why not ''.
A great read for Teenage boys Trying to find themselves

Derived From Web

, May 13, 2022

This book is an eye opener for any young black male who is unsure about their role in their world. A great book for those hard to reach young ones who think they have it all figured out, but quietly crying out for answers to the unspoken questions in their minds. Without giving too much away, this book is a journey through Brooklyn, Japan, South Korea as a Ninja lol. Great to read :
MORE, MORE MORE!!!!!

Derived From Web

, May 13, 2022

The treasures of life are its own. I can only imagine how life would have been if we had not been cut off from our roots, language and culture. I am HOOKED, reading your work is an adventure.
I did enjoy it but I figured it'd wrap things up better ...

Derived From Web

, May 13, 2022

I'm not going to lie, I'm a little pissed at how she ended this book. I did enjoy it, but I figured it would better wrap things up and fit in with the first. And the way it ended, I am not even sure if there is going to be another. I bought this book a few years ago and I still have yet to hear about a third one.
Deep

Derived From Web

, Mar 10, 2022

It has been loved. The comparison of cultures between Japanese and Korean. Korean and African Americans gave me a real insight into our differences. Now to book 3 moving on.
Love is powerful

Derived From Web

, Jul 16, 2021

Sister Soulja knows that she is never at a loss for words! This book was also long, like all her other books. Midnight is on a mission to rescue his young bride from Japan after her father took her back to keep them apart. He is at a disadvantage because he doesn 't speak the language, but he has a beautiful guide that he met on the plane ride over. She is willing to help him search for his wife for a fee, as she is a resident of Japan, so she knows her way. Midnight is so evasive : he doesn 't expect this girl to catch his secretive answers, but she's just as smart as him, figuring things out. Eventually they find Akemi, but there are more obstacles than Midnight's thought, and he has to figure out how to safely return home with his wife.
Speechless

Derived From Web

, Nov 30, 2020

This book was written with so much passion and elegance! It was so touching to tap into the different perspectives outlined with such great detail and design! I'm eager to read #3. Sister Soulja is truly a gem for the African-American community. As a black male, her writing gives me the ability to venture into a world so different yet so familiar, satisfying a unxplained thirst that allows me peace in this crazy world.
The saga continued

Derived From Web

, Oct 6, 2020

Well... What can I say that it was not said in my review of Book 1 of the Midnight Saga. I am not the one who tells the story or gives my opinion about the story, but my impression is that Midnight is a 14 year old 007. To read and enjoy this story, remember that it is fiction. The elements that make this story real is the knowledge that you gain about the many cultures that Midnight is invited into and the details that go into telling the scenery and the countries he visits. The story is elaborate, a journey and an odessey. At the end of the story, you will be exhausted and satisfied, as I mentioned before, Midnight is 14 and has grown folks married sex. I can not read these parts.