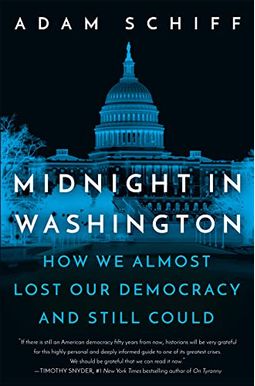  
Midnight In Washington: How We Almost Lost Our Democracy And Still Could
Frequently Asked Questions About Midnight In Washington: How We Almost Lost Our Democracy And Still Could
Book Reviews
(17)
Did you read Midnight In Washington: How We Almost Lost Our Democracy And Still Could? Please provide your feedback and rating to help other readers.
Incredible political work on so many levels

Derived From Web

, Feb 25, 2022

I have read every book on Trump out there, and this was by far my favorite. It's a great read, even if you're not a fiction writer. His writing style is eloquent and non-emotional. He weaves that history into many references to political precedent and the Constitution. The best book I have read in years. Even though I followed the first Impeachment quite closely, I learned a great deal, and all of his experiences are described in such vivid detail that they are difficult to comprehend.
Personal memoir from a dedicated public servant

Derived From Web

, Jan 31, 2022

Rob Shelby, who has never met Rep. Adam Schiff in person, only saw him on C-SPAN and speaking to the Press. The expression on his face was there for all of us, for every person who ever tried to be a good citizen, Mr. Rule told the judge. This is the story of an experienced criminal enterprise and how they managed to turn a fund raising conspiracy into the blackest period of American history, Weinshall said.
Our Country under Siege of a Rouge Autocratic President!

Derived From Web

, Jan 17, 2022

Thanks to him, we have a new leader in the House of Representatives and a strong ally in the Senate. One day he defiled the presidential Power of the nation for his own benefit. His racist rants kept stirring up trouble in our southern states. It's just that he wants to build a wall along our southern border. The president divided our nation with lies to manipulate votes along party lines to gain support for his agenda. He urged his supporters to "work harder" to reunite the United States of America. I pray to God it will be sooner rather than later to regain our democracy, Mr Hughes said.
Umm,

Derived From Web

, Dec 25, 2021

It was bought as a Christmas present for a political junkie. The book, "The Three Little Pigs," might have been a good read if it was not for the pages being stuck together with someone's chewed GUM! We the people have lost a society. I don't care who you are, but, you just don't do stuff like this! The Harrisons are notorious for their disgusting behaviour.
Great Story About Scary Time in USA

Derived From Web

, Dec 22, 2021

Thanks to the Democratic National Committee and its Chairman, Adam Schiff, for standing up to Donald Trump and the lies that have poisoned our democracy. I grew up in a moderate Republican household, but became a Democrat as the party has drifted so far right, Hollingsbey said. This is so terrifying how a one term president can do so much damage to our country, and how so many people cannot see his cult like behavior and continue to support his lies and rhetoric, Graham said. You are truly inspirational, courageous and I thank you for telling your story, Adam. God bless you all for your dedicated service to our country. A new book about the Beatles' life has arrived in bookstores.
Great insights - into both the author and events

Derived From Web

, Dec 10, 2021

Whether you find yourself drawn to the left or right, this is an important work for all who wish to understand the events of January 6. In this exclusive interview, Adam Schiff reveals the emotional anguish he felt when he first saw the body. He also provides a background through autobiographical material that helped me understand who Adam Schiff was. There are also several other witnesses who were not present who should be considered. This one should be on your list.
Vital Insights from the Ultimate Insider

Derived From Web

, Nov 28, 2021

In his first interview, the California Democrat reveals just how in balance our democracy was and still is. Insightful at all times and downright scary at others, this account of politics at their worst, but also at times it's best is a must read. Through his eloquent and unique role in this passage of history, this book provides a unique perspective and account of events that have changed the political scene as well as our society. Highly recommend.
It's Okay to Love this Book

Derived From Web

, Nov 16, 2021

He's one of the most moral and responsible members of Congress that we have today. He is an excellent writer, said Robert Hein, a professor at the University of Michigan. My heart broke for him all he was and is trying to accomplish, Beckham said. He put America first, he said.
Excellent book!

Congressman Schiff writes a masterpiece of a memoir, detailing his early life, marriage, his children.
He gives fascinating anecdotes about Reps. Nunes and Minority Leader McCarthy.
Schiff is fearless in facing down Donald Trump. Schiff warned us that if we did not hold Trump to account during Trump's first impeachment, he will commit further impeachable offenses, which is precisely what happened. Great read!
An ending, or beginning?

Derived From Web

, Nov 3, 2021

As engrossing and as dramatic as Congressman Schiff's arguments in the first impeachment hearing of former president Trump, his account provides insight into the thoughts and behind-the-scenes events that shaped one of the most significant U.S. history. Midnight can mark the ending of a day or the beginning of a new day, perhaps filled with promise. It depends on the perspective of the person. That was the hope.