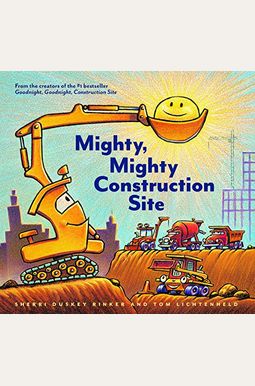 
 
Mighty, Mighty Construction Site
Book Overview
The #1 New York Times Bestseller
Recommended for children ages 2-5 years to enjoy any time of day.
A focus on team-building, friendship, and working together:
At last--here from the team behind the beloved international bestseller comes a companion to
Goodnight, Goodnight, Construction Site
. Down in the big construction site, all of the favorite trucks are back facing their biggest job yet and will need the help of new construction friends to get it done.
Mighty, Mighty Construction Site
teaches kids that when working as a team, even a big job seems small They find out that with teamwork, nothing is impossible
The perfect book for kids learning how to work and play together, make new friends, and overcome obstacles
Ideal for family and elementary school story time
Created by Sherri Duskey Rinker and Tom Lichtenheld, the team behind #1 New York Times bestsellers Goodnight, Goodnight, Construction Site and Steam Train, Dream Train
The millions of fans of Goodnight, Goodnight, Construction Site are in for a mighty good time with the sequel, Mighty, Mighty Construction Site
Recommended for young readers - and their construction vehicle loving grown-ups - to read and enjoy any time of day.
Frequently bought together
Frequently Asked Questions About Mighty, Mighty Construction Site
Books like Mighty, Mighty Construction Site
Book Reviews
(14)
Did you read Mighty, Mighty Construction Site? Please provide your feedback and rating to help other readers.
Very good and fun book

Derived From Web

, Aug 27, 2020

We have the other Goodnight books that we use to complete the work day from morning to sleep time. The book is long and fun and our son loves it. Every truck gets it's attention when the book starts from morning work. They added 5 new trucks and put them in pairs. Everyone is going to sleep at the end of the day. Recommended for children under the age of 3.
Wonderful companion to another great book for bedtime - Goodnight, Goodnight Construction Site

Derived From Web

, Aug 26, 2020

I was never a kid in a car. At the age of 4, I was the dinosaur kid that could say Archaeopteryx and Pachycephalosaurus in a whisper. That child is annoying. My son is not that child. He is an airplane car tractor truck kid, any type of machine that makes beeps and has flashing lights, he is all over it. He was a huge fan of the partner book Goodnight Goodnight Construction Site so buying this for him was a no brainer. My husband asked my son if he saw an excavator on the construction site while we were on the road, and I told everyone about it. He looked up at him and said that was not an excavator. He was absolutely correct when we passed the construction site again on our way home. At the time he was 3 years old. Well written and illustrated books can teach kids a lot.
Warning- Your 3 year old will become obsessed :)

Derived From Web

, Aug 19, 2020

We got the book at the library because we thought it would be fun to read. We didn't know it would spur on a construction vehicle obsession. Our 3 year old loves this book. He has a lot of it memorised. He knows all of the construction vehicles. He likes to look for them when we take a car ride. He loves looking at the dump trucks and excavators that are being used in the construction of the new taco bell and we circle the parking lot where the new taco bell is being built. We got him a construction vehicle for his birthday and he takes them everywhere. From an elementary teacher's perspective, I like how this book motivates teamwork, how some of the construction vehicles are female and just as strong and important, and how well this book flows for the reader.
Immediate favorite for little construction enthusiasts

Derived From Web

, Jul 29, 2020

Do you take your child to construction sites for fun during the Pandemic? Then you need this book. As you can see from the picture, my son looks at a book and practices moving his truck. This book is important for keeping my 16 month old happy and entertained in his car seat while we travel to grandparents. The noises are not loud or grating. This book is very good.
Already Read it 6 Times to my 20-Month-Old Daughter This Morning

Derived From Web

, May 10, 2020

I bought this for my daughter to use with her toys. I was worried that she wouldn't have time to pay attention to it. Wow, I was right. My husband and I find ourselves reading this book to her at least once a day on the weekends. She loves the story and the rhyming. I didn't think a story about construction equipment could be so captivating for a little girl. This book is for you if you're on the fence. It's a good thing that P.S. is here. There are two female trucks in the story and eight male trucks.
Binding is falling out

Derived From Web

, Dec 16, 2019

I think this is a great book. My son is fond of it. The reason I gave it two stars was because we haven't had it a week and the binding is falling apart. My son loves this book so much that I hope we get a dud. It's sad that the binding isn't lasting and all the pages are falling out We parents read this book twice a day at nap times.
Love it!

Derived From Web

, Feb 17, 2019

This is the book my son likes the most. I like to read it at least twice a day.
pretty good read

Derived From Web

, Nov 1, 2018

It was enjoyable going through all the equipment, but not as enjoyable to read aloud. The book arrived in perfect shape after it was shipped.
Another winner from this team!

Derived From Web

, May 4, 2017

My son's favorite book was Goodnight, Goodnight, Construction Site. He loved Dream Train just as much as when we got Steam Train. I was very excited to see the book release. My five-year-old son and his little sister always want to read it. Even though my daughter isn't quite two yet, I think it's fun to have girl trucks as part of the team and I see it already inspiring imaginative play with the two of them. It takes the team through the whole day, and successful at the end, they can all sleep in peace. Another winner for sure.
Already a favorite!

Derived From Web

, Apr 26, 2017

My 2 year old. I didn't hesitate to buy it because my nephew loves Goodnight, Goodnight. I had to replace the book jacket because it was sliced through by a box cutter. Amazon made this easy.