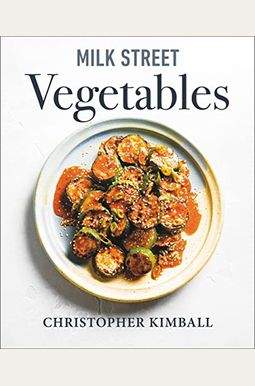 
 
Milk Street Vegetables: 250 Bold, Simple Recipes for Every Season
Book Overview
Move vegetables into the center of your plate from the realm of sides and salads with this vegetable-cooking bible of more than 250 full-flavor recipes, from James Beard and IACP award winner Christopher Kimball's Milk Street.
Chili-spiked carrots. Skillet-charred Brussels sprouts. Mashed potatoes brightened with harissa and pistachios. These are just three ways to put vegetables in the center of your plate. Here in the U.S., meat is cheap and has been in the center of the plate for centuries. The rest of the world, however, knows how to approach vegetables, grains and beans not only with respect but with a fresh, lively approach, one that transforms the ordinary into the extraordinary. To get a vegetable education, we traveled to Athens to learn how winter vegetable stews could taste light and bright, not hearty and heavy. In Cairo, we tasted eggplant and potatoes that punched up flavor with bold pops of texture from whole spices. And in Puglia, Italy, we had a revelatory bite of zucchini enriched by ricotta cheese and lemon. This is a world of high-heat roasts, unctuous braises, drizzles of honey, and stir-fries aromatic with ginger and garlic. And with 250 recipes, the possibilities are nearly endless: a head of cauliflower can become Cauliflower Shawarma; Smothered Cauliflower with Tomatoes, Capers and Raisins; Sichuan Dry-Fried Cauliflower; Pasta with Cauliflower and Toasted Breadcrumbs; Cauliflower-Chickpea Salad with Dill-Lemon Dressing; or Curried Cauliflower Rice with Peas and Cashews. It's never too late to get your vegetable PhD.
Frequently Asked Questions About Milk Street Vegetables: 250 Bold, Simple Recipes for Every Season
Book Reviews
(7)
Did you read Milk Street Vegetables: 250 Bold, Simple Recipes for Every Season? Please provide your feedback and rating to help other readers.
Love this cookbook!

Derived From Web

, Mar 17, 2022

If you are into vegetables, this cookbook is AMAZING! Everything I tried has been good. Everything I've tried has been good. The table of contents is organized by vegetables, and there are pictures of every recipe. I rarely meet a vegetable I don 't like so I love this cookbook. Note that not everything is vegetarian, but if you are looking to increase your vege intake, this is a good one!
A dream book for vegans -- but way over my head

Derived From Web

, Mar 6, 2022

When I saw it advertised on Facebook, I thought it would be just what I needed to serve more vegetables. It is a large book and is beautifully illustrated. But as I began to walk through it, there were some ingredients I had never heard and some of the preparation instructions were way over my head. Also, lot's called for fresh ingredients -- which can be difficult to obtain. I wish there was a chapter on cooking vegetables 101 the basics of how to buy, wash and store them before you are ready to use them. If you LOVE to cook and experiment and learn new ideas -- and you're a VEGAN or think you should become one -- you'll probably enjoy this -- for me it was just WAY OVER MY HEAD and skill level.
Trying to eat more plant based meals? This one's a keeper!

Derived From Web

, Mar 5, 2022

I needed another new cookbook to inspire me while at home during covid-and for tasty lenten meals, I needed another new cookbook to inspire me. This is the book for friends, this is the book! How many cookbooks contain recipes that you find appetizing, healthy and don't involve complicated preparations or a lot of special equipment. May I recommend Basque potato leek soup? It's a hit with everyone! The asparagus with pasta was great-and I simply cut the half and half and it was still spectacularly delicious. The next will be the leek and Barley soup! Ah! Ah! I love this cookbook so much that I am donating it to others who will adore it.
Great Cookbook

Derived From Web

, Jan 31, 2022

Love this cookbook and have no regrets purchasing it. Definitely recommend to those who want international recipes with a bold flavor and veggie flair. Some other reviews have expressed concern about the layout and organization. I'm inclined to agree ''. Layout and organization of recipes is a weakness-but not a dealbreaker. The recipes are excellent. The cookbook does not include nutritional information, which is disappointing. If you love vegetarian cooking, you won t regret purchasing this book. Definitely recommend. Definitely recommend.
Fabulous vegetable recipes

Derived From Web

, Jan 25, 2022

In the short time since I received this book, I made a fair number of dishes. All have been great : It is NOT a vegetarian or vegan cook book, but a book of awesome ways to prepare vegetable dishes. Lots of interesting salads, soups and curries! The ingredients are things that I would usually buy.
A cookbook that will be used for years

Derived From Web

, Dec 15, 2021

We bought this as a gift for our vegetarian daughter, but we could easily transport it in our meat-eating home. Big beautiful pictures to go with recipes from around the world, but adapted for US kitchens. Such a great value and a certain page turner.
Every recipe has a picture

Derived From Web

, Nov 17, 2021

I made the Savory fresh corn pancakes just and turned out perfect. Can 't wait to cook the rest of the book.