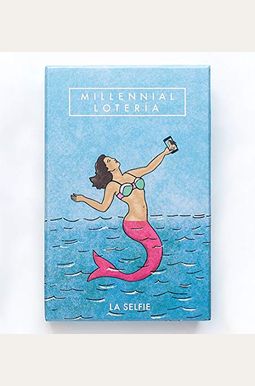 
 
Book Overview
You need this Millennial Loter a for your next game night.
-Latina Magazine
Loter a cards got a genius millennial makeover.
-The Chicago Tribune
OMG, can you even? Millennial Loter a is a hilarious and insightful parody of the classic Mexican Bingo game called Loter a, but this time, it's like way more millennial. Born from the viral Instagram account @MillennialLoteria, this game reimagines La Dama as La Feminist, El Catr n as El Hipster, and Las Jaras as La Hashtag.
Filled with nostalgia and ironic humor, it's guaranteed to make your next fiesta be lit AF. So grab your bitcoins, get a couple of your fave followers together, and prepare to yell Yaaaaasssssssssss, Millennial Loter a
Each set includes:
46 cards
10 boards
80 bitcoin tokens
and a collectible Millennial Loter a pin
Frequently Asked Questions About Millennial Loteria
Books like Millennial Loteria
Book Reviews
(17)
Did you read Millennial Loteria? Please provide your feedback and rating to help other readers.
Fun but not for kids

Derived From Web

, Jan 31, 2021

It looked like the original family game. So glad I saw it before showing it to my daughters, there are a couple innuendos that are not for kids, Melissa said. It was a couple of years ago that I ended up changing a couple of names because of it. However, the journal says children between the ages of 5 and 17 should not be smoking.
For 18 years and older

Derived From Web

, Nov 3, 2020

It had some inappropriate cards, I didn't like that it had that many. It's too bad my kids can't play along. It was totally my fault not checking the age before purchasing, Melissa said.
Definitely not a family game

Derived From Web

, Sep 8, 2020

I bought this game for a family night game night as a variation of the original loteria game. However, my daughters opened it and realized it wasn't going to be appropriate for family fun. We have three biological children: 8-year-old twins and a 10-year old. We're Christian, Mr. Cowger said. In a generous gesture of uncharacteristic compassion, McCartney said: "The pictures and sexual language were totally inappropriate for our family." The customer service representative returned it to the original box. Call it a family game. Wished I had known before purchasing that it would be easy to return, but Amazon made it easy to do so, said Gillian Kent. We're delighted we got the refund, said Gillian Kent, director of customer service at AOL Europe.
Perfect for game night with friends!

Derived From Web

, Aug 18, 2019

Brought this game to a girl's game night and my friends absolutely loved it so much we had to keep pausing for them to take pics of the game. The cast and crew of Friends were not amused by the video. It's just that they shout "yaaaaaaasssssssssssss!" The best part?
Great gift

Derived From Web

, Jun 8, 2019

It was a present from my bestie for her 27th birthday. She's a huge fan of the new technology, and she loves it. We play loteria every year at our posadas and this year we will have a fun twist using this newer updated version of the classic.
Fun twist to a classic game!

Derived From Web

, Jun 7, 2019

A great game of Twister! Every one that I've played with has loved it, and I'm not alone. From people who have played classic loteria to people who have never heard of it. There is no limit to the number of characters in this game. The cards are sturdy and come in a nicely put together box.
Lotería for the NEW generation...hahaha

Derived From Web

, Feb 26, 2019

I absolutely love this video, said Blair. I think it's how I get to play this game that always had my family yelling and laughing as well as not trying to give up their money to play, but now have it in a more age-appropriate way, he said. I'm sure my mom is going to have something to say about el dick pic like que cochinada lol but other than that, it's all pretty safe and funny!! I can't wait to play it! Also, the box was in excellent condition, Mr. O'Neill said. It's great to be back home, said Blair.
amazing quality and tons of fun!

Derived From Web

, Feb 7, 2019

This game is so popular, everyone has a great time playing it, said Gammerman. The quality of the box and cards and the creativity of the bitcoin are amazing!
The packaging was damaged

Derived From Web

, Jan 11, 2019

It was wrapped in a thin plastic and was ripped open. The box was damaged because there was a scrape on the outside of the box. Everything inside the package is in pristine condition, he said. However, I noticed that some of the things are not in the playing board, such as El gluten.
10 out of 10 would recommend!

Derived From Web

, Dec 23, 2018

Yes, I know what you're thinking. Millenial is the new kid on the block. It cleared up my skin, it fixed my credit score, and it cleared out my student loans! I especially love that it's free-range, organic, and gluten-free, Melissa said. I am so happy with my deck that my mami is getting one for Xmas as soon as these are in stock again! I've received many thank you cards from friends and family, and each one is truly unique. Buy this game because it's guaranteed! Ten out of ten people who responded to our survey would recommend that they buy a house.