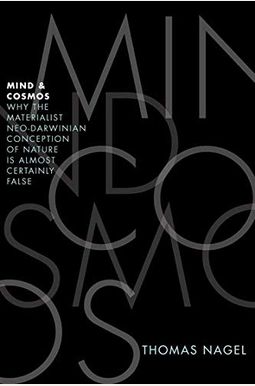 
 
Mind And Cosmos: Why The Materialist Neo-Darwinian Conception Of Nature Is Almost Certainly False
Book Overview
The modern materialist approach to life has conspicuously failed to explain such central mind-related features of our world as consciousness, intentionality, meaning, and value. This failure to account for something so integral to nature as mind, argues philosopher Thomas Nagel, is a major problem, threatening to unravel the entire naturalistic world picture, extending to biology, evolutionary theory, and cosmology.
Since minds are features of biological systems that have developed through evolution, the standard materialist version of evolutionary biology is fundamentally incomplete. And the cosmological history that led to the origin of life and the coming into existence of the conditions for evolution cannot be a merely materialist history, either. An adequate conception of nature would have to explain the appearance in the universe of materially irreducible conscious minds, as such. Nagel's skepticism is not based on religious belief or on a belief in any definite alternative. In
Mind and Cosmos
, he does suggest that if the materialist account is wrong, then principles of a different kind may also be at work in the history of nature, principles of the growth of order that are in their logical form teleological rather than mechanistic. In spite of the great achievements of the physical sciences, reductive materialism is a world view ripe for displacement. Nagel shows that to recognize its limits is the first step in looking for alternatives, or at least in being open to their possibility.
Frequently bought together
Frequently Asked Questions About Mind And Cosmos: Why The Materialist Neo-Darwinian Conception Of Nature Is Almost Certainly False
Books like Mind And Cosmos: Why The Materialist Neo-Darwinian Conception Of Nature Is Almost Certainly False
Book Reviews
(6)
Did you read Mind And Cosmos: Why The Materialist Neo-Darwinian Conception Of Nature Is Almost Certainly False? Please provide your feedback and rating to help other readers.
Consciousness and Metabolism

Derived From Web

, Feb 6, 2020

The connection between the physical world and consciousness was not found by Thomas Nagel. He tried to find a connection between the internal experience and the brain state. He should look at the work of Maturana and Varela, " Autopoesis and Cognition The Realization of yhe Living", to see that subjectivity is an activity of living things. It is a form of metabolism in which a foreign object is absorbed into the living substance. As soon as the sperm enters the egg, a subjective identity emerges. The new organism begins to organize and exploit its environment when it is separated from the "I" and " not-I". There is the energy and information that it needs to survive.
Setting limits on science

Derived From Web

, Jan 26, 2020

philosophy is the place to question limits to science analytic philosophy may not be up to the task as it is mired in positivism. American philosophers mostly ignored Heidegger, whereas Continental philosophy has continued to make progress. The philosophy of mind is where the questions should be posed. The general outline of the argument is easy to see and understand. I think scientists wouldn't agree with the conclusions. Those who also have an open mind will be better served by this book. Most people agree that current explanations of minds origin as well as life from matter have not been adequately explained by science.
A brave, important work

Derived From Web

, Nov 2, 2019

An intellectual delight and a brave work that was poisoned by scientism. This kind of works is something our field badly needs in large quantities and I don't necessarily agree with all the ideas presented here. We lost a sense of skepticism towards science because we end up conflating doubt and alternative views with science denial. The book proves that you can provide nuanced and complex critique, but you need to be brave and ready to be attacked. In every way, it was remarkable.
An interesting study of consciousness, value and the universe

Derived From Web

, Aug 4, 2019

The questions of how consciousness and value make sense in a world that, according to the current scientific consensus, is purely inert matter governed by purely mechanical laws are tackled here by Nagel. A natural teleology and something of a pan- psychics that asserts that consciousness and value themselves are a part of the universe is what Nagel is suggesting. It is worth the read, even if one does not agree with the conclusions of the book. Thinking about these problems alone, rather than being locked by the current mechanical views of the universe, is what Nagel wants to do. It was worthwhile for this reader.
Deep and Difficult

Derived From Web

, Jan 7, 2019

Chapter 1 was wonderful. It goes from 5' deep to 50' deep after that. Good writing, but difficult ideas from an outstanding philosopher who is capable of whacking his own path through the jungle. If you are able to tackle this one, you should! Don't worry, the navigation software doesn't know anything about the territory this book explores.
Read the 3 page conclusion

Derived From Web

, Apr 13, 2018

The book's conclusion is found in the last 3 pages. If starting from the beginning is worth the time invested, then so be it. What is the reason? Most of the other sentences are written in a manner that shrouds the points rather than explaining them. The book does not adequately explain the phenomena of self- awareness, reason and value judgments. There must be non- material attributes that coexist in some manner that is undetected because the material properties of matter are insufficient. There is no proof that such properties exist but the author says that it is necessary to propose the " protomental" characteristics that may exist. It is not acceptable for God to be a good explanation. The mental gymnastics that this book entails.