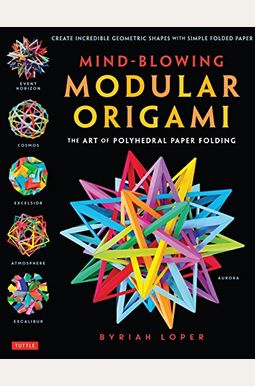 
 
Mind-Blowing Modular Origami: The Art Of Polyhedral Paper Folding: Use Origami Math To Fold Complex, Innovative Geometric Origami Models
Book Overview
Modular origami is the latest craze in paper folding
These three-dimensional models are created from many small pieces of paper that are easily folded and then cleverly fit together to form a spectacular shape. They range from paper polyhedra to bristling buckyballs that are reminiscent of sea urchins--to ornate flower-like spheres. Each piece of paper is held by the tension of the other papers--demonstrating the remarkable hidden properties of paper, which is at the same time flexible but also durable Author Byriah Loper has been creating modular origami sculptures for just five years, but in that time, he's pushed the upper limits of the art form with some of the most significant, most complex geometric paper constructions ever assembled. While many geo-modular origami artists focus on creating dense floral spheres, Byriah has pioneered the open, linear wire frame approach, which results in a very complex-looking model that reveals the interior of its form. He regularly exhibits his sculptures annually at the Origami USA convention in New York and was recently a featured artist at the Surface to Structure exhibition at the Cooper Union gallery in the East Village. A great way to learn origami, the easy-to-follow diagrams and step-by-step instructions in this book show you how to fold the paper components and then assemble them to create 22 incredible models. Each model is a new challenge, and the paper sculptures you create look fantastic on your desk or shelf
Frequently Asked Questions About Mind-Blowing Modular Origami: The Art Of Polyhedral Paper Folding: Use Origami Math To Fold Complex, Innovative Geometric Origami Models
Book Reviews
(6)
Did you read Mind-Blowing Modular Origami: The Art Of Polyhedral Paper Folding: Use Origami Math To Fold Complex, Innovative Geometric Origami Models? Please provide your feedback and rating to help other readers.
Paperclips

Derived From Web

, Sep 13, 2020

I completed the first model only after I decided that I needed paperclips to hold it together. I also did not cut my paper to the suggested size, so that may have contributed to my problems. During the assembly, paper clips were very useful.
excellent for a teenager

Derived From Web

, Sep 2, 2020

I purchased this product for my grandson, who is 16 years old. He loves her. This medication requires a lot of patience but produces fabulous results. Artistic features spatial vision and improves it. It would be too difficult for a younger than 10 year old.
Decent overall

Derived From Web

, Jan 15, 2020

The first half of the book is closer to, what I see as traditional Kusudama. These are modular units that lock together and form balls or polyhedra in a number of 3-5 units per face. Some are definitely time-consuming to fold, but in the long run it is great. The entire rear half of the book is devoted to increasingly complex constructed, interwoven models. These almost immediately explode into a hundred units or more, with complicated weaving schemes. I made a few things out of the first half of the book and not a single thing from the back. Some feel more like a demonstration of virtuosity than something that one would actually build.
So far so good

Derived From Web

, Jun 26, 2019

I have not yet made a model, but the instructions are clear. I have all the different colored papers and wire. It is found in the book. I made other complicated Kusudamas and paper, especially if you want to keep what you made to hold its shape.
This book expects you to know the genre of Modular Origami well before starting it.

Derived From Web

, Aug 16, 2017

These were a new challenge for me in that it requires very specific rectangular cuts of paper for the second half of the book. The majority of the difficulty is not in the folding of the units, but in the weaving of them to construct the model. Expect to have to look closely at the reference images to figure out exactly where to weave what part. I wish it came with more reference images showing exact angles and weaving directions, but the ones present are the minimum required to show you exactly what to do. This is an excellent book showing how to model some of the most fascinating interlocked models in origami in all. There are tons of models like this in this book, which makes it very worth it.
Great if you are serious about origami

Derived From Web

, Jan 20, 2017

The sixth graders pronounced it epic. It took two of them about five hours to complete a project, but if you are very serious and experienced, it is apparently pretty amazing.