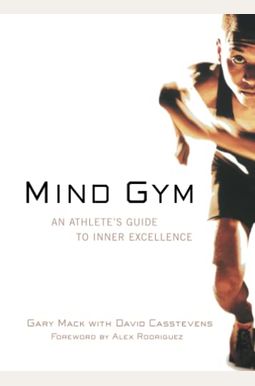 
 
Mind Gym: An Athlete's Guide To Inner Excellence
Book Overview
Praise for Mind Gym
Believing in yourself is paramount to success for any athlete. Gary's lessons and David's writing provide examples of the importance of the mental game.
--Ben Crenshaw, two-time Masters champion and former Ryder Cup captain
Mind Gym hits a home run. If you want to build mental muscle for the major leagues, read this book.
--Ken Griffey Jr., Major League Baseball MVP
I read Mind Gym on my way to the Sydney Olympics and really got a lot out of it. Gary has important lessons to teach, and you'll find the exercises fun and beneficial.
--Jason Kidd, NBA All-Star and Olympic gold-medal winner
I love the book Mind Gym.
--Madison Kocian, 2016 U.S. Women's Gymnastics Team, 2015 Uneven Bars World Champion, as told to Us Weekly
In Mind Gym, noted sports psychology consultant Gary Mack explains how your mind influences your performance on the field or on the court as much as your physical skill does, if not more so. Through forty accessible lessons and inspirational anecdotes from prominent athletes--many of whom he has worked with--you will learn the same techniques and exercises Mack uses to help elite athletes build mental muscle. Mind Gym will give you the head edge over the competition.
Frequently Asked Questions About Mind Gym: An Athlete's Guide To Inner Excellence
Books like Mind Gym: An Athlete's Guide To Inner Excellence
Book Reviews
(13)
Did you read Mind Gym: An Athlete's Guide To Inner Excellence? Please provide your feedback and rating to help other readers.
Solid Read

Derived From Web

, Apr 20, 2022

Mack appreciated the emphasis on psychology in sports that I had. Unfortunately, in 2015, many of the positive examples he draws have destroyed their reputations and I found myself second guessing how well these people really handle themselves psychologically.
I think there are some great nuggets of wisdom with this book

Derived From Web

, Apr 20, 2022

I think that with this book there are some great nuggets of wisdom, but also a disappointing lack of application. It was recommended to me by two different people, so I thought i'd give it a try. It is mostly anecdotes and stories about famous people, which is completely fine, but I was hoping for a few more actual processes on how to think like these pros and how to get into the head spaces that work for these people. I do think that the book contains a decent amount of groundwork and it did help me, even if it was a little less than Id have liked.
A+

Derived From Web

, Apr 20, 2022

My daughter plays tennis and has always been a part of the game mental toughness. She's made it to a top ranking in Florida before and currently plays internationally and this book is right on time for where she is in her game growth. Mental toughness is a goal and the cycles can be played in a day of play throughout a person's game and also in stages over the years that they progress in their game growth. This book, Mind Gym, explains this. Armed with humorous anecdotes, this book shares some great tactics that can be used on and off the field as well as in everyday life. In sports, many good coaches will already be using these tactics.
Great book; VERY inspirational

Derived From Web

, Apr 20, 2022

This book is not just for athletes, Richardson said. The book includes dozens of quotations and bits of wisdom from some of the world's greatest performers. The book is divided into quick, readable chapters and can be read within a few sittings. I personally read one chapter at a time so that I could let the knowledge sink into my head and reflect upon it. The book contains tons of great advice for anyone that wants to excel in their field. Definitely one of my top books of the year.
Succinct and helpful

Derived From Web

, Apr 20, 2022

Good for anyone trying to re-establish themselves as mental focus, he said. The book is written in a way that makes it easy to access specific concerns without having to read the book cover to cover.
Amazing!

Derived From Web

, Sep 5, 2021

It's a book that I would recommend to anybody. If you have any questions, I recommend you to go to the doctor. Thanks for the introduction. It's a good message for my life, Beckham said.
Great, big picture, stories to inspire

Derived From Web

, Jan 21, 2021

Yes, there are great inspirational stories about athletes and coaches. Yes, the author picked so many athletes that had fallen from grace but the core of the stories still remain. Being 50 years old, the athletes that are in this book were in their prime about 15 years ago, so the recollections really resonate with me, he said. If you have a fan of sports in your life, and they are open-minded enough to forgive the fallen athletes, this is an excellent self-help book, I would say.
Entertaining book but lacks true insight

Derived From Web

, Apr 14, 2020

The book is a large collection of anecdotes, discussing the authors extensive experience in sports psychology. It jumps from story to story without in my opinion really giving a true insight into how you can implement these types of mindset changes for yourself. The books has a heavy bias towards US sports and if that is what you are looking for, that is great. If you are looking for a clear way to implement some of his knowledge onto your own team or trying to help your own performance, this book may be more cryptic as to what you might need.
Great Read

Derived From Web

, Mar 19, 2020

I've read every book, but this one stands out. Many of the things that we talk about are actually very common, even for people who are not athletes. Coaches will find great value in this book, as it reminds us the mental challenges that could face our athletes that we may not see.
good companion for the mind

Derived From Web

, Aug 8, 2018

The book re-introduced a number of talking points to fill the mind during the training for whatever goal you are pursuing. Only a train of sorts will last, mind and body, the only discipline that lasts is self-discipline surrounded by tales of athletes who have achieved in their respective fields. It's a good read to keep handy while travelling.