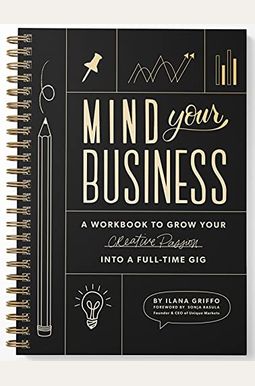 
 
Mind Your Business: A Workbook to Grow Your Creative Passion Into a Full-Time Gig
Frequently Asked Questions About Mind Your Business: A Workbook to Grow Your Creative Passion Into a Full-Time Gig
Book Reviews
(15)
Did you read Mind Your Business: A Workbook to Grow Your Creative Passion Into a Full-Time Gig? Please provide your feedback and rating to help other readers.
in love !!!

Derived From Web

, Jan 4, 2022

I have read all the books except "The Lovely Bones." Brain training is a great way to get your brain jogging and thinking about your business. i received my book on 1322 and it is now 1422 and i'm on page 27 this book is awesome, i recommend this to anyone looking to start a business.
Is the profanity necessary?

Derived From Web

, Jan 3, 2022

It's a good book, Mr. Nielsen said. If profanity doesn't bother you, try it out.
Print/Binding Quality: F Content Quality: A+

Derived From Web

, Oct 13, 2020

I really dislike leaving reviews like this but it is unacceptable for a workbook printbinding job to be this poor, especially when you are paying significantly more money for spiral bound books. As long as you receive a workbook that doesn't have these type of flaws on every single page, then you'll most likely enjoy reading and filling out this workbook if you're getting started on entrepreneurship and need help staying focused!
Clean, Clever, and Creative Workbook!

Derived From Web

, Sep 30, 2020

This workbook is absolutely stunning, and I'm so glad I found it. We're all about simplicity, said AOL France spokesman Jean-Francois Mattei. Several of my clients were getting orders on social media for my work and right before I even came up with a business name and logo and taxes and pricing, it was a lot. There are plenty of books that tell you where to sell your art but do nothing to explain how to do it. The book was originally intended to be a companion to Michael Lewis's "The Art of Selling." The workbook is exactly what I needed and when I opened it I couldn't wait to sit down and start. It's clean, beautiful, clearly written, and feels like the author is taking your hand and telling you "it's gonna be okay, here's how." Thanks for the help!
Good for organization & ideas

Derived From Web

, Sep 22, 2020

This book is a great way to keep you laser focused on your goals, Coach said. It makes you think of those questions you would not think of right off the bat. It's great to be up and running, says Blair.
Annoyed

Derived From Web

, Feb 29, 2020

There are some good bones in this book, but for someone who is a little obsessed with order, the samples provided on some of the lists are maddening! That was the only time I felt like this was a no-brainer, Mr. Rule told the judge. My handwriting and the authors' print type are in no way similar, and it made it so that I can't even focus on creating my own lists, he said. Don't give me a writing prompt and then fill it in for me knowing it won't match your handwriting. That is, trying to inject the author's cleverness and personality into a tool that should be designed with the reader in mind.
Workbook format is perfect!

Derived From Web

, Nov 13, 2019

It asks the right questions, sometimes hard questions, to be reflective and have answers come to light you didn't know you had in you. The book is very encouraging, well organized and has great artistic appeal, Levine said. I've read the entire book, and I still can't get over it.
Disappointing

Derived From Web

, Nov 2, 2019

I purchased this book because of all the wonderful reviews and I wish I'd not wasted my money. It is presented in a fun, thought provoking, easy to read format, but I found it to be incomplete. Yes, it gets you thinking about what you need to do, but there is no clear path to doing it. After working through the book, I'm no closer to the answers I am seeking.
Love love love

Derived From Web

, Oct 30, 2019
So LEGIT and incredibly encouraging!

Derived From Web

, Feb 7, 2019

It's just too good to be true, can't tell you how blown away I am by this book. As a small business owner, I feel like this book is everything we all had to learn the hard way about being your own boss. It's like a coffee date with Ilana in book form, and she's right across the table sharing everything you need to know and work on to get things rolling with your business idea. What a great group of people, said Blair. Please excuse me while I pick my jaw up off the floor and slow clap Ilana on the way out!