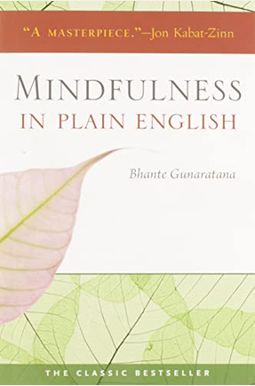 
 
Mindfulness In Plain English: 20th Anniversary Edition
Frequently Asked Questions About Mindfulness In Plain English: 20th Anniversary Edition
Book Reviews
(15)
Did you read Mindfulness In Plain English: 20th Anniversary Edition? Please provide your feedback and rating to help other readers.
Don't be fooled - this book can be simple for beginner but if you look beyond own self - it's deeper than you could hope for

Derived From Web

, Apr 20, 2022

What a book! This has moved me so much deeper into the levels of my meditation, Thibault said. One reviewer said it was "way to go" and "meant for beginners only." This is a disservice to the academy and to the country. It can be for a beginner but if there is a seasoned meditator like me, there is so much to get out of this book, you are just not open to it. The illusionist says he or she is beyond belief. This book is very good. He also said he hears people say he is a "serial killer", a reference to the way we drummed it into our busy non-paying attention minds. This book is in no way, a quick read through, Gillian said. I have read it through several times now, and by one page a day I really think and apply what he is trying to teach us, he said. You can get as much and so very much as you want, or you can prejudge what it may appear to be and lose out big time.
I love this book

Derived From Web

, Apr 20, 2022

It's great to see a book like this come out. It's just that I keep reading it over and over, along with my practice, and I keep learning new things. Since the book was first published, I have given away over a dozen copies to friends and family. I'm actually mostly practicing the Goenka method of vipassana, but this wonderful guide has helped me immensely.
Very helpful

Derived From Web

, Apr 20, 2022

I'm not of the budhist faith, I am a Disciple of Christ and have been working on expanding my meditation and prayer practices so this has been very helpful, said Dr. Timothy Evans, Disciple of Christ. The book is really well written, plainly written and well explained by either those developing practice in prayer-mindfulness or have been doing so for some time, it said. The meditation insight is well worth the effort, even if those parts of that are hard to put into words. Thanks for sharing this with the world.
Exactly what I needed

Derived From Web

, Apr 20, 2022

While I have been reading a plethora of books on Buddhism, and while I have gotten a lot out of them, this is the first book I've actually read that really focused on the actual implementation of mindfulness in Buddhism. This isn't a book for anyone wanting the history or surface level information of Buddhism, nor is it for those looking to implement mindfulness and compassion in their daily lives. I have loved reading books on this topic, but this book is by far the most relevant to what I needed to further my personal journey in life. Highly recommend.
However it would have application to most meditation techniques. The book is concise and focuses on the practical and functional

Derived From Web

, Apr 20, 2022

This book is a well written and practical book on meditation following the vipassana approach. The technique would have application to most meditation techniques. The book is concise and focuses on the practical and functional aspects of Microsoft's products rather than the theoretical.
Pay it forward.

Derived From Web

, Apr 20, 2022

I had already read OSHO, but it wasn't entirely clear to me what to do with Vipassana meditation. This book is definitely involves what it is, why it is beneficial, how to meditate, when and where, and how to do it. It's just that you get excited reading the book.
Recommended!

Derived From Web

, Apr 20, 2022

Mindfulness is a difficult and daunting concept to grasp. Journey Through the Book breaks it down for you, walks you through the journey step by step. Very well written, easy to comprehend, not in anyway condescending.
Book is beat up but a fantastic read

Derived From Web

, Jun 17, 2021

The book was originally slated for a September 23rd release, but Amazon said it would be fulfilled by June 2nd. It does, indeed, show no signs of having been read previously, but it is very rare indeed. There are also stains on the bottom, and all along the front edge, leaving no room for cleaning. I've already started the book and can't stop smiling. I have struggled with the canon and with the generic instructions I get along with the rest of my sangha since I started meditating, and the opening pages of Bhante Gunaratana's book look to be the single most useful tool I've encountered thus far. The author writes in a clear fashion that differs from many I've read whose first language was English.
A truly helpful and practical guide to meditation

Derived From Web

, May 23, 2021

One of the best meditation books I've read. This book is also useful for those who want to learn how to read. The author of this book is a master of preemptively addressing known issues and sticking points of meditators. And when the book begins discussing following the breath, I immediately began thinking about how I tend to manipulate my breath so that I can feel the sensation more. Many meditators try to manipulate the breath to increase the sensation and make it easier to follow, he said. Michael Connelly, Random House's executive vice president, said: "There's just a great book.
Utter Garbage

Derived From Web

, Dec 10, 2019

No, you think you're happy, but you're not because I say so. This book is the worst of self-help books in that many people probably get it looking for some assistance with their problems, it said. The arrogance of the author is mind-boggling. There is no recommendation for this book. try again!