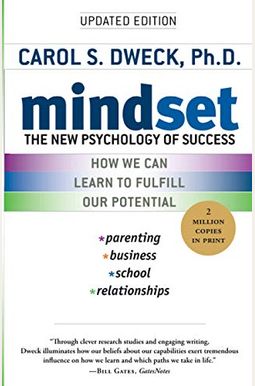 
 
Mindset: The New Psychology of Success
Book Overview
Now updated with new research, the book that has changed millions of lives with its insights into the growth mindset.
After decades of research, world-renowned Stanford University psychologist Carol S. Dweck, Ph.D., discovered a simple but groundbreaking idea: the power of mindset. In this brilliant book, she shows how success in school, work, sports, the arts, and almost every area of human endeavor can be dramatically influenced by how we think about our talents and abilities. People with a
fixed mindset
--those who believe that abilities are fixed--are less likely to flourish than those with a
growth mindset
--those who believe that abilities can be developed.
Mindset
reveals how great parents, teachers, managers, and athletes can put this idea to use to foster outstanding accomplishment. In this edition, Dweck offers new insights into her now famous and broadly embraced concept. She introduces a phenomenon she calls false growth mindset and guides people toward adopting a deeper, truer growth mindset. She also expands the mindset concept beyond the individual, applying it to the cultures of groups and organizations. With the right mindset, you can motivate those you lead, teach, and love--to transform their lives and your own.
Praise for Mindset
A good book is one whose advice you believe. A great book is one
Read More chevron_right
Frequently bought together
Frequently Asked Questions About Mindset: The New Psychology of Success
Book Reviews
(9)
Did you read Mindset: The New Psychology of Success? Please provide your feedback and rating to help other readers.
Repetitive

Derived From Web

, Oct 24, 2020

It sounds like a good idea, but the book is repetitive and filled with too many examples. I had hoped for helpful information on how to change my mindset, not endless examples of people who do not have a flexible mindset. It is really a pretty useless book.
Inspiring Books

Derived From Web

, Sep 28, 2020

I love the fact from the research that supports the explanation of the author. I don 't agree with all aspects of this book, in my opinion, something needs to be fixed to grow, the tree needs a fixed place or a medium to grow. Some kind of thinking or belief needs to be fixed and grow a mindset from there. My point is that in order to grow a growth mindset, you need to believe in something that makes you fixed, and that belief must be grown, otherwise you will end up stop growing because your belief has changed to something fixed. But, this book is new overall ; it has helped me a lot with a new way of thinking and new terminology to describe a kind of mindset.
Extremely Small font used.

Derived From Web

, Jul 14, 2020

I just ordered the book and am excited to read it. I was shocked, however, at how small the font used for the book is. The small print is going to make it very challenging to read. The book is relatively small in length and width, it should have been printed with larger pages, so that the font would be a more average size. Normally, I don 't use reading glasses, but for this book I think I will have to find some. Sigh. Fortunately, I believe that the content will be worth the effort, but I'd happily paid a little more for a book type size that's more normal.
usefull concepts but could be shorter

Derived From Web

, Jul 4, 2020

It is very useful to have a growth mindset concept. The book makes a great job of explaining it. It is one of those ideas that are really simple, but extremely difficult to understand. On the other hand, I think the author uses too many examples to the point that it becomes repetitive and boring.
How a simple concept can be a game changer

Derived From Web

, Apr 30, 2020

If I had to assemble 10 books to serve as the manual to create a superhuman, this book would be one of them. I was not aware before that the simple concept of fixed mindset versus growth mindset could explain a lot about someone's character and behaviour. And how relatively straight forward it is to change them for better and for worse. An absolute vital book to read is an absolute book of its own.
Made me feel as turning in circle without taking me somewhere

Derived From Web

, Mar 11, 2020

Despite the fact that for me the mindset is the key to almost everything, I had the impression that once the concept of Mindset was explained, the book focused only on giving examples, some of them a bit exotic, to try to justify why having a good mindset is important. It was difficult to find the added value of all chapters, as I strongly believe that the author could have said the same with fewer words, so that the book is not written as a story that ends with a conclusion, so that it is the same if one read only one chapter instead of the whole book. I have never arrived to feel hooked and as soon as I finished it I bought Extreme Ownership and with only a few pages of the introduction I already have the feeling of emotion and interest that I look at in a book.
Great introduction to the growth mindset concept

Derived From Web

, Feb 14, 2020

What I take away from the book is that we all have a mix of fixed mindset and growth mindset. And it is about recognising where your mind is at any given moment dealing with a situation or situation and whether or not you view the question or situation through the lens of a fixed mindset or growth mindset and how to expand from a fixed mindset to a growth mindset.
Failing doesn't make you a failure

Derived From Web

, Jul 13, 2019

This book offers practical information and takeaway action on how to recognize a fixed mindset and transition into a growth mindset. The author explains clearly what both are and how a fixed mindset can hold us back, which is more negative perception while a positive, positive mindset can help us learn and develop. More than just positive attitude, it contains useful advice on how to view setbacks as opportunities to learn, for example, and develop a growth mindset to help both yourself and others. It is well written and easy to read, in general, an excellent book!
A new way to look at the world and our part in it

Derived From Web

, Jun 1, 2019

I had seen this book many times in the past referenced, and only recently I decided to buy it and read it. And it has been one of the quickest reads ever! And it has been one of the quickest! '' This book is a true gem. It helps the reader to undermine the victim mentality to the core and provides with many examples of the difference that a fixed mindset has compared to the journey implied in having a growth mindset. We are all a mixture of both mindsets and it is up to us to recognize and control where we are in our life and what is the dominant mindset. This book gives concrete action steps to take to chip at the fixed mindset and install the growth mindset mentality, what makes us improve in all we do in our lives. Because age and skills don t matter when the right mindset, the growth mindset, is allowed to make us flourish. A must read, truly inspirational. And now it is time to start the journey. Now you find yourself.