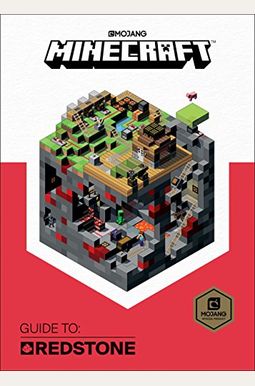  
Minecraft: Guide To Redstone (2017 Edition)
Book Overview
Learn the art of redstone and become a master engineer with Minecraft: Guide to Redstone, then put theory into practice to construct intricate contraptions in Minecraft.
Pick up the basics of the redstone components and their uses, discover how to make working circuits, and create incredibly complex builds using your new skills. With insider info and tips from the experts at Mojang, this is the definitive guide to redstone in Minecraft.
Collect all of the official Minecraft books:
Minecraft: The Island
Minecraft: The Survivors' Book of Secrets
Minecraft: Exploded Builds: Medieval Fortress
Minecraft: Guide to Exploration
Minecraft: Guide to Creative
Minecraft: Guide to the Nether & the End
Minecraft: Guide to Redstone
Minecraft: Mobestiary
Frequently Asked Questions About Minecraft: Guide To Redstone (2017 Edition)
Books like Minecraft: Guide To Redstone (2017 Edition)
Book Reviews
(7)
Did you read Minecraft: Guide To Redstone (2017 Edition)? Please provide your feedback and rating to help other readers.
Not much useful content

Derived From Web

, Jun 25, 2020

I wanted to be more advanced with redstone, but all this book was very basic with redstone instructions and only a few random projects you can make, but weren't all that useful. I was hoping to get some more information on more complex circuits, uses for more complex circuits and how to build them, instead what the book had was pretty basic.
Meh

Derived From Web

, May 30, 2020

It was sort of fine, I guess. The examples are pretty difficult to understand. The beginning part, while useful, was actually quite outdated. I would recommend this book. You know that a book is good when it gives a whole page to a single thing xD.
Frustratingly bad

Derived From Web

, Apr 14, 2020

My son received this book for Easter and let me tell you, it ruined his evening truly. He was dying to build the elevator and some of the steps did not go with the pictures. One step was right and then repeated the step on the next page with the wrong amount of blocks. When finished, it does not work. We built two things that did not work and that was enough for us lol. I never have to help him with things like this. The fact that I sat there to go over the steps and saw how terribly written this book was... says a lot. We bought the Redstone Handbook, which will hopefully yield cooler project ideas that WORK and can be expanded.
Good, not great

Derived From Web

, Jan 29, 2019

My son loves the book, but is a little frustrating. One of the first projects is a red stone door missing a step. You have to add a sticky stone dust under the block sticking out of the wall. While it has helpful information, the diagrams don 't seem to be completely accurate, which is not something I would expect.
Added to our collection!! Perfect for adding to a creative mind!

Derived From Web

, May 24, 2018

Added this redstone book to our collection and just LOVED it! So fun to see my son build through the book and then be able to watch his creations! He is a beginning reader so that he can not read all the words, but the illustrations are very helpful and my son has no problems understanding it HIGHLY RECOMMENDED!
There are better choices out there for a Redstone Guide....

Derived From Web

, Jan 7, 2018

This seemed to be a great series, but the whole family was a little disappointed with them, and the guide to Redstone was the most disappointing. If your children love Minecraft, they will probably love the book anyway.
Grandson thrilled with this Christmas gift!

Derived From Web

, Jan 6, 2018

Gave tjis Book to my 7 - year old grandson for Christmas. He is proud as he is a Minecraft nerd! I think it will be read from cover to cover, not once, but probably several times.