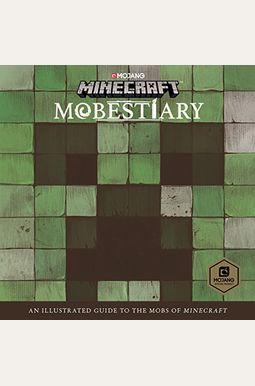  
Book Overview
With insider gaming info and tips, this is the official, definitive, fully illustrated guide to mobs--and how to outsmart them--in Minecraft.
Minecraft: Mobestiary
reveals the secrets of every mob in the game. You'll find little-known facts about passive, neutral, hostile, utility, and boss mobs, as well as more general information about their locations, behaviors, threat levels, and drops. Written by Alex Wiltshire, author of
Minecraft: Blockopedia
and former editor at
Edge
magazine, who has made it his life's work to study Minecraft's mobs. Illustrated with field sketches throughout by Anton Stenvall.
Collect all of the official Minecraft books:
Minecraft: The Island
Minecraft: The Survivors' Book of Secrets
Minecraft: Exploded Builds: Medieval Fortress
Minecraft: Guide to Exploration
Minecraft: Guide to Creative
Minecraft: Guide to the Nether & the End
Minecraft: Guide to Redstone
Minecraft: Mobestiary
Frequently bought together
Frequently Asked Questions About Minecraft: Mobestiary
Books like Minecraft: Mobestiary

Book Reviews
(10)
Did you read Minecraft: Mobestiary? Please provide your feedback and rating to help other readers.
Creative

Derived From Web

, Feb 4, 2022

My daughter absolutely loves Minecraft and asked for this book for Christmas. Both were pleasantly surprised by the work of the artists and by the creative writing. Anyone who has an aspiring artist as a child and a passionate Minecraft fan should seriously consider purchasing this book.
Fun Book For Kids

Derived From Web

, Jan 21, 2022

Young readers will find this book very useful for any child interested in the lore of Minecraft. Rather, it is a parody of the game of thrones. It's just a lore book with illustrations by Roy Cooper and Frank Brigante.
Minecraft for the troubled reader

Derived From Web

, Oct 25, 2021

What if your kid has a crush on Minecraft but doesn't like to read? Buy them and they will give you free minecraft books. You will probably want to talk to your child for hours about what they read in the minecraft books. Enjoy it while you can, but it's all down hill, Tunick said.
Great book

Derived From Web

, Oct 1, 2021

Really enjoyed going beyond the game of baseball. It was very entertaining to read, had a lot of diagrams, and a lot of jokes put here and there that actually had me laughing a bit, Mr. Dhaliwal said.
Confusing

Derived From Web

, Jul 24, 2021

This book talks about vindicators and they came out in the village and pillage in 2019, but the book was made in 2017 also in the village and pillage there are pillagers, so why add vindicators?
Minecraft, but missing phantom deets

Derived From Web

, Feb 8, 2021

It was a present, Mr. Dhaliwal said. It's just that the phantom is missing. Only a few people actually bought actual books for Minecraft. It will never be up to date and missing a lot of stuff eventually. It's better to stay digital and check website frequently. It's a nice book, though, and I like the graphics and details for the other mobs.
Very thorough and enjoyable.

Derived From Web

, Jan 20, 2021

If you like lore and depth in your games, this is the guide for you. The entire game is well documented and illustrated. There are quite a few nuggets about each that many probably weren't aware of. I'm a huge Minecraft nerd, but I've learned quite a few new things. My only complaint is that there have been quite a few mobs added to the game since this was released, which wasn't included for obvious reasons. The blame is squarely on me for not verifying the publishing date. I would love to see them publish an updated version of this with the new mobs since 2017. Along with Drowned Hoglins Pandas, Strayagers, and the Warden will be added soon. Also breeding mechanics for Villagers and spawners have changed since the game was released.
Thorough info...

Derived From Web

, Oct 8, 2019

My son absolutely loves the book. Like the way the game is played, he said, he likes the way there are so many details about the mobs and the different characters.
Outdated but still enjoyable

Derived From Web

, May 2, 2019

Many of the mobs that existed in the book are no longer present. The enjoyment comes from the artist's great monochromatic sketches of Minecraft beasties. There are some useful information about the mobs that are present, though told from an in-world perspective, as if an inhabitant of the MC world was writing a field guide. It's a decent ride, said Gillian Kent, director of music for ITV.
Interesting

Derived From Web

, Dec 30, 2017

Interesting nuggets of info interspersed with some nice concept art. Some seem directly off the Wikipedia page, with some identifying them as "unknowns" or "unknowns only." Mr. Bazzi's work is done well and adds to the feel of the space.