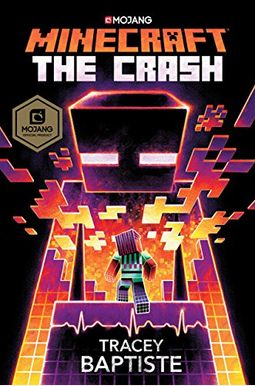  
Minecraft: The Crash: An Official Minecraft Novel
Book Overview
NEW YORK TIMES BESTSELER - This official Minecraft novel is an action-packed thriller When a new virtual-reality version of the game brings her dreams--and doubts--to life, one player must face her fears.
Bianca has never been good at following the plan. She's more of an act-now, deal-with-the-consequences-later kind of person. But consequences can't be put off forever, as Bianca learns when she and her best friend, Lonnie, are in a terrible car crash. Waking up in the hospital, almost paralyzed by her injuries, Bianca is faced with questions she's not equipped to answer. She chooses instead to try a new virtual-reality version of Minecraft that responds to her every wish, giving her control over a world at the very moment she thought she'd lost it. As she explores this new realm, she encounters a mute, glitching avatar she believes to be Lonnie. Bianca teams up with Esme and Anton, two kids who are also playing on the hospital server, to save her friend. But the road to recovery isn't without its own dangers. The kids are swarmed by mobs seemingly generated by their fears and insecurities, and now Bianca must deal with the uncertainties that have been plaguing her: Is Lonnie really in the game? And can Bianca help him return to reality?
Collect all of the official Minecraft books:
Minecraft: The Read More chevron_right
Frequently bought together
Frequently Asked Questions About Minecraft: The Crash: An Official Minecraft Novel
Book Reviews
(14)
Did you read Minecraft: The Crash: An Official Minecraft Novel? Please provide your feedback and rating to help other readers.
Good book for teens, but not my favorite in the series

Derived From Web

, Jul 21, 2021

I have been reading these books to my son at bedtime, as we enjoy playing together Minecraft. We are currently in the third book, and so far this is my least favorite in the series. To be fair, the first was written by Max Brooks, one of my favorite authors. The other two books are actually set in a real-life Minecraft world, where this is a VR experience. The book, set in a children's hospital, does deal with some serious issues and the characters deal with their emotional stress through Minecraft VR. From this perspective, it is definitely something older kids and teens could benefit from reading, as it focuses on learning how to accept and manage your feelings.
Not the same author as The Island, not for young kids

Derived From Web

, May 20, 2021

I read The Island by Max Brookes to my five-year-olds and LOVED it, because they both love to play Minecraft. This book is not the same author and really isn 't similar. It starts with a light and car crash, which is a really serious topic for young children. This book won 't be finished. We ordered the Mountain '' also by Max Brookes, which is supposedly the sequel to The Island. We hope you see! The collision is better suited for someone 12 and older.
Looks promising but...

Derived From Web

, Jan 6, 2021

Some of the reviews were misleading as I expected it to be on my 8-year-old level. Overall, my son was happy with the gift, just not going to read it anytime soon.
Absolutely amazing book!

Derived From Web

, Dec 15, 2020

I loved every second of it and would highly recommend it to all Minecraft fans out there ages 10 and up.
My son devours these books but didn't like this one. Don't just blindly buy these books.

Derived From Web

, Nov 27, 2020

Someone takes off in the book, it's all heavy theme. Don 't order for yourself these books of mine for your kids blindly. This one and the shipwreck should be avoided unless you want for your kids heavy social justice topics and propaganda. I regret buying this book ''. The island is beautiful, but don 't buy this island or the shipwreck. My son actually liked the one-eighth dungeons as well as The End.
NOT APPROPRIATE FOR CHILDREN

Derived From Web

, Jul 24, 2020

Although this book may be attractive to young minecraft players, it contains thematic elements that I do not believe are appropriate for children under the age of 12. After finishing this story, my 11-year-old boy came out of his room crying and traumatized after telling this story. My fault for not previewing the material ahead of time, but I wanted to warn the rest of the parents that the story line and conclusion are much too complex for our impressionable children.
Not the sequel to The Island!

Derived From Web

, Sep 8, 2019

We bought this because it is the sequel to The Island, but it is a full different story line. After reading the other reviews, I know that my son will not be able to handle such a sad ending.
Disappointed - Not for kids

Derived From Web

, Feb 9, 2019

My son was so excited to find a book about the game he loves and was total beaten down.
Graphic details about a car accident

Derived From Web

, Feb 4, 2019

A bit more graphic in the details of the car accident than I would want for a follow up book to The Island. My fault for not realizing this, so we wait for my 8-year-old to read a few years.
this is the dumbest book

Derived From Web

, Jan 7, 2019

I received this book on my birthday, but is honestly the worst book I ever read. I don 't really enjoy Minecraft, but I still played it, this was just boring and was nothing like Mincraft, this was just about explaining things, read a better book, don 't buy it ( ).