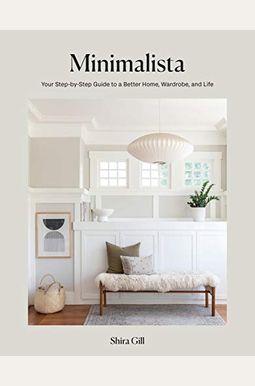  
Minimalista: Your Step-By-Step Guide To A Better Home, Wardrobe, And Life
Book Overview
Elevate your personal style, trim your belongings, and transform your life, one room at a time, with this visionary lifestyle and home organization book from professional organizing expert, Shira Gill.
As a professional home organizer with clients ranging from students to multi-millionaires, Shira Gill observed that clutter is a universal stress trigger. Over the years she created a signature decluttering and organization process that promotes sustainability, achieves lasting results, and can be applied to anyone, regardless of their space or lifestyle. Rather than imposing strict rules and limitations, Shira redefines minimalism as having the perfect amount of everything--for
you--
based on your personal values and the limitations of your space. Now, in
Minimalista,
Shira shares her complete toolkit for the first time, built around five key steps: Clarify, Edit, Organize, Elevate, and Maintain. Once you learn the methodology you'll dive into the hands-on work, choose-your-own-adventure style: knock out a room, or even a single drawer; style a bookshelf; donate a sweater. Shira teaches that the most important thing you can do is start, and that small victories, achieved one at a time, will snowball into massive transformation. Broken into small, bite-sized chunks,
Minimalista
makes it clear that if the process is fun and easy to follow, anyone can learn the principles of editing and organization.
Frequently Asked Questions About Minimalista: Your Step-By-Step Guide To A Better Home, Wardrobe, And Life
Book Reviews
(15)
Did you read Minimalista: Your Step-By-Step Guide To A Better Home, Wardrobe, And Life? Please provide your feedback and rating to help other readers.
Book is bent and looks used

Derived From Web

, Jan 1, 2022

The front of the book is sticky and bent out of shape. It seems like it has been used before. After reading it, I wanted to use it as a decor book, but I have to return it now.
Very practical and easy manual to stay organized

Derived From Web

, Nov 29, 2021

I picked up this book and am very impressed with it. It's easy to find help in the areas you want. The tips are easy to follow. The book is gorgeous and makes for a great gift or coffee table book. This holiday, I'm giving it to my friends.
Shira's book will help you! (and make you laugh)

Derived From Web

, Nov 28, 2021

I've been a fan of Shira's for a long time and have purchased her online courses to help me control my home. I was excited to read her book, but I wasn't sure if she would have much new to say, but I was happy to learn so much from the book. Several friends have been gifted gifts. You need to be aware of the volume of stuff you are dealing with, and that's one of the lessons I have learned from Shira. Keeping an organized house is a skill that can be learned, so no self limiting beliefs are allowed! You will be happy to purchase her book.
BEST BOOK FOR HOME ORGANIZATION

Derived From Web

, Nov 17, 2021

All of the secrets to creating a gorgeous, streamlined home were given by Shira Gill. There are two parts to the book. Section one explains her 5-step process and section two shows you through each room. This book is for people who are on the fence. This book is for people who are considering becoming a minimalist but are not sure. If you want a coffee table book that will look great, buy it.
Takes the chaos out of de-cluttering (and makes it fun - really!)

Derived From Web

, Nov 5, 2021

The book is going to change my life. Or at least my bedroom closet. Probably both. Gill isn't trying to make us all minimalists. She's trying to help us create spaces that make sense for us and that we love coming home to. She gives detailed step-by-step actions anyone can take to organize and streamline every single space in their home, encourages small victories, and does it all with a little humor. Do anyone actually use napkin rings? Whether you're looking to make your entire home more functional and inviting or just need help with curation and making smarter purchases, this book is useful and inspiring.
YOU NEED THIS BOOK, EVEN IF YOU KNOW HOW TO ORGANIZE!

Derived From Web

, Nov 4, 2021

The perfect coffee table book is one that is both beautiful and easy to read. Even if you're good at organizing, it will change your life. The reader is given a five step process to organize every little corner of the home in a simple way. She is very funny and direct. She will not waste your time with long chapters and jargon. The book has bite-sized tips that can be used in your daily life to get the best results. A must read will inspire you to create space, save time and money, and build a home that meshes with your values. She is a delight to work with and I have had the pleasure of taking her online programs. It is your biggest cheerleader and you always over deliver. That is what this book does in true Shira fashion. Thank you, Cheers!
The most essential book that I never knew I needed!

Derived From Web

, Nov 3, 2021

As a person who had given up on ever making sense and harmony of his home, Minimalista proves to be an antidote to that type of thinking. Shira has written the perfect blueprint, one that combines the rigor of what to do with the creativity of how to do it. In a world that can feel overwhelming and out of our control, Shira's book is a great reminder that the biggest changes can happen in the smallest of ways. If ever there was one, you just have to get started.
The one I've been waiting for!

Derived From Web

, Nov 3, 2021

I adore this book. I have done a couple of her courses but have been waiting for an at my own pace version of her wisdom for quite some time. I have tried many substitute books but they always came up short. Poorly organized, missing essential elements or I just plain didn't connect with the "voice" of the writer This book is very good. It hits all the highlights, is beautiful and inspiring, but also easy to understand. I have recommended her to many friends and family and I am excited to finally have a concise and comprehensive guide to her brilliance. This will be a great holiday gift for a lot of people. I believe it will be life changing.
Much more than a decluttering handbook

Derived From Web

, Nov 3, 2021

If you're looking for a book to help you organize your home and stay that way, this is the one for you. Through the process, Shira shows us how we can figure out what we value the most. I have to think about more than just tidying up.
Minimalist but make it chic and beautiful and relatable

Derived From Web

, Nov 3, 2021

The book is gorgeous. It's full of information on how to make a relaxing, beautiful home. I was taught by Shira that quality mattered. The process of elevating my everyday items has been very enjoyable. Before I buy anything, I think about what it will bring to my home. Can't recommend this book enough.