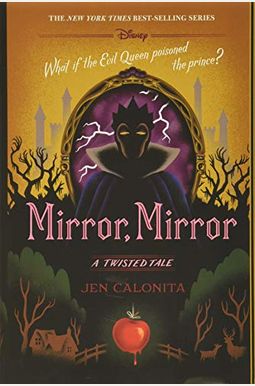 
 
Mirror, Mirror: A Twisted Tale
Book Overview
The 6th installment in the New York Times best-selling A TWISTED TALE series asks: What if the Evil Queen poisoned the prince?
Following her beloved mother''s death, the kingdom falls into the hands of Snow White''s stepmother, commonly referred to as the Evil Queen by those she rules. Snow keeps her head down at the castle, hoping to make the best of her situation.
But when new information about her parents resurfaces and a plot to kill her goes haywire, everything changes for Snow. With the help of a group of wary dwarfs, a kind prince she thought she''d never see again, and a mysterious stranger from her past, Snow embarks on a quest to stop the Evil Queen and take back her kingdom. But can she stop an enemy who knows her every move and will stop at nothing to retain her power. including going after the ones Snow loves?
For more twisted adventures, try the other books in the A TWISTED TALE series:
A Whole New World by Liz Braswell
Once Upon a Dream by Liz Braswell
As Old As Time by Liz Braswell
Reflection by Elizabeth Lim
Part of Your World by Liz Braswell
Conceal, Don''t Feel by Jen Calonita
Straight On Till Morning by Liz Read More chevron_right
Frequently bought together
Frequently Asked Questions About Mirror, Mirror: A Twisted Tale
Books like Mirror, Mirror: A Twisted Tale
Book Reviews
(15)
Did you read Mirror, Mirror: A Twisted Tale? Please provide your feedback and rating to help other readers.
Could NOT put this book down

Derived From Web

, Oct 29, 2021

I read this book for Christmas and I received this book in two days! I was never a reader, but this book hooked me on reading!
Different take on Snow White

Derived From Web

, Oct 9, 2021

This story about Snow White takes you on a journey into the evil Queen's life, her relationship with snow and the obstacles she has endured to reign as the queen. I sometimes wish we could see a more humane version of her and a loving relationship between her and snow beings, as she is her aunt. I loved the ending and the whole idea of happily ever after '' not so much involved with a man's marriage. Out of 5 stars, 4 is better!
Very Disappointing for Fans of the Series

Derived From Web

, Oct 17, 2020

If you are a fan of the other stories, you might not like this one. This is read more like one of the villains books than the Twisted Tales series. I was hesitant to buy it because it was not written by Elisabeth Lim, but I liked it, so I tried it. I am sorry. The other books in this series are like alternate reality, something changed at some point in the story that leads to a new story. And not so with Mirror, Mirror. It is just a retelling of the Snow White film, with a focus on the evil Queen's origins, though it has some terrible scenes that could scare a younger child, the relationship between Snow and the Prince is so G rated as unbelievable. I'm hoping for a story like the other books in this series, and sadly disappointed with this ''. I have not read this author again, Fanans of the Disney Villains series might like this, but I am not and did not.
Best Snow White telling EVER

Derived From Web

, Jul 23, 2020

This book made me actually like her and I'm shocked lol. This was a great twist on the story. Highly recommended for fans of Snow White. I also recommend Fairest of them all by Serena Valentina for those who want a more story about the queen. It is a phenomenal experience.
Good, but kinda sad at some parts. (I like sad.)

Derived From Web

, Jun 6, 2020

It is sad when it talks about the bad childhood of the evil queen. I kinda wanted her to become good at the end, but unfortunately this did not happen. Recommended for people who can manage sad stuff, especially if you like sad stuff like me. If you cry loud because of sad books, than skip this one. I say it just like that! But for others you should definitely read this!
Great Book - Love It

Derived From Web

, Mar 21, 2020

I really enjoyed this book ''. I would really like to see this as a live action film, but as the saying goes, the movie will never be as good as the book. If you are a huge Snow White fan or in general a huge Disney fan, this is a must read! I couldn t put it down! I can 't wait to read the others.
DIsney's Snow White and the Seven Dwarfs With Edge Loved It

Derived From Web

, Mar 16, 2020

I loved this story ''. When I started reading it, I could not put it down. The author really explores how Snow White's relationship with the Evil Queen goes way beyond the queen being jealous of Snow White's beauty. I even love how the author explained how the queen became evil and the significance of the magic - mirror ''. This has made me a big fan of Disney's Twisted Tales books.
Inner City Teens Love It

Derived From Web

, Nov 4, 2019

I am a teacher and I bought this book for my school library, thinking that I could read it during independent reading. I haven 't been able to read it out of my students'hands because someone wants to take it up in every class.
Snow White: Strong, Brave and Kind Princess

Derived From Web

, Sep 27, 2019

I loved how the Dwarves Snow White helped and how they were exactly like in the film. Learning about the past of the Evil Queen was both emotional and interesting.
An inside look at the Evil Queen

Derived From Web

, Jun 1, 2019

Thank you Netgalley and the publishers for granting my wish request and providing me with an e-arc in exchange for an honest review. 3.5 stars This is the next in the Twisted Tales series and although I have yet to read any of the others, I had to request this one based on Snow White. While Snow is a very likeable character, this story centers more on Ingrid, the Evil Queen and her back story. Ingrid's chapters are captivating and more enjoyable than Snow's. Getting into the thought of the villain is always fun and interesting.