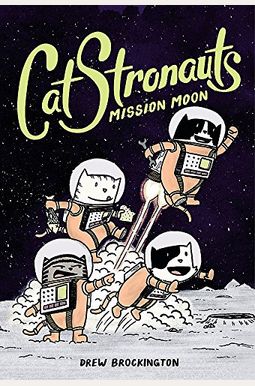  
Book Overview
CatStronauts, you are needed
When the world is thrust into darkness due to a global energy shortage, the Worlds Best Scientist comes up with a bold plan to set up a solar power plant on the moon. But someone has to go up there to set it up, and that adventure falls to the CatStronauts, the best space cats on the planet Meet the fearless commander Major Meowser, brave-but-hungry pilot Waffles, genius technician and inventor Blanket, and quick thinking science officer Pom Pom on their most important mission yet
In this graphic novel, debut author and illustrator Drew Brockington breathes life into a world populated entirely by cats, brimming with jokes, charm, science, and enough big boxes and tuna sandwiches for everyone
Frequently bought together
Frequently Asked Questions About Mission Moon
Book Reviews
(10)
Did you read Mission Moon? Please provide your feedback and rating to help other readers.
Made me re-think graphic novels!

Derived From Web

, Jan 17, 2022

I was never a fan of graphic novels, but I gave this one a try for my grandson. It was great to be reading with him, said Dr. Goin. He used voices for the characters and made predictions about what was not stated in the story. He wanted to continue the series, so we got two more books out of the library, said McKinlay. Thanks for making me re-think my position on graphic novels.
Excellent for a science-focused 7-year-old

Derived From Web

, Sep 16, 2021

A relative sent us two of the books and my son loved them so much we immediately had to buy the rest of the series. He was able to read them to himself and thoroughly enjoyed the story. The whole series is an excellent step forward for readers who are done with Captain Underpants and Dogman, but there are more challenging vocabulary sprinkled throughout, but not so much that it's daunting to a reader still gaining confidence.
This is a comic book, NOT a chapter book!

Derived From Web

, Jan 9, 2021

Television images could not be loaded. The book is very cute, but I was expecting more from the illustrator. I didn't see it listed as a comic book, and I assumed it was a chapter book.
Book is not compatible with any Kindle readers

Derived From Web

, Apr 28, 2020

We regret we couldn't find the Kindle version of this book for our son. It is not possible to download the book from the Amazon Kindle store, nor can it be opened with desktop Kindle, iPad or Apple's own e-reader, the actual Kindle tablet. It continues to say it is not able to read it and update it, but we have the most up to date software and operating systems it requests, Garton said. We're not even able to get our money back! ==> We're all not going to get what we paid for! The second most-popular search term was "how did I get there?" Berkshire Hathaway made a profit of $1.7 billion on the sale of its 40 percent stake in the company. Buyers who choose to exchange money for a refund must first get their money back. We were excited to get this book, Melissa.
My friend's son really liked it

Derived From Web

, Aug 21, 2019

I got this as a present for my friend's son who is about 7 but is a bit behind on the reading department, Melissa said. She said he's into graphic novels, so she got him this one. According to my friend, I asked him what he was reading and he said he sat down and started to read it. If so, I'd say that's a good sign. As I flipped through it, it looked really cute, Mr. Dhaliwal said. I'll be getting him another couple for his next birthday!
CatStronauts in the house!

Derived From Web

, Aug 4, 2019

Atronauts in the living room. My kids absolutely adore the show. It's a nice alternative to the Dogman series, Simon says. You almost know they are reading them because you hear the giggles coming from their room.
Perfect Book for the Reluctant Reader

Derived From Web

, May 27, 2019

It was the perfect book for my 1st grader. She really enjoyed it and we are going to the signing next week. There is a level of vocabulary that is higher than most children's books. A great book to learn about climate change and have some fun with space cats!
Catstronauts Rules!!!

Derived From Web

, Sep 9, 2018

The whole thing is a disaster, my 9-year old says she can't wait to read the rest of them. I've read all the Harry Potter books, but this is by far the best. I'm a huge cat lover, and I like the idea of the cats going into space and saving the planet. New Zealand's biggest curry house opened its doors to customers last night.
8 year old son loves this book

Derived From Web

, Jun 29, 2017

I've only read the first book. If I can pry it from his hands, I will eventually. He has ADHD and ASD so he is either totally distracted or hyper focused, and he has been hyper focused on this book since it arrived. Currently he's carrying it around like it's his child so I think it's fair to say he loves it, Beckham said. Getting him to read anything is a chore, so this gets five stars from me.
Excellent book for young readers!

Derived From Web

, Apr 19, 2017

I purchased the book because, well, my boy loves space, and he's a pretty avid reader if you can wrest the tablets, phones, TV and video games from his hands. When I got home yesterday, though, I opened up the package containing the rover and showed it to my boy he was in awe. This is his first graphic novel, so I wasn't sure how things would go, he said. He's finishing kindergarten, so not all the words are familiar to him and he needed some help with the jokes, but he understood most of the jokes. The author was able to balance effectively humor and tension in a potentially cat-asstrophic situation so well that my boy couldn't put it down, he said. When it was time he asked me to finish the story really quickly so he wouldn't have to wonder how it ended up, and I'm excited to read it with my son tonight.