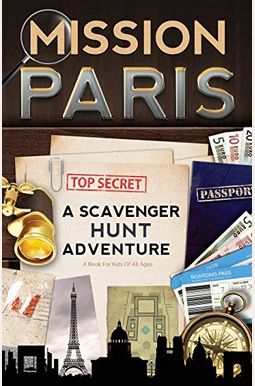 
 
Mission Paris: A Scavenger Hunt Adventure (Travel Book For Kids)
Frequently Asked Questions About Mission Paris: A Scavenger Hunt Adventure (Travel Book For Kids)
Books like Mission Paris: A Scavenger Hunt Adventure (Travel Book For Kids)
Book Reviews
(16)
Did you read Mission Paris: A Scavenger Hunt Adventure (Travel Book For Kids)? Please provide your feedback and rating to help other readers.
This was really great. We got two

Derived From Web

, May 21, 2022

Many of the tasks that children had to complete at each site were kind of repetitive and weren't too innovative so that it retained their interest. Note that you are supposed to write in the book, which is why we got one for each kid and why a used copy might be a little dicey.
... made taking an 8 year old to Paris a wonderful experience. It was great fun to check off ...

Derived From Web

, May 21, 2022

Paris made the visit of an 8 year old to Mission Paris a wonderful experience. It was great fun to check our sites daily and to tally points. Fantastic book, wonderful decoration.
This book made "boring" museums fun for my 11 year old and therefore I could ...

Derived From Web

, May 21, 2022

This book made boring museums fun for my 11 year old and therefore I could enjoy art without whining.
Great book to keep kids engaged while sightseeing....

Derived From Web

, May 21, 2022

I loved this book really ''. My twins are 11 years old and I wanted them to have something to read and be excited about the sights of Paris. Honestly, I found the information to be really interesting and found myself reading the book before them! Great book and a good way to keep children involved and interested in exploring a beautiful city.
Best Travel Aid for Kids EVER

Derived From Web

, May 21, 2022

Kept my 9 year old twins busy and not bored during our Paris trip. They actually learned history, so I am grateful. In Indonesia, they do not learn about world history, so that travels are our chance to introduce them to different cultures and history.
I wish I could give this more stars...

Derived From Web

, Jan 24, 2020

I went to Paris alone with my seven-year-old son and was super nervous that he would be bored. He is a good kid, but I am not sure how he would react to all the walking and if he would be interested in all the sights at all. This book is in the public domain. I can 't say enough about this book. He might have loved it anyway, but this book gave us something concrete to focus on at each of the places. It helped him stay interested even in the Louvre, which I did not take him to. It is free for children as young as he is, so I figured we could also give it a shot. And of course, even the Louvre was a fun adventure thanks to this book. I have and continue recommending this to every single person I know who has ANY interest in bringing their kids to Paris. I wish they had them for ALL cities! Great job! Thank you SO much for making our trip such a successful, wonderful memory! Now! ''
Great travel book for kids.

Derived From Web

, Dec 9, 2019

This book was great, I will get one for any other city we visit that they have a book for. For my 8 year old level info, good but also had some funny things for my 4 year old to do. Very flexible, so we could see only what we were going to see and work it into the mission ''. We would watch it at our cafes people checking stops to see what we needed to do at the next stop. Information was fun for both children and adults. You get points for a few things so that the mission is fully attainable no matter what you do in the city and you can set points for adventurous things that your kiddos might not otherwise do... eg, I received my 4 year old to try Escargot!
Kept a 10 year old engaged

Derived From Web

, Aug 8, 2019

It contained some activities that kept him interested during our trips to Museumcastle. It even led us to Chateau de Vincennes, which we wouldn 't have found on our own! The Louvre Hunt had us walking all over the place, but it helped initiate conversations about history. The only issue is that the Notre Dame challenge is now almost impossible to complete based on the fire in April. I also wish that something would be added to Les Invalides. If you have primary children, I would recommend them highly.
This book makes Paris come alive for a young person (and this old person, too).

Derived From Web

, Jul 22, 2019

This book loved. My 10th birthday, who was taken to Paris for her little birthday, was even more excited about her trip after reading this book. This book could replace the Michelin - Guidebook.
Great activity book to engage children in touring a city

Derived From Web

, Sep 4, 2018

A trip to Paris, while fun for adults, can be incredibly boring for young children. However, our 6 and 9 year olds loved every second of it with this book, as it made them search for things at each site to score points. They embraced the concept of being scouts and having to find clues fully. I think it would be fun for pre-school and elementary school children.