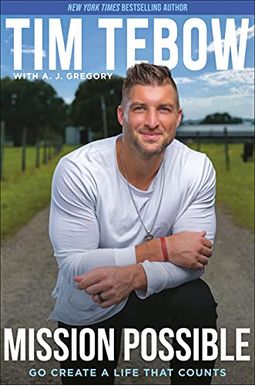  
Mission Possible: Go Create A Life That Counts
Frequently Asked Questions About Mission Possible: Go Create A Life That Counts
Book Reviews
(6)
Did you read Mission Possible: Go Create A Life That Counts? Please provide your feedback and rating to help other readers.
Good read

Jennifer F

, May 22, 2022

I still haven't finished reading this book, but it has been entertaining so far. It helps you to create a life mission that counts and helps you figure out how to achieve that. This book is immersed with biblical guidance, which I love as well. It has given me inspiration to achieve my goals, one being writing a book of my very own. Highly recommend to those who want more out of life, but need a little bit of a push to get motivation.
I belive!!

Derived From Web

, Mar 20, 2022

Tim keeps me on track. His actions remind me to question myself. Trust in God!
Great book by a great author!

Derived From Web

, Mar 18, 2022

This is a great read. I like how he uses real life situations to inspire his readers.
Inspiring Book

Derived From Web

, Mar 11, 2022

Tim is a great person with a great heart. Many things we think are impossible are doable. I don't understand why people who aren't Christians choose to read the book and give it a low star rating because it talks about Jesus. It's an encouraging book.
Encouraging, Inspiring, and Motiving - Having a "Mission Possible" Mindset

Derived From Web

, Mar 10, 2022

The book is very encouraging and interesting. It's the first book I've read by Tim Tebow, and I'm impressed. He's a good writer. God doesn't want you to fill in all the blanks, just be willing to follow where he leads. By making our lives more about others and less about us, we open ourselves up to all that God has for us, and yes, this is a Christ-focused book. Don't read the book if that's not something you like. If you don't buy into the God stuff at the end, you still have some practical tools to change your life and positively impact those you come in contact with. The truths might change your life.
Over the top religioud

Derived From Web

, Mar 9, 2022

I find books that talk about Jesus and the bible to be annoying because I am not a Christian. This one was over the top but it was not intolerable. I'm not interested in how he was able to purchase a flawless diamond for a woman, and I'm not interested in his relationship with her.