CYBER MONDAY SALE - SAVE 20% AT CHECKOUT WITH CODE CYBERBOOK. Learn more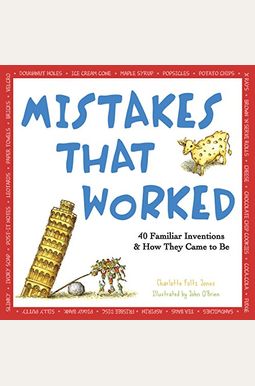  
Mistakes That Worked: 40 Familiar Inventions & How They Came To Be
Book Overview
The greatest discoveries are made outside the classroom Learn all about mistakes that changed the world with this collection of the strange stories behind everyday inventions It's no accident that you'll love this book
SANDWICHES came about when an English earl was too busy gambling to eat his meal and needed to keep one hand free. POTATO CHIPS were first cooked by a chef who was furious when a customer complained that his fried potatoes weren't thin enough. Coca-Cola, Silly Putty, and X rays have fascinating stories behind them too Their unusual tales, and many more, along with hilarious cartoons and weird, amazing facts, make up this fun-filled book about everyday items that had surprisingly haphazard beginnings. And don't miss Eat Your Words about the fascinating language of food A splendid book that is as informative as it is entertaining . . . a gem. --
Booklist
, Starred Review
Frequently Asked Questions About Mistakes That Worked: 40 Familiar Inventions & How They Came To Be
Books like Mistakes That Worked: 40 Familiar Inventions & How They Came To Be
Book Reviews
(14)
Did you read Mistakes That Worked: 40 Familiar Inventions & How They Came To Be? Please provide your feedback and rating to help other readers.
You can't make anything if you can't make mistakes

Derived From Web

, Apr 20, 2022

My mother always told me that you can 't make mistakes if you can 't make them. This book proves the point aptly, highlighting several mistakes that have turned into common and often-loved inventions. This is an enlightening book to share with children, encouraging them to realize that learning to improvise and experiment is often the best way to learn, even if you don 't end up creating something new and wonderful.
Good gift for someone who is feeling down

Derived From Web

, Jan 19, 2022

My daughter was feeling down and I thought this would be a good gift to help her realize that sometimes things happen for a reason. She liked it there. I did not tell her the above, it was inferred. If nothing else helped it as a distraction, I think, if nothing else. The book does have some really good facts that are interesting to know. It is an easy to read read.
Great book!

Derived From Web

, Jul 14, 2021

Book of the outstanding is an outstanding book. I bought it because my 8 year old struggles sometimes with mistakes. Like it or not, the end of the world, but that isn 't always the case. I'm trying to get creative about teaching him mistakes happen and sometimes mistakes turn out to be exactly what we needed. It's a fun twist to get him to be less hard on himself. This book is well written and has lots of info. We 'll break it down once or twice a week during our homeschool curriculum for a fun break from the studies.
American- and Men-centric

Derived From Web

, May 13, 2020

I loved reading this book with my 5yo and he loved listening to the stories. I award it with only 3 stars because the stories are almost all about white American men. So many things invented in the world were certainly invented by non-Americans, women and people of color. The 2 references to native Americans made me especially queasy. I subsequently changed the language, as I was reading, to be more modern. Some stories are researched poorly. Even my kid thought the layout could have been better by putting the pictures closer to the beginning of each story than at the end, which requires much flipping back and forth when starting each story.
Great read aloud book for curious early readers

Derived From Web

, Mar 22, 2019

My son is in kindergarten and he is a factoid enthusiast. His reading abilities are not yet up to his curiosity level, but he gets there. Like many kids, he gets frustrated and needs help remembering how resilient he is and that challenges, even mistakes, are a good thing. This book has delivered this message with very short chapters and the abstract concepts are pretty well translated into more digestible pieces for even young children. In the chapter on chocolate chip cookies, the author notes several historical figures my kindergartener already knows that they never got to eat them because they lived before they were invented. Plotting out the timeline of history and providing context to young children is a challenge, and this book helped make it clear so that the inventions could be appreciated and contextualized. Plus, the facts were really interesting! We love that interactive recipes are included in the book, making it as well as actual.
Page one starts with a reference to another book and a disclaimer

Derived From Web

, Sep 27, 2018

Why does a book about how great accidents start with a sentence ending with, but the numerous cases of food poisoning prove that many food accidents don 't work. What was the point of this book? I'm sorry, what was the point of this book? Literally speaking, in the first paragraph, ON PAGE ONE, you are warning people to be concerned about something horrible that will come from your mistake. This is then followed by a if you want to experiment in the kitchen, buy this other book and kitchen safety tips. I know that you don 't want to encourage children to do something dangerous, but surely you could have found a less invasive, more engaging way of making your warnings that won 't turn a child off? It's this kind of fear-mongering among my parents'generation that prevented me from experimenting more, and I thought the point of a book like this was to help children recognize that mistakes can be good. There are some interesting facts in this book, but the presentation and tone are not what I expected to inspire a child.
What a fun way to help little ones learn about (and remember) ...

Derived From Web

, Jul 13, 2018

My 6 yo daughter loves this book! My 6 yo daughter loves it! '' What a fun way to help little ones learn about important inventions!
Informative and Interesting

Derived From Web

, Jun 4, 2018

This book is really cute and the stories are informative and interesting! My one complaint is that the short stories can require a high vocabulary and background knowledge. I work with students who range from the 3rd-6th grade and some of them had difficulty understanding the passages. I wish they wrote them to be a little more kid-friendly.
great book

Derived From Web

, Mar 28, 2018

My grandson is in 4th Grade, and he really enjoyed reading this book. Each chapter is about another invention that was made by mistake. The chapters are organized by subject, such as diet, medical inventions, etc. It really made for interesting reading and fun conversations at the dinner table. These days, students are required to read informative text, and this book is well written and interesting. If you have a Kindle, you can get it instantly.
Very interesting. I bought it for my 10 year ...

Derived From Web

, Mar 5, 2018

Very interesting ''. I bought it for my ten-year-old grandson. It took him a bit to decide that he was interested. Once he learned something new, he couldn 't wait to share all the interesting tis bits he did.