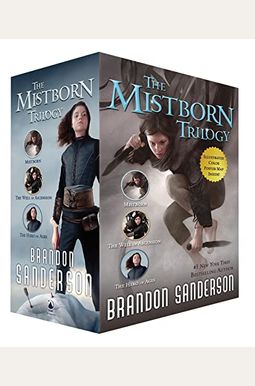 
 
Mistborn Trilogy Tpb Boxed Set: Mistborn, the Well of Ascension, and the Hero of Ages
Book Overview
This boxed set includes the Tor Teen trade paperback editions of the complete Mistborn Trilogy--Mistborn, The Well of Ascension, and The Hero of Ages--by #1 New York Times bestselling author Brandon Sanderson. This wildly popular epic fantasy series is for ages 13 and up. Each boxed set includes a fold out poster map of Luthadel.
Once, a hero rose to save the world. He failed.
For a thousand years since, the world has been a wasteland of ash and mist ruled by the immortal emperor known as the Lord Ruler. Every revolt has failed miserably.
Yet somehow, hope survives and a new kind of uprising is being planned-one that depends on the cunning of a brilliant criminal mastermind and the determination of an unlikely heroine: a teenage street urchin named Vin.
Once, a hero rose to save the world and failed. This time, can a young heroine succeed?
The Mistborn Trilogy was voted onto NPR's Top 100 Science-Fiction, Fantasy Books list.
If you're a fan of fantasy and haven't read the Mistborn trilogy yet, you have no excuses. Go buy a copy. -Forbes on the Mistborn Trilogy
Intrigue, politics, and conspiracies mesh complexly in a world Sanderson realizes in satisfying depth and peoples with impressive characters. -Booklist on Mistborn
All the explosive action any adventure fan could want. -Locus on The Well of Ascension
Fans of epic fantasy will appreciate the dramatic conclusion to this fresh take on the genre. -Booklist on The Hero of Ages
Frequently bought together
Frequently Asked Questions About Mistborn Trilogy Tpb Boxed Set: Mistborn, the Well of Ascension, and the Hero of Ages
Book Reviews
(16)
Did you read Mistborn Trilogy Tpb Boxed Set: Mistborn, the Well of Ascension, and the Hero of Ages? Please provide your feedback and rating to help other readers.
This series is great even if it was written by a very well-known ...

Derived From Web

, May 25, 2022

This series is great even if it was written by a very known and accomplished writer. It was, however, one of Brandon Sanderson's first releases. The fact is that you could not have guessed. The series was well written and each book in itself is a testament to Brandon Sanderson's current status as a writer. The world and its history, its magic system, its ecosystem and its Native Americans were all original in their own ways. At a time where literature has its own tropes and cliches, Brandon Sanderson literally reinvents the wheel and allows us to enjoy his own vision of fantasy. In the Mistborn trilogy, he has it all, good character progression, great pacing, good characters that feel both human and believable, and it continues without a fault until the very end. Like his other books, try it out and I would find it safe to guarantee that you will find something to like about it.
One of my favorite series of all time

Derived From Web

, May 25, 2022

By far, Brandan Sanderson is my favorite author. I won't write a full review or anything, but if you're looking for romance, character development, really interesting, three-dimensional characters, cool action sequences, deep philosophical and religious questions woven throughout, funny comedy and twists that seriously blow your mind. As a bonus, most of Brandan Sanderson's book series are interconnected in a giant ultrauniverse called The Cosmere, which is still in the early stages of development. The Mistborn books are part of the Cosmere, so if you're looking for an amazing reading material to keep you occupied for the next 20 years, I can not recommend anyone more than Sanderson.
An extraordinary read, do not miss it. It will be a treasure always. Highly recommend.

Derived From Web

, May 25, 2022

It seemed no point to write a review for a series that already had thousands of them. Ultimately, I wrote this review because I had just written it. I read this trilogy months ago and enjoyed it truly. But as the weeks pass by, I find it a treasured remembrance that keeps tugging at my mind and memory. This is a trilogy to read and cherish forever. The hero of the Ages was so very right and so overwhelmingly perfect. The character development was extraordinary, the plotting was pure genius. I truly cannot find adequate words to explain how much I treasure this trilogy and how grateful I am to the author Sanderson for enriching my life in such a meaningful and deep way.
A great series.

Derived From Web

, May 25, 2022

This was recommended by more than one friend and they were right. I really enjoyed it a lot. It was very enjoyable to watch the characters grow through the series. Vin is the principal character and is the dominant actor. The story begins with her as a young girl, who stays as much as possible, part of a thieving crew and I watched her grow up into a strong woman who learns to balance her powers and trust her feelings. I found the idea of metallic arts, where different metals can combine a few special people and even fewer can combine all of them. The mythology of the world, the guards of history, all the different aspects that have brought the world alive for me. Plus it has rebellions, a girl who can take the powerful and a geeky guy who loves her and finds his own power. I enjoyed it very much. I see that he has a new series and I look forward to checking it out.
I really enjoyed it. Especially the mystery of allomancy

Derived From Web

, May 25, 2022

I am late to this trilogy, I know. I really enjoyed it ''. Especially the mystery of allomancy and the Lord's ruler in Book 1. Book 2 started to spit out some answers which surprised me because they had teased them previously and slowed had characters that solved them for the reader. Book 3 started tossing heaps of answers and information at the reader, which greatly disappointed me, but there was enough mystery in the end to provide an enjoyable story. This makes it hopefully to the big screen. But these days are less likely to look good. For new readers, plow through the first few chapters just. Do not let them discourage you, like they did to me. After a slow start, you will see the light. After you have gotten well into the first book, return and read the first chapters again to better take them in.
These books are awesome!!

Derived From Web

, May 11, 2021

Oh my gosh, I love these books! I really like the editions - floppy and nice, so easy to keep open. It begins with a simple plan of overthrowing the current government and leads to so much more than I could have pictured. Go ahead and read these, you will not regret it!
International Trade Paperback Edition

Derived From Web

, Apr 5, 2021

This is a review for the quality of the paper in the Mistborne Box Set, to help those trying to buy paper for book one, is different from books two and three. The book one feels like the kind of cheap paper used in mass market papers, while the paper used in books two and three is higher in quality. I am not sure if this is the case in every set. I thought it bewildern enough to mention, but not enough of a reason to send it back. Text is clearly written and readably. There is still ink - transfer on a few of the pages, as if the books were not tied when the ink was still wet, but not enough to interfere with the reading. If you want to save some money overall, this set seems like a decent choice if you avoid buying the hardcovers and instead YA-style - cover art.
5 Stars for the Books - 3 Stars for the materials

Derived From Web

, Dec 7, 2020

The books are great, no question about that! I was a little disappointed in the flimsy box they were housed in and the relatively poor quality of the actual book materials. It is not terrible by any means, but there is a good chance that by the time you finish the books they will have some slight noticeable creases in the pages themselves, just from normal use.
Pages Falling Out

Derived From Web

, Aug 20, 2020

As many have said, the book is awesome, but the pages fall out. It started before I even made it to chapter 1 and even though super gentle pages keep falling out. It looks like I tried reading the book with hooves instead of hands. I wish I had ordered better copies because the book so far has been a good read.
These pages are falling out

Derived From Web

, Jun 23, 2020

I am not sure if the binding in my particular set of books is faulty, but as I read along in the book pages are sometimes as little as two or three or as many as ten pages at a time. I have never had a problem reading a book before the pages simply fall out of the binding. If you don 't like reading your book pages as you fall out, this is not the product for you.