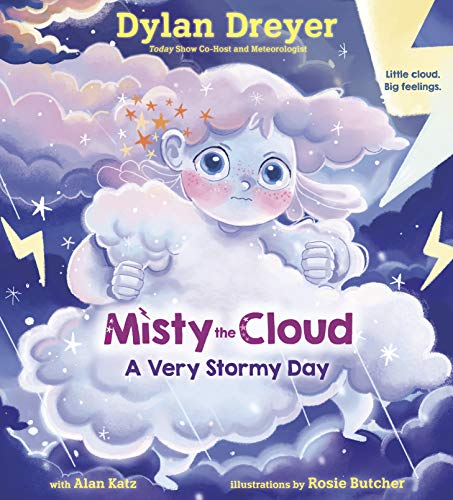  
Misty the Cloud: A Very Stormy Day
Frequently Asked Questions About Misty the Cloud: A Very Stormy Day
Book Reviews
(9)
Did you read Misty the Cloud: A Very Stormy Day? Please provide your feedback and rating to help other readers.
Beautiful pics, story and message is lacking

Derived From Web

, Feb 13, 2022

After all the good reviews, I was really excited for this to come for my six-year old. The illustrations are very nice, and we enjoyed it. The story just fizzled out. Cloud Misty has a rough day and gets angry. Then Momma Cloud comes and talks to her and then they see hot air balloons in the sky and is happy again. That is it. There was no discussion about managing these emotional feelings for little children, no discussion about the big aspect that I took as the lesson. Cute story, but not what I was looking for. The last two pages have science, weather and cloud facts and activities that were cool. But I return it because I need a book to help my child learn about her great emotions.
Hard story to follow, to many illustrations

Derived From Web

, Feb 1, 2022

We were so excited to hear Dylan's book had been released. We ordered it and immediately began to read it before we gave it to our daughter for her daughter. The idea is good, but the book is terribly done. First off, there are way too many illustrations that it makes the story line very difficult to follow. Very disappointing. We were hoping it talked about different moods that children feel and relating it to different weather conditions. Not at all. We returned it.
Happy Grandchild

Derived From Web

, Jan 5, 2022

Our granddaughter loves this book. '' When she returned home at Christmas, after staying in our house, she asked her dad to read it over and over again with her, and she takes the time to verbalize what she sees on each page. Dillan Dryer did a great job, especially for Dillan Dryer's great job. My son is a meteorologist and has taught our grandson a lot about weather.
Cover has ripples

Derived From Web

, Oct 17, 2021

Hate to give 4 stars only, but it came damaged. Cute book and story book so I 'll give it 5 stars. Bought received it as a gift from God, Bought. The hassle of returning it, but the outer paper cover looks like it has gotten wet. Just looked and the book is out of stock, so I guess I 'll gift the one with the damaged cover. Oh well... Oh well...
The Book is Wonderful

Derived From Web

, Oct 13, 2021

I received the book today and I know my grandchildren, Oliver and Ella, will love it too! The book is beautiful and the illustrations are well done. If I could say so, I would say a thing about it. I feel that only your name Dylan needed to be on the cover and not your credentials. I feel it drew my attention away from the illustration and title of the book and your name and credentials were my focus. I can 't wait to give you book as one of their Christmas gifts!
Great weather book for kids!

Derived From Web

, Oct 13, 2021

This weather book is so perfect for children! I love Dylan on the Today show absolutely. I follow her and her amazing husband on Instagram. This book is a must have book for children and teachers. It is a must have book for children and teachers. The story is so interesting, fun and sweet about the weather. The illustrations are great!!!! My boys have different needs and I really love how this teaches me about many special moods. It was easy for them to read, and we were able to have conversations about behaviors. My boys really enjoyed the story and my boys enjoyed it a lot. The back of the book has great facts about the weather, a few fun activities and a sweet poem at the end. I hope Dylan writes more stories about the weather, I hope Dylan writes more stories about the weather.
Fabulously created

Derived From Web

, Oct 13, 2021

Dylan, you are more than amazing. Once again, so proud of you. Book Your Children : Love Your Children's Book I received it on time, I pre-ordered your book. I read it again to my boys the last night ; I read it to my boys! Doggies!!! Love the Doggies!!! '' Luke loves being read too all 3 relaxed. As you know, Maddie loved being read as Cody Bear too. Your illustrations are sublime. Thank you for the kind words. Ordering a few more as gifts : Congratulations on your two arrivals, RUSTY RJ and your MISTY, THE CLOUD BOOK. YS ARE SO BEAUTIFUL and BRIAN is so sweet too. What gorgeus family. CAL I love your cooking events with CAL. This coming year, we hope to see you all in the City of Lights, NY, this coming year in the Today show. Ciao bella congrats again Ciao bella. ps. ps. ps. ps. ps. Glad you are feeling well during and after early delivery of RJ, too. Zoey Zoey is a Zoey fan.
Delightful book

Derived From Web

, Oct 13, 2021

This is a delightful book. The story is beautiful, the pictures are charming and the science lesson at the end is a wonderful added bonus. My copy came damaged with miscut and torn pages, so check yours especially when gifting. I ordered a replacement copy immediately ''.
Book about weather for children

Derived From Web

, Oct 12, 2021

Purchased this book for my 6 year old grandson. It's far better than I could ever imagine. I will certainly be watching for future books by this author to add to his collection.