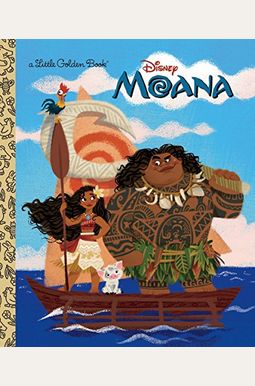 
 
Book Overview
Walt Disney Animation Studios' Moana is a sweeping, CG-animated comedy-adventure about a spirited teenager on an impossible mission to fulfill her ancestors' quest. In the ancient South Pacific world of Oceania, Moana, a born navigator, sets sail in search of a fabled island. During her incredible journey, she teams up with her hero, the legendary demi-god Maui, to traverse the open ocean on an action-packed voyage. They encounter enormous sea creatures, breathtaking underworlds, and ancient folklore. This Little Golden Book retelling of the movie is perfect for children ages 2 to 5.
Frequently Asked Questions About Moana Little Golden Book
Books like Moana Little Golden Book
Book Reviews
(11)
Did you read Moana Little Golden Book? Please provide your feedback and rating to help other readers.
Cute book, summerized version of the movie

Derived From Web

, Apr 24, 2020

Before my child was born, I started a Golden Book collection. My daughter only cares about the movie Moana. I got a book for her. I wish the storyline was written a bit better and the colors were more vibrant like the movie. Golden Books are regaurdless. The reviewers said the book was not good for a baby. I agree and disagree. Golden books have been the same for a long time. The cover can rip off if it is hard and thin. I have a collection for my 1 year old and she hasn't destroyed one yet. If you don't want a child to ruin them, just use them as a book and buy one for them. They are affordable.
Excellent paraphrasing of the movie

Derived From Web

, Apr 8, 2020

The Little Golden Books are a great way to see a classic movie in a small size for little ones. This has been my favorite so far. It's one of my favorite Disney movies, but it's also the gold standard for golden books, so it might have something to do with that. The concepts are easy to follow and the pictures go with the story. The book is wonderful and the movie is wonderful.
Perfect for little ones in length & beautiful illustrations!

Derived From Web

, Jun 25, 2019

I have several Little Golden books that I loved when I was a child, but most of the ones I give are a little long for my nearly 2 year old, with my husband and I having to summarize the story for her to keep her interest. This one has beautiful illustrations that my daughter loves, and the story is long enough to hit on the main points of the story line, and my daughter asks us to read it to her over and over again. Well done, well done!
Perfect gift for kids

Derived From Web

, Oct 8, 2018

My two year old loves this. Little golden books are great additions to gift baskets.
Like the movie

Derived From Web

, Jun 24, 2018

You can't remember the songs without them in your head for days afterwards. Same story line your kids know and love makes you watch 147,000,022 times in Little Golden Book form. It's small enough for the kids to carry in their baby backpacks without being heavy or bulky, and I bought it for our upcoming flight in case our tablet runs out of juice. I should get another 20 minutes of free time. It is completely worth it.
My daughters love this book

Derived From Web

, Nov 17, 2017

My daughters like this book. My youngest looks at it at least once a day because she loves Maui. The story is easy to follow and long enough to keep them entertained, but not long enough to distract them from other things.
Cute, Easy Read for a Fun Bedtime Routine

Derived From Web

, Nov 8, 2017

We read the book to the kids before they saw the movie. The pictures in Little Golden Books are amazing.
Adorable

Derived From Web

, Jul 31, 2017

I bought this after seeing the movie. It has everything I would want to see in a book. A cute illustration of Moana as a baby.
Book is ok...

Derived From Web

, Jul 27, 2017

The book is hard to open and feels like it wasn't meant to be opened. The illustrations are cute and are a simple way to tell the story. The cover of the book is cheap and disappointing, but I guess it is ok.
Moana is my daughter's favorite movie so I had to get this for her ...

Derived From Web

, Jul 11, 2017

I had to get this for my daughter's 1st birthday because she loves the movie Moana. She loves it. The pictures are great and the story fits the movie perfectly but is short and sweet. She hasn't gotten tired of it yet, we have been reading it to her every day.