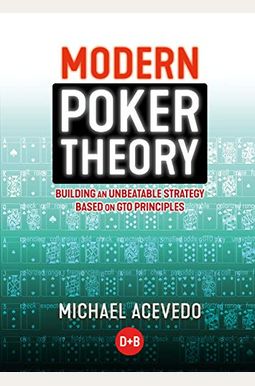  
Modern Poker Theory: Building An Unbeatable Strategy Based On Gto Principles
Book Overview
Modern Poker Theory is a comprehensive, rigorous guide to the most important aspects of No-Limit Hold'em. It is based around an in-depth examination of what is meant by game theory optimal play (GTO) and how it can be applied at the table. Understanding GTO is fundamental to being able to make accurate poker decisions and being able to exploit players who don't. Modern Poker Theory uses modern poker tools to develop a systematic approach to the analysis of GTO. It organizes the ideas and concepts in an intuitive manner that is totally focused to practical applications. Next time you are at a table some of the players will have studied Modern Poker Theory and some won't. The players who have studied Modern Poker Theory will, without doubt, have a better theoretical and practical understanding of No-Limit Hold'em. They will be the favourites in the game. Make sure you are one of them. Michael Acevedo, one of the world's leading poker theorists, is a game theory expert who is renowned for creating cutting-edge content for the world's leading players. The production of Modern Poker Theory is the culmination of many thousands of hours of his research work with the most advanced poker software tools available. It is poker theory for the 21st century.
Frequently Asked Questions About Modern Poker Theory: Building An Unbeatable Strategy Based On Gto Principles
Books like Modern Poker Theory: Building An Unbeatable Strategy Based On Gto Principles
Book Reviews
(7)
Did you read Modern Poker Theory: Building An Unbeatable Strategy Based On Gto Principles? Please provide your feedback and rating to help other readers.
NOT for beginners

Derived From Web

, Aug 1, 2020

If you've just started playing online poker as a side hobby and want to get some understanding how to approach the game, this is not your book. Serious online players with heads up displays who want to spend some quality time looking for leaks in their Game Theory Optimal game will find this book useful. If that sentence lost you again, this is not the book for you. The book is a glorious examination of the math behind poker strategies, but it really doesn't help one get their head around the game. Instead of optimizing a game for a lower level player, Frost's technology helps players reach a higher level of difficulty. Given that one cannot fault the author for doing exactly what they said they would do in the first chapters, I still gave this book four stars instead of five because I felt the author digressed too often into explanatory figures.
Missed the mark

Derived From Web

, Jan 7, 2020

Very dense book that goes back and forth between hard numbers and general relativity. The charts themselves would have been useful to understand the differences between the two. The book feels like it is at times trying to showcase the results of the solvers rather than explain rational decision making. Would not suggest for an amateur or someone new to the game, and honestly wish I had chosen another book on GTO instead.
Wait for a better-edited edition

Derived From Web

, Oct 18, 2019

Three stars because it's yet another poker book with infinite typos and inconsistencies. There are several examples in the book you'd only be able to decipher if you've already read the same examples in other poker literature. The content is okay, but it's morally wrong to charge $40 for a book that has been edited so poorly.
After you read Play Optimal Poker, Read this next!

Derived From Web

, Aug 27, 2019

It's great to have such a great introduction to the game of poker. Once you have read that book, you go into all of the real life ranges and concepts that underlie GTO.
Skill level doesn't have to be top level to grasp and understand GTO concepts

Derived From Web

, Aug 19, 2019

A great read, Gillian. I am a recreational poker player who is trying to take my game to the next level, Doyle said. I have been struggling with GTO and this book broke it down in such a way that I was able to grasp and learn concepts that I had not been able to in the past. Even if you're not a huge video game fan, Crave's job is to break down complicated concepts and apply them practically to the game we all love. I highly recommend this book to anybody serious about improving their game of golf. 0 1462228 This is a great read and an absolute must have for anybody serious about improving their game of golf.
Best Poker Book Ever Written

Derived From Web

, Aug 10, 2019

In fact, I think this is the best book ever written. I have competed for many years at the highest levels, and the level of my game jumped when I started studying the material in this book. Poker players of all skill levels should buy this book. But it's not the quickest read, and all of the time you invest will be richly rewarded. It's great to be back reading Gillian and I will most definitely revisit the material. Brandon Hicks, 21, was charged with armed robbery.
Finally a D&B book that isn't c---.

Derived From Web

, Aug 9, 2019

If you judge a book by it cover like I do, you'll be a making a mistake by missing MPT. He said the book was "the most expensive Harry ever wrote." DandB did not offer me a free video for an honest review of the book. 0 21712010 This is very rare, very low."