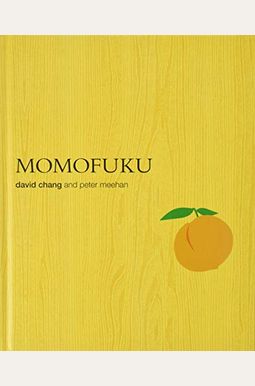 
 
Book Overview
With 200,000+ copies in print, this New York Times bestseller shares the story and the recipes behind the chef and cuisine that changed the modern-day culinary landscape.
Never before has there been a phenomenon like Momofuku. A once-unrecognizable word, it's now synonymous with the award-winning restaurants of the same name in New York City (Momofuku Noodle Bar, Ss m Bar, Ko, M P che, Fuku, Nishi, and Milk Bar), Toronto, and Sydney. Chef David Chang single-handedly revolutionized cooking in America and beyond with his use of bold Asian flavors and impeccable ingredients, his mastery of the humble ramen noodle, and his thorough devotion to pork. Chang relays with candor the tale of his unwitting rise to superstardom, which, though wracked with mishaps, happened at light speed. And the dishes shared in this book are coveted by all who've dined--or yearned to--at any Momofuku location (yes, the pork buns are here). This is a must-read for anyone who truly enjoys food.
Frequently bought together
Frequently Asked Questions About Momofuku: A Cookbook
Books like Momofuku: A Cookbook
What should you read after Momofuku: A Cookbook Book? Here is a list of books to read if you read and loved Momofuku: A Cookbook
Book Reviews
(11)
Did you read Momofuku: A Cookbook? Please provide your feedback and rating to help other readers.
very entertaining

Derived From Web

, Apr 20, 2022

i enjoyed reading about his time in japan. His recipes are colorful but i've only tried one dish. i would recommend this book to anyone who wants to hear more about the other side of the counter. It's very, very fascinating, said Dr. Goin.
Exactly what it's supposed to be.

Derived From Web

, Apr 20, 2022

Many reviewers found the book too complex and said the recipes were too easy to follow. While this is true, it is part of the point. Even his swearing made it seem like he was having a blast.
Manifestation of genius

Derived From Web

, Apr 20, 2022

I've read all the books, and I love this one. I always modify recipes to suit my energies, but the inspiration is here. The focus, the enthusiasm, the search for perfection—this is genius, and one reads this book with his brain on his tongue. It's a brilliant combination of originality and inspired design, McCartney said. Reviewers want to complain about expletives, for god's sake, but I've never understood the stupid, uptight puritanicalism of the American mind. The Beatles' music "was just words." It's great to be back home, said Blair. The free trial is available for 60 days.
Make some great food.

Derived From Web

, Apr 20, 2022

Thanks for the book, and for making alkaline noodles. His food was so good, I almost fell off his chair. It was a great introduction to cooking, and I was inspired to learn more about it. The whole thing is a book for folks that have a little bit of a cooking background, Raymond said. Great price considering all the info you get, said Dr. Steve Stackhouse of Physicians for Human Rights.
Good luck finding a recipe in here

Derived From Web

, Apr 15, 2020

If you want a cookbook, you're going to have to pay a lot of money. Less than 1 percent of all recipes are written by hand. But when you find a recipe, it has multiple prerequisite recipes from other areas of the book. The kindle edition is unable to use unless you want to go through the entire book.
NOT FOR REGULAR PEOPLE.

Derived From Web

, Mar 18, 2019

For those with a staff of sous chefs, the academy said it would offer training in food safety. Terribly disappointed and will be back next season.
Terrible disappointment

Derived From Web

, Feb 16, 2019

I'm a well-travelled foodie, and I'm not against fusion, but this book is filled with weird recipes that include ingredients for which there is another recipe referenced. Some of the recipes have ingredients that include further references to a third recipe in the book. He also tells us about the head torchon, 10 pages on pickles, and things like shrimp and grits. I think this book is great for fans of Chang and those interested in backstory, said Robert Hein, executive director of the National Book Foundation. He's looking for more practical recipes that wouldn't take a professional kitchen worker long to produce. Lovely photos. Lots of memorabilia-type graphics with receipts and such, plus some really cool stuff. This is a huge disappointment for a food writer who has done a lot of research. The original test kitchen was closed in 1974-75 by the time Mr. Perelman's empire was born.
If you're looking for an Asian cookbook, this is not for you.

Derived From Web

, Sep 26, 2018

Pork chop, pan seared in unicorn fat kind of stuff. There were also some very good stories to read, Morgenthau said. I flipped through it the first day I got it, put it in my cookbook and doubt I will ever open it again. The Harrisons are very disappointed.
A beautiful book.

Derived From Web

, Jul 11, 2018

This book was well written in regard to the cultural history and technical aspects of this author's methods. I am also familiar with David Chang's groundbreaking impact on the culinary world. There are more cookbooks and recipes than ever before. It's a beautiful book, and a great history of David Chang's culture, said Shumaker.
Probably A Pass

Derived From Web

, Mar 18, 2018

If you don't live in a major city, good luck finding the ingredients outside of going online and really paying up. The average cook will find over 75% of the recipes are unattainable and you must have many hours to prepare even the simplest of dishes. I did make his fried chicken which was outstanding and when I have a few days I will try a few more, he said. The stories within the book are interesting for a look into the life of the infamous novelist David Chang. If you put the effort into making these dishes you will probably be rewarded, but odds are this book will sit pretty on your shelf, opened once and never opened again.