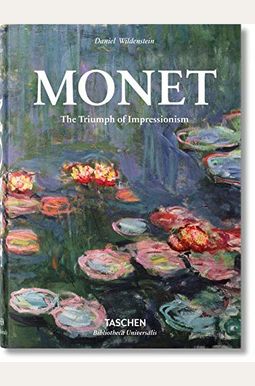 
 
Monet. The Triumph Of Impressionism
Book Overview
Master of the sublime: The essential Impressionist No other artist, apart from J.M.W. Turner, tried as hard as Claude Monet (1840-1926) to capture light itself on canvas. Of all the Impressionists, it was the man C zanne called only an eye, but my God what an eye who stayed true to the principle of absolute fidelity to the visual sensation, painting directly from the object.

It could be said that Monet reinvented the possibilities of color. Whether it was through his early interest in Japanese prints, his time as a conscript in the dazzling light of Algeria, or his personal acquaintance with the major painters of the late 19th century, the work Monet produced throughout his long life would change forever the way we perceive both the natural world and its attendant phenomena. The high point of his explorations was the late series of waterlilies, painted in his own garden at Giverny, which, in their approach toward almost total formlessness, are really the origin of abstract art.

This biography does full justice to this most remarkable and profoundly influential artist, and offers numerous reproductions and archive photos alongside a detailed and insightful commentary. About the Series:
Bibliotheca Universalis -- Compact cultural companions celebrating the eclectic Read More chevron_right
Frequently Asked Questions About Monet. The Triumph Of Impressionism
Book Reviews
(9)
Did you read Monet. The Triumph Of Impressionism? Please provide your feedback and rating to help other readers.
Love this book

Derived From Web

, Nov 18, 2021

When I was in Barcelona, I bought the Van Gogh book and thought it was good, but when I saw there was one on Claude Monet, I had to buy it. I always looked through his art pieces while reading his bibliography. I love the book design and all the other editions. There is a nice small size and beautiful cover art. I love it. It is!
Beautiful Book

Derived From Web

, Aug 23, 2021

I thought it was going to be the big one but it was almost as big as my hand.
Disappointed with the size

Derived From Web

, Aug 1, 2020

The book was too small for me. I bought a used book with a picture of the larger edition, but it was the newer smaller printing that I got. This book is too small for art reproductions. I don't understand how they decided to print all of their books this large.
Beautiful

Derived From Web

, May 26, 2020

Don't read the snotty reviews. Some of them got used editions. The new, larger hardcover is a great buy. Claude Monet, the quintessential Impressionist, had an art book made about him. That is a genius. The best period of art for me. At the time, Impressionism art was looked down upon because it was too different and not classical. We are all fortunate!
Art History, if you like it then this book is for you.

Derived From Web

, Sep 7, 2019

I took Art History class in college back in the 80s and it stuck with me the rest of my life. I immediately wanted this book. I wasn't disappointed either. I have completed the history of his works. What else do you want?
Never buying again

Derived From Web

, Aug 29, 2019

I would have given it if there was no rating. I made the purchase under the impression that I would get a book about Monet with all of his paintings, but what do I get, I don't know? There is a phone notebook with a painting. I can't find a rational explanation for what happened.
Eh

Derived From Web

, Feb 8, 2019

I thought it would be much larger. The text is very small and it's not a hardcover novel.
Small Book w SMALL IMAGES

Derived From Web

, Jan 14, 2018

The book is very small. The photos of the paintings are not very large. The coffee table size edition of this book is large and you can enjoy Monet's paintings.
Beautiful!

Derived From Web

, Oct 11, 2017

This is a beautiful book. The pages have a glossy feel to them and are very heavy. The book goes into great detail about his life and his craft. There are lots of pictures of him, his family, and his paintings. I don't know much about Monet, but it seems to be a pretty comprehensive book on him.