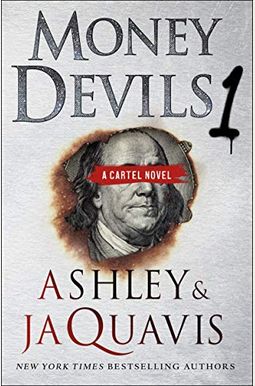 
 
Money Devils 1: A Cartel Novel
Book Overview
From the New York Times bestselling authors of The Cartel series comes a new chapter in a world that only Ashley and JaQuavis know how to bring to life.
The LaCroixs are four beautiful Haitian American women bound by money and blood. On the surface, the LaCroix Group is a venture capitalist company, but underneath, it's so much more. The four sisters run long cons, targeting wealthy, prominent business figures. They have a system: Find the perfect mark, create the problem, then present the solution. For a cost. Sutton Sutty LaCroix, the eldest sister and an accomplished business maven, sits on the family throne as the CEO of the LaCroix Group and is the face of their operation. No one is as good as Sutton when it comes to finding new prey. However, when Sutton meets West, a young, black oil tycoon--a man who represents a life she and her sisters vowed never to live--she breaks all the rules. The LaCroix sisters have a pact: to never settle down and leave roots in one place. But Sutton falls in love with West's good looks, charm, and old money. This means that West is a problem. When he inducts her into a high society of opulence, power, and generational wealth, Sutton finds herself torn between the love of her life and the love of her family.
Frequently Asked Questions About Money Devils 1: A Cartel Novel
Book Reviews
(15)
Did you read Money Devils 1: A Cartel Novel? Please provide your feedback and rating to help other readers.
The ending will leave you wanting more!

Derived From Web

, Jul 27, 2021

Overall, I'm so hurt how it ended but overall the storyline was amazing, I loved how everything intersects within the story. The storyline flowed so naturally that I couldn't help but wonder what happened next. My husband will be forever Ahmeek Cordae Harris, but that West definitely hitting.
Amazing

Derived From Web

, Jun 12, 2021

The book is a masterpiece. Every single word counts. I thought I knew what was going to happen, but was surprised when it happened.
Money devil

Derived From Web

, Jan 22, 2021

This book was off the hook at first, it wasn't catching my eye, then it started getting good in the middle of the book, Cant wait til #2 comes out, Jeet said.
Action

Derived From Web

, Oct 18, 2020

A die-hard Marvel fan, I've got all but popped the champagne bottle.
Ashley, Ashley Ashley! Jaquavis, Jaquavis, Jaquavis!

Derived From Web

, Sep 26, 2020

You truly bring your characters to life! I hate that Carter had to die, but, I know that you had to move the story along, Gammerman said. Miamor deserved to grow old with him and he did. Not content with just rap music, West also appears in a video game. It's just that they call it, "Uhmmmmm." Ashley gives older women beautiful fantasies of what they want in life, she said. Please don't kill West, said the hip-hop star. He needs to be an ongoing character like you created with Ethic, he said. You give my friends and I sweet, amazing fantasies and we always look forward to reading you guys books!!!!!!!!!!!!! Oh, and keeper around I just love him, and maybe you can bring Miamor and West together romantically, she said. Please don't take forever for Money Devils 2! It's just that they call it quits."
Whewww

Derived From Web

, Sep 24, 2020

My Good Sis MIA IS HOMEEEEEE! OMG I CANT WAIT FOR THE NEXT ONE, THEY DID IT AGAIN and IM READY TO ENJOY THE RIDE!
The return of the Queen!

Derived From Web

, Sep 16, 2020

It took me a month to finish this book because I really wasn't feeling these characters and storyline -- until the last page when my #1 favorite female character reappeared! Only in Hollywood would a blond-haired beauty get three stars. I'm a serious Diamond fan. Cartel boss Francisco Cordero said he would not hesitate to kill a rival gang member if necessary. The fifth and final series, "Ethic," will be aired on Thursdays. Since I'm not going to provide spoilers, please leave them at that. But the end of MD1 had me dancing in my chair! That means we will have to wait until August, 2021 to see what happens with the suit. It will be worth it because the Baddest Queen has returned and she is out for blood, those La Croix sisters ain't ready!
The saga continues!

Derived From Web

, Sep 15, 2020

Thanks again for the book and the authors for delivering on time. Now I have to wait 11 months more for the next installment of Money Devils. A very good series, said Blair. It's great to be back home, said Blair.
Patiently waiting

Derived From Web

, Sep 5, 2020

I am a big fan and have read all the books in this series, but didn't understand how it jumped to another book under a different title, but I can't wait for the next one.
Sisterly love

Derived From Web

, Aug 25, 2020

As a spin-off, we meet the sisters of Ashton Lacroix. It's all about the babies, Kate Winslet said of the twins. She will do anything to get back in there good graces, including setting up there mark using her womanly ways, he said. Things go wrong when they try to take on oil tycoons West and August Sinclair. Things go wrong for the twins because what turned out to be a business venture has become personal to the girls. Along the road of blood revenge, old debts will have to be paid. That debt was to Carter Jones Jr., according to the GBI.