Buy 3 Get 1 Free
Our Best Sale Yet! Add 4 Books Priced Under $5 To Your Cart     Learn more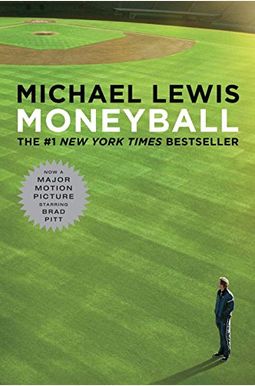  
Moneyball: The Art Of Winning An Unfair Game
Frequently bought together
Frequently Asked Questions About Moneyball: The Art Of Winning An Unfair Game
Books like Moneyball: The Art Of Winning An Unfair Game
Book Reviews
(14)
Did you read Moneyball: The Art Of Winning An Unfair Game? Please provide your feedback and rating to help other readers.
Excellent - many time purchaser at Amazon, first time review

Derived From Web

, Apr 20, 2022

I purchased the audio CD, while a baseball lover, after hearing that this was a recommended must read from Bob Brinker, host of a National Radio Show host and Financial Guru. Two consultants, Bob Brinker and Billy Beane, have both applied key methodologies to different markets but illustrate that discipline and statistical analysis -- can help one have a winning edge, but one must remain objective and make decisions not realtime, but trust the models and proven trends. I encourage you to explore the similarities. Whether you're a baseball fanatic, financial guru, statatistican or just want to have an enjoyable read, this book is for you.
An excellent allegory to what is happening in Finance and Investment Banking

Derived From Web

, Apr 20, 2022

This case-study in how information is being used is truly revolutionary, Raymond said. What is happening in this book is occurringing with a vengance in credit and equity markets world-wide, he said. But as shown in this book, it is now possible to collect and analyze a vast supply of information, and to find relative value in the oddest places. Those that operate in the old way have no idea how completely they are. Those operating in the new way are only finding worthy competition among others, like themselves, he said. It's just that the book is not really about baseball. What's more, it's about how information management and statistical analysis are changing business in general, particularly the money business, and therefore changing our world.
Good, but a bit lengthy

Derived From Web

, Apr 20, 2022

I really enjoyed the book, Morgenthau said. I now have a whole new take on the building of baseball teams, he said. There are some parts of this book that were a bit wordy and redundant. I read the book before I went to see the movie. I've seen the movie and I must say, I enjoyed it.
Michael Lewis storytelling at its best.

Derived From Web

, Apr 20, 2022

Michael Lewis is, without a doubt, the greatest storyteller of all time. Even non-sports fans or non-baseball fans could enjoy the story of how a baseball underdog finds a way to win. In this case it's the Oakland A's competing, and often beating, the deep-pocketed MLB teams such as the New York Yankees. Billy Beane is a strange character who runs the A's team more like a science experiment than a traditional baseball franchise. Ironically, the dynamic personality of Billy Beane will be played by Brad Pitt in the off-again, on-again movie version of Moneyball.
Michael Lewis and "Moneyball" are tops

Derived From Web

, Apr 20, 2022

I believe that he will read all the books he writes. Whether they are bankers or baseball players, he has the ability to bring them to life. I happened to see the very fine film Moneyball prior to ordering the book, and that was just the right order to do so, because the book has a great deal of information not found in the film, Levine said.
I hate baseball, and yet...

Derived From Web

, Apr 20, 2022

I have attended four or five major league baseball games, Jeter said. I was bored silly by all of them, Sosa said. Despite that, I enjoyed this book, said Claudia Kilpatrick, who co-chaired the inquiry. In a superbly executed interview, Lewis shows the personalities involved in this fascinating story and makes you feel like you've met them – warts and all. However, I'm well aware of the technical objections that have been raised about the methodology and about Mr. Beane and his acolytes. No wonder Coke didn't change its mind about ethanol becoming a mainstream fuel. The players, all of whom are U.S. citizens, took a game that everybody thinks they understand and found a completely new way to think about it. It's just that I'm a fan of analytics.
Non Fiction

Derived From Web

, Apr 20, 2022

An intelligent sports book, a bit of a rarity, Hachette said. It takes a look at a team with less money trying to find ways to get the most out of what they have, he said. This involved an executive looking to do things differently and an assistant with some statistical acumen, Raymond said. They find out that drafting young teenagers is silly, drafting grown men with proven college or other league skills makes more sense, and that a lot of drafting is handled in an amateur fashion. It gives some player examples of how he found defensive ability and speed overvalued, so he went looking for hitting and strikes.
Hey Royals....take a look at this book! Please

Derived From Web

, Apr 20, 2022

A fascinating and witty book by Mark Simon, Jr., and Peter Slover. You cannot argue with the facts, nor can you argue with the book's explanation of the team's success by defying conventional wisdom. As a fan of a small market team, I'm amazed more Major League teams aren't following the model he outlined in his book. If anybody doubted that Kirk Gibson could do worse than Mitch Maier, I'm certain the general manager of the Kansas City Royals couldn't do worse than he would have read this book. If you are a serious baseball fan, you MUST read this book. You may not agree with Lewis' conclusions, but you'll definitely re-think how you evaluate what you're watching on the tube.
So Nice I Read it Twice

Derived From Web

, Dec 13, 2021

I chose the rating of 5 stars because I was not able to vote. I've read this book several years ago and I still love it. It far exceeded my expectations and my second reading was even more pleasurable than the first. I particularly enjoyed reading about a field where the supposed experts almost surely did not find what they were looking for, and when somebody tried to point this out they were totally resistant to accepting new ideas. This book is a wonderful read both the first and second time around.
A must read for baseball fans.

Derived From Web

, May 16, 2021

As a long-time fan and statistical analyst, Lewis is preaching to the choir. The book is highly informative and mostly entertaining, said Dr. Goin. He sometimes engages in detailed description and commentary when a brief synopsis might have not been such a drag on the narrative.